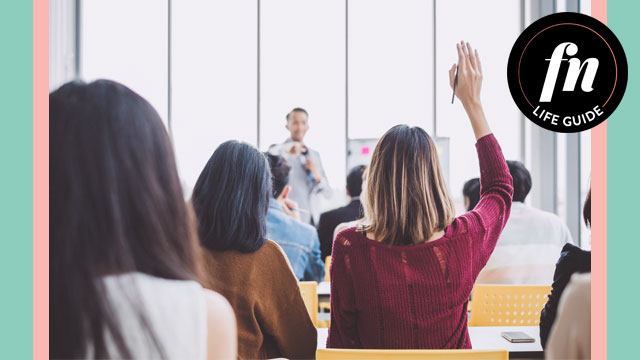 FN Life Guide is a series featuring step-by-step how-tos ofopportunities that can help you navigate major milestones.
For this installment, Nicai De Guzman continues to share her experiences as an international student at the University College Dublin Michael Smurfit Graduate Business School. She gives tips on everything from how to adjust to different cultures to how to find part-time jobs.
ADVERTISEMENT - CONTINUE READING BELOW
Check out the first part of FN Life Guide here.
***
So you got into your dream school abroad and your student visa! Congratulations! Now, the real work begins. Once the excitement wanes and you realize that moving far away from home isn't as glamorous as what people deem it to be every time, you'll need put your feet down and make sure you have a good head on your shoulders. Time to hustle!
CONTINUE READING BELOW
Recommended Videos
Settling into life abroad
How to adjust to going back to school
If you went straight from undergrad to graduate school, then you shouldn't have any problems. The course requirements are expectedly more demanding, but you will adjust easily. Coming back after years of working is another story: you'll need to be prepared to be chastised once again.
I was already heading a department at work when I decided to study abroad. I would be groupmates with people who were a few years younger than me. There were a couple of us who had a lot of work experience, and this undoubtedly gave us an advantage. This does not mean, however, that our younger schoolmates have nothing to offer. Considering that you're going to be studying in a school abroad with tough qualifications, most of your schoolmates will likely be as smart, talented, and competitive as you.
ADVERTISEMENT - CONTINUE READING BELOW
Doing homework all over again again on a nightly basis may overwhelm you, but just remind yourself that you wanted this. As the old saying goes, "no pain, no gain."
Of course, it goes without saying that you should also balance school with rest, as well as with other social activities. Graduate school, especially abroad, can be pretty tough and it can take a mental toll. If you're struggling and you think your mental health needs care, schools have policies you can lean on and some may even offer free counseling services or student advisors.
ADVERTISEMENT - CONTINUE READING BELOW
How to thrive in a multicultural environment
Chances are you will be studying and working with people from different nationalities. This means that each culture has a different power distance (or how they relate to authority) and contexts when communicating. This can sometimes stir the pot when it comes to group work.
For example, many people who grew up in Asian countries like China or Japan have high power distance and high context cultures, and you should learn to relate with them differently compared to some of your American classmates who have a low power distance and low context culture (which simply means they can be franker than most).
Working styles may also differ per student, so some adjustments need to be made for everyone to be happy. For example, some people from other cultures are more relaxed and in terms of groupwork; they may prefer to work online as opposed to meeting one another every day.
ADVERTISEMENT - CONTINUE READING BELOW
That said, it's important to know not to generalize, and to not use this as a point of argument against your classmates. Each culture is dfferent, but so is each person.
So how do you navigate this intercultural landscape? Ask your school if they have workshops or a series of lectures where you can learn about this topic. Our school, for example, has an Intercultural Development module where they even simulate scenarios so we can be better prepared to handle conflict. If your school doesn't have something similar to this, then you can read up and learn on your own.
Just remember that theory doesn't cut it if you actually don't apply what you learn. Some people may also not be representative of their cultural contexts and norms. The best way to relate with other nationalities is to simply get to know your classmates. You'd be surprised with how much you have in common with your classmates from Russia or India. Your school and class officers may organize social events so don't shy away from those gatherings!
ADVERTISEMENT - CONTINUE READING BELOW
How to make the most out of your school's resources
Becoming a student once again means you have more or less full access to what your institution can offer: their library, their research database, and subscription to relevant journals or publications in your field. How to use these would usually be discussed during orientation, but it's always better to be friends with your school's librarian!
ADVERTISEMENT - CONTINUE READING BELOW
All these would come handy when you're doing your school reports, and even when you're getting to know more about the country you're in. If your goal is to eventually work there, then you'll have to make sure that you know the industry very well.
Some schools also organize different events and workshops where you can enhance your skills. Our school, for example, has workshops on different topics such as career and intercultural development. Some of these offer certificates at the end, which can be nice additions to your resume.
Of course, it's not just all the serious stuff! Big institutions offer different ammenities, such as Olympic-sized swimming pools, gyms, saunas, courts, and more! (Ours even has its own cinema.) The best part is, we get to use all of these for free! These facilities and perks are usually discussed during orientation, and invitations to activities are often sent via email.
ADVERTISEMENT - CONTINUE READING BELOW
How to network and create contacts
If you got into a prestigious school, your institution would most likely be very proud of their alumni and would find it very easy to organize networking events. Always be on the lookout for these. Your school will likely send email invites or post annoucements on their websites.
Don't be afraid to connect with alumni or your careers office (if you have one). Take advantage of LinkedIn, too. A schoolmate from China, who knew no one from a company he wanted to apply in, got his job by simply using LinkedIn.
Another way to network is to get involved in different school societies. It's also a good way to know people outside your courses who will be helpful to you in the future. For example, if you're studying Marketing and would like to work in a bank one day, then it will be advantageous if you have friends from Finance courses.
ADVERTISEMENT - CONTINUE READING BELOW
Of course, that should not be your only goal when joining societies. Aside from building honest-to-goodness friendships, you'd want to join one to meet people who have the same interests as yours. Just make sure you balance your time between schoolwork and extracurricular activities! Choose the ones you really like and you can actually commit to.
Looking to fund your dream to study and work abroad? Maybe a personal loan would help. Check out the Female Network Personal Loan Calculator to compare your bank options.
Load More Stories