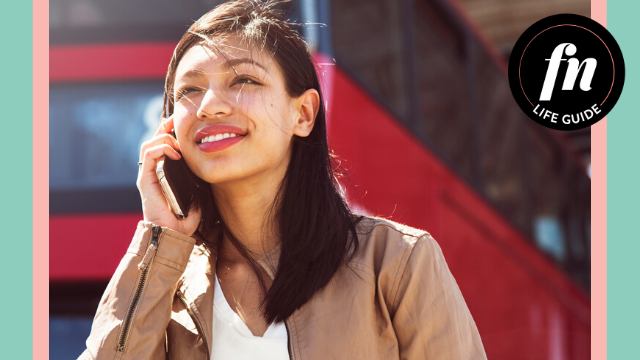 FN Life Guide is a series featuring step-by-step how-tos of opportunities that can help you navigate major milestones.
For this installment, Nicai De Guzman shares her experience studying abroad. Nicai graduated with First Class Honours in MSc Marketing from the University College Dublin Michael Smurfit Graduate Business School, one of the best business schools in Europe.
ADVERTISEMENT - CONTINUE READING BELOW
* * *
For people who aspire to work abroad, studying in that particular country seems to be the fastest ticket to get a job. And that's actually quite true, especially in countries where competition is high. So how do you get started? And what are the things you should consider? Here are some of the things I learned along the way:
Getting Into a University and Preparing Your Visa
Picking the right country, school, and course
Do you already have a school in mind? A country? A course? Those are the first things you have to think about. Make sure you research the country and the school very well. A lot of information, especially the entry requirements are available in the school websites.
How about the school? Though there are websites that provide reviews of schools, they don't quite paint a clear picture of how the academic life would be. Your best bet is to look for alumni of the school you're looking into (pro tip: kababayan, preferrably) and connect with them via LinkedIn. More often than not, they are more than happy to share their experiences! Unlike reading reviews online, you can really ask them tough questions like how adjusting to a new environment would be like and even sensitive questions such as how Filipinos are treated in that country.
If you find all these tedious, you may wait for a study fair where representatives from different universities are present to answer all your questions. Some of the regular study fairs is Study World's International Education Fair and European Higher Education Fair. Some countries would even have their own fairs such as USA Study Fair or Japan Education Fair. They usually hold these fairs in Manila, Cebu, and Davao.
Are you currently working and you feel you don't have the time to fix all of your requirements? Your best bet is going to an education counseling center that has all the information you need, plus they have counselors who will gladly help you collate documents and even assist you with your visa!
Getting info from education counseling centers
Education counseling centers usually offer their services for free since they are funded by governments. They can help you with your application, as well as make sure that all your requirements are complete and that your profile is competitive.
ADVERTISEMENT - CONTINUE READING BELOW
Some of the education counseling centers are:
Each center has a roster of universities they have ties with in countries they specialize in. Check their websites and social media pages to know more about them. Alternatively, they are also present during study fairs so you may visit their booths.
When you apply for your visa, immigration officers of some countries may ask you if you're being assisted by an education counseling center. For example, my education counseling center UKEAS is reputable and has good ties with Ireland and the United Kingdom. Since the embassies are already familiar with them, this usually results in faster processing time.
An advantage that these centers provide (that you should use) is that they can arrange for you to meet their past alumni who have also studied in the school or country where you plan to go. UKEAS, for example, usually arranges a despedida party for the students leaving for the following year and this includes a pre-departure orientation.
ADVERTISEMENT - CONTINUE READING BELOW
English exams
If you did not get your undergraduate qualifications from an international school or you studied in a university where English isn't the medium of instruction, you will be required to present proof of your English proficiency. Universities usually accept IELTS (International English Language Testing System) or TOEFL (Test of English as a Foreign Language). These tests cost P10,000 to P15,000.
IELTS, which is administered by the British Council, has review materials you can take advantage of, as these are part of your fee. They have a lot of sample examinations you can practice with; you just have to make time to visit their office and study there.
FN Tip: Not too confident about your English skills? There are many review schools you can enroll in. There are also review materials available online.
Getting into the university of your choice
Countries, schools, and even specific courses require different qualifications. For example, if you're applying for MBA, some universities in Australia may not require a GMAT score but it is required in Canada and the U.K. Other universities may require you to submit an essay or go through an exam. The consistent requirement, however, is your transcript from your most previous school.
ADVERTISEMENT - CONTINUE READING BELOW
Of course, your grade point average is a big factor for consideration, but if you think that you didn't do so well during your undergrad, don't be disheartened. Great work experience that you'll fill up your killer resume with can help your cause. There are a lot of tips online on how to improve your CV and you may also ask tips from your assigned education counselor.
If you were required to write an essay, mention why you want to study in the school of your choice and what exactly in their curriculum is beneficial for you. It also doesn't hurt to mention your awards and other achievements.
Getting your visa
Different countries have different requirements but the usual must-haves include: bank account statements, proof of scholarship or partial payment made to your school abroad, proof of your admission into a university, and your accommodation details in the country where you're staying. Let's break them down:
ADVERTISEMENT - CONTINUE READING BELOW
1. Funds
If you don't have funds, consider a scholarship. Check out your prospect school's website about the kind of scholarships they offer. If you're already talking to an education counselor, they may already have information about this and they can help you apply.
For visa applications, there is usually a computation of how much money should be in your bank account. It should approximately be the amount of your tuition fee plus living expenses times the number of months your program is meant to last. Carefully consider cost of living, as this differs in every country.
An important thing to remember is that the total amount of this money should be present in your bank account for at least six months. This means you can't borrow "show money" the last minute and transfer it to your account. Unlike tourist visas, a study visa is a long term visa and you must submit proof that you do indeed have enough funds to support your studies for your long term stay.
ADVERTISEMENT - CONTINUE READING BELOW
One way to go about this is having a sponsor. It has to be a first degree relative like your parents or a biological aunt or uncle. Visa centers will accept total amounts amounting to combined account balances of both yours and your sponsor's.
2. Proof of admission
Once you get your admission letter, the document proving you got in should be sent to you by the school. This would also be available in the school's website (your registration page) or if you can't find it, you may email your school's admissions department.
3. Accommodation details
A requirement for visa application is proof of your accommodations. Do you want to stay on or off campus? Dorms in these universities usually have higher rates compared to off campus accommodations, but staying within the premises of the school cuts down travel time. Off campus, while cheaper, gives you more flexibility with regard to where you want to live and who you want to live with. This really depends on your priority and lifestyle choice.
ADVERTISEMENT - CONTINUE READING BELOW
While it's true that finding accommodations is daunting, know that universities that usually take in a lot of international students are prepared for this and some of them may even have websites with listings. Again, your school's admissions team is one email away and they will surely email you helpful links.
If you've decided to stay on campus, your school can provide a letter that will serve as proof that you do have a place to stay in the country you're applying a visa for. If you're staying off campus, you need to ask for a letter from your landlord or landlady that indicates that you have accommodations for a year, inclusive proof of his or her identity such as a government ID or passport, and a billing statement that would prove ownership of the house or unit.
A final word on visas: Some countries provide arrival visas for long-term stays, but you will still need to go to the Immigration Office to register for a residency card. To do this, you will need to set up an appointment and bring your visa requirements. If you have more questions about this, reach out to the admissions team of your school.
ADVERTISEMENT - CONTINUE READING BELOW
Final departure and things to bring
Masters programs usually last for one to two years, so you need to carefully consider the things you want to bring with you. Schools usually have guidelines on what to pack or what is needed, and this includes books and other materials you'll need for your course.
How many clothes do you need to bring? Again this usually depends on your lifestyle. Think of it as moving houses. Prioritize your essentials. Also research the kind of weather the country you're moving to has.
FN Tip: There are a lot of things you can buy after you've moved, so you don't have to bring your entire house with you.
Another technique that some students do is to ask a relative or friend to travel with them to help get settled. You ask to use part of their allotted luggage allowance for a few of your things.
ADVERTISEMENT - CONTINUE READING BELOW
Some universities prepare welcome committees for students arriving at peak dates to help lessen your anxiety, and they also have orientation dates for international students. During these events, companies are invited to help you set up your own bank account, your international mobile number, and more.
Studying in another country is definitely a huge change, but also a huge advantage, so take in as much as you can, and enjoy the experience!
Looking to fund your dream to study and work abroad? Maybe a personal loan would help. Check out the Female Network Personal Loan Calculator to compare your bank options.
Load More Stories