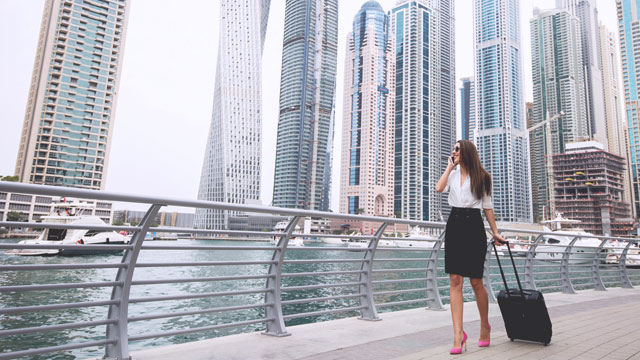 For a lot of Filipinos, moving up also means moving out of the country. With some careful planning and negotiation, a good number of them are able to settle in and make their own home away from home. Krizelle and Amanda are two working Filipinas who were able to do just that, and they're here to share how they did it.
ADVERTISEMENT - CONTINUE READING BELOW
Working in Japan
Krizelle is 35 years old and is based in Tokyo, Japan with her daughter and husband. Krizelle first went to Japan ten years ago to study the language, but eventually found a steady job. At the time, direct hires were allowed, unlike now where hires have to go through POEA or POEA-accredited agencies. She now works as an overseas business representative at a Japanese game development company.
CONTINUE READING BELOW
Recommended Videos
For Krizelle, a lot of thought went into getting the right job with the right compensation. "I looked up job postings and compared their salary ranges, attended job fairs and read up on the labor laws of Japan," She says. Finding out what you could about the company can help set expectations for compensation, "Getting the right compensation would depend mostly on what kind of company you're applying for and relevant previous work experience. Is it a foreign company or a purely Japanese company? Is it a venture capital one or one with a long-standing business history? The salary negotiation usually comes in last in the discussion."
ADVERTISEMENT - CONTINUE READING BELOW
It's also a matter of compromising between one's own needs and the needs of a company. She ticks off a long list of questions that helped her determine if the job and salary were the right fit: What does she need to pay for? Can it support who she needs to support (such her own family or family members back in the Philippines)? Can the salary given to her support a certain lifestyle, and if not, what can she simplify to maximize it?
She also advises people to think of what the company needs. Usually, companies consider if an applicant can leave her home country as soon as needed, have initiative to take on other tasks around the office when needed, and if the applicant has the potential to communicate well with local and foreign staff without burdening other employees.
Expenses
Krizelle spends about JPY 415,000 (approximately P200,955*) per month to support herself and her family.
ADVERTISEMENT - CONTINUE READING BELOW
*Conversions are based on Google Finance's exchange rates as of writing and may change without prior notice.
Rent: JPY 210,000 (P101,688)
Utilities: JPY 12,000 (P5,811) depending on the season
Food: JPY 40,000 (P19,369) for a family of four
Tuition fees and other school-related fees (private school kindergarten): JPY 50,000 (P24,212)
House cleaning services and others (e.g. leisure expenses): estimated around JPY100,000 (P48,423)
While she's settled in Japan, she warns those looking to move out of the country to "Be smart and think twice or thrice about what you're going to do. Having to move to an unfamiliar place takes a lot of guts, so be sure you're physically and mentally ready for it."
A savings tip that worked for her was to look out for discount coupons and tax breaks. "If you have the time and energy to strategize in using these, then it'll be worth it in the long run," she says.
ADVERTISEMENT - CONTINUE READING BELOW
Working in Singapore
Amanda is 31 years old and had worked in sales for ten years before moving to Singapore with her husband and daughter. She continues to work in sales, but this recent move would be the very first time she is based outside of the Philippines. The company she works for now first found her on LinkedIn. When she accepted the job, the company took care of the formal papers and processes for her move.
Like Krizelle, Amanda researched ahead on the cost of living in Singapore and the going rate for people in her industry. "With negotiating your package, there's no one size fits all formula. It really depends on your experience and skill," she says. "I also had one non-negotiable—I had to bring my family with me."
As for making the most while saving, luckily Singapore had a lot of options for Amanda and her family, especially with housing and food. For a single person, Amanda finds an ideal budget for living expenses would be around SGD 2,000-3,000, "Just to be safe!" she says.
ADVERTISEMENT - CONTINUE READING BELOW
Expenses
Here's how she broke down her budget to the essentials:
Conversions are based on Google Finance's exchange rates as of writing and may change without prior notice.
Monthly rent for a studio condo or government-developed housing: SGD 1,500 (P59,405)
Food: SGD 20-30 (P792-P1,188) per meal
Transportation: SGD 0.50-2 (P20-P79) per trip (bus and train)
But she also advises, even with the significant pay raise that often comes when one moves to another country, "Try not to splurge in one go, it's very tempting to buy furniture and other stuff when you're abroad but it would be best to wait it out for a bit. Try to live a modest life at first just to stretch your budget."
As of writing, it's been less than a month since Amanda moved, but she has a bright outlook ahead for this chapter of her life. As a practicing Christian, she says she turns to prayer to get her through the rough part of her transition to a new place. Whatever difficulties may come her way, she knows it will be worth overcoming it. To those looking to make their big move, she encourages it, "It's a whole new learning field. You will surely grow and be better. Don't forget to enjoy the ride."
ADVERTISEMENT - CONTINUE READING BELOW
Comments
Load More Stories