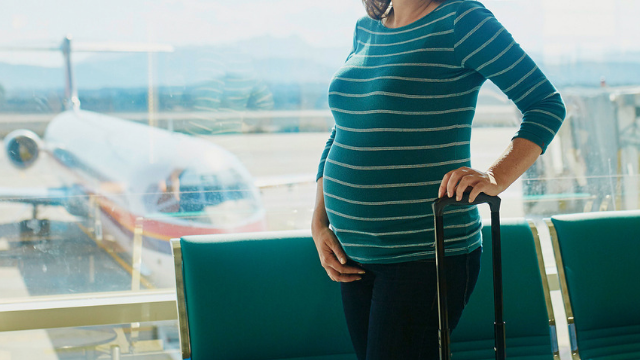 Childbirth isn't often easy—let alone carrying the growing human for nine whole months. Hence, it's not at all surprising to see more and more couples who indulge in 'babymoons.'
What is a babymoon? 
A babymoon (a word born out of the words "baby" and "honeymoon") is a short, relaxing getaway for expecting women and their partner before their baby arrives. The term was first introduced in the 90s, and experts believe that celebrity couples Kim Kardashian and Kanye West and royals Prince William and Kate Middleton, who all indulged in their very own babymoons, were responsible for its growing popularity in the '00s. 
ADVERTISEMENT - CONTINUE READING BELOW
Most recently, Meghan Markle and Prince Harry went on a four-day, low-key babymoon at a countryside hotel in the U.K. weeks before welcoming their first child, baby Archie. 
Unlike with regular trips or honeymoons, an itinerary for a babymoon mainly focuses on resting and unwinding, as opposed to doing tiring activities like sight-seeing. The health of the mom-to-be and the growing baby, of course, is the number one priority when going on a babymoon (we'll delve right into this later on!) 
Why should you take a babymoon? 
Taking some time off for a pre-baby getaway proves to come with many health- and relationship-related benefits:  
It helps couples reconnect in the midst of getting many things done for the baby's arrival. Take advantage of this chance when you can get some real, uninterrupted, alone time together to talk, reflect, and bond as a couple.  
ADVERTISEMENT - CONTINUE READING BELOW
It's a healthy preparation for labor. "The more at ease a woman is, the better able she is to deal with the challenges of labor," Melody Cook, a certified prenatal and postpartum massage therapist tells Parents. 

"She's also going to think more calmly and clearly." 

It serves as a "push present" for moms-to-be. Childbirth, in itself, is already rewarding for moms. However, babymoons are nonetheless thoughtful self-care gifts that husbands or families can give to the badass pregnant lady in their life. 
When is it safe for pregnant women to go on a babymoon? 
Going on a vacation when you're nauseous can be more stressful than enjoyable for yourself and your S.O. This is why it's recommended by experts for pregnant women to go on a babymoon on the second trimester of their pregnancy. According to What To Expect, this is the time when "you're past the queasies but not too big to get around easily." However, it's still a must to speak with your OB-Gyn before planning your trip, especially if you'll be flying off to a destination, just to be you're totally fit to travel.  
If the doctor advises you to stay, don't fret—there are many local staycation spots that can make you feel like you're a miles away from home. 
Places to visit in Philippines for your babymoon 
Here's a friendly reminder: You don't have to travel far to truly get away. From seaside-based staycations to three-hour-drive farm resorts, here are some serene local places to visit for your babymoon: 
ADVERTISEMENT - CONTINUE READING BELOW
If you want to feel like you're in Bali without having to board a plane: 

San Rafael River Adventure, Bulacan
Bali is well-known for its tranquil surroundings, and you can indulge in that same peaceful ambiance locally at San Rafael River Adventure in San Rafael, Bulacan. The Bali-inspired resort's romantic accommodations like glass cottages and treehouses give you the view of the lush outdoors while enjoying the comfort of a hotel room. They're perfect for couples who want to try something new. P.S. Rates for the cottages start at P10,000* per night. 
If you're looking to stay in: Sofitel Philippine Plaza Manila 
Nestled by the Manila Bay, Sofitel Manila can transport you away from the hustle and bustle of the metropolis. Apart from indulging in its famous Spiral buffet, the bayside hotel has lots of babymoon-worthy activities that'll ease your tension, from enjoying a couple's massage at the Le Spa (they also offer Cocoon, a 60-minute back and leg massage especially tailored to pregnant women) to having more quality time over (non-alcoholi) drinks at the Sunset Bar. Check out this eight-step itinerary to maximize your stay at Sofitel. 
ADVERTISEMENT - CONTINUE READING BELOW
If you want to go somewhere peaceful, crowd-free: The Farm at San Benito, Batangas 
For the ultimate retreat, escape to The Farm at San Benito, a luxury holistic medical wellness resort nestled in the outskirts of Lipa, Batangas. You'll enjoy the absolute privacy in the resort's picture-perfect luxury villas. And if you can manage to get yourself out of your cozy bed, the resort offers various detoxification programs and spa treatments for a full-on R&R. Just make sure to first ask your doctor about these programs before indulging in them!
Countries to visit for your babymoon 
When planning to have your babymoon abroad, choose destinations that won't require connecting flights, and consider exploring neighboring Asian countries. As much as possible, "minimize travel time," says The Bump. 
ADVERTISEMENT - CONTINUE READING BELOW
If you're up for an island getaway: Indonesia 
Bali, Indonesia has become a popular spot for babymoons, not only for its white-sand beaches but for the many things couples can do on this island. You can visit the Tirta Empul Temple (a massive water temple where tourists do a purification ritual), stay in at unique accommodations (check out these quaint villas, bungalows you can rent via Airbnb), or treat yourselves to luxurious spa treatments. The best perk is that you won't find it hard to score an inexpensive flight ticket to this tropical paradise. 
If you want a chill, city vacation: Singapore 
Are you the type who's energetic and always hungry? Singapore is a great city to stroll around in for your babymoon, mainly because it's one of the easiest places to travel to. "[The MRT] is fast and most tourist attractions, restaurants, and malls are near key stations. There are passes available at the Changi airport or MRT stations," Ana Pascual notes in a previous Female Network article recounting her five-day Singapore experience. Plus, the popular food strips of Singapore make the MRT rides (and the three-hour flight from Manila) worth it. 
ADVERTISEMENT - CONTINUE READING BELOW
More safety tips to remember before going on a babymoon: 
With proper planning, you'll be able to fully relax on your pre-baby trip. 
Search for the nearest hospitals (and take note of their contact numbers). 
Check out the food restaurants near your hotel. Remember, you might have less energy to fully explore a town and to see all the restaurant choices you have. You can also try downloading Klook—a travel and services booking app where you can reserve seats in various restaurants from different countries. This app will save you from waiting in lines! 
Recommended Videos
Comments
Load More Stories