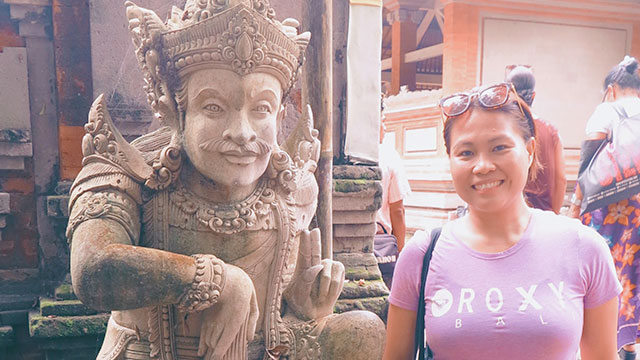 A Bali getaway can be as affordable as a domestic trip if you know how to plan and travel on a budget. The Indonesian island is slowly becoming a popular visa-free destination for Pinoys, who love its laid-back vibe, natural wonders, rich culture, and charmingly designed cafés and restaurants. Collect priceless memories for less with our tried-and-tested travel guide:
ADVERTISEMENT - CONTINUE READING BELOW
Breakdown of Expenses
Round Trip Airfare: Approximately P9,000 (including insurance and the travel tax of P1,620)
Hotel: P11,750 per room/ P5,875 per person
Daily Meals: P2,700
Transport:  P220 per day (scooter), P1500 (airport transfers), P1895 (private tour with driver) - Split between two people
Entrance Fees and Other Expenses: Around P1,800
Total: Approximately P22,000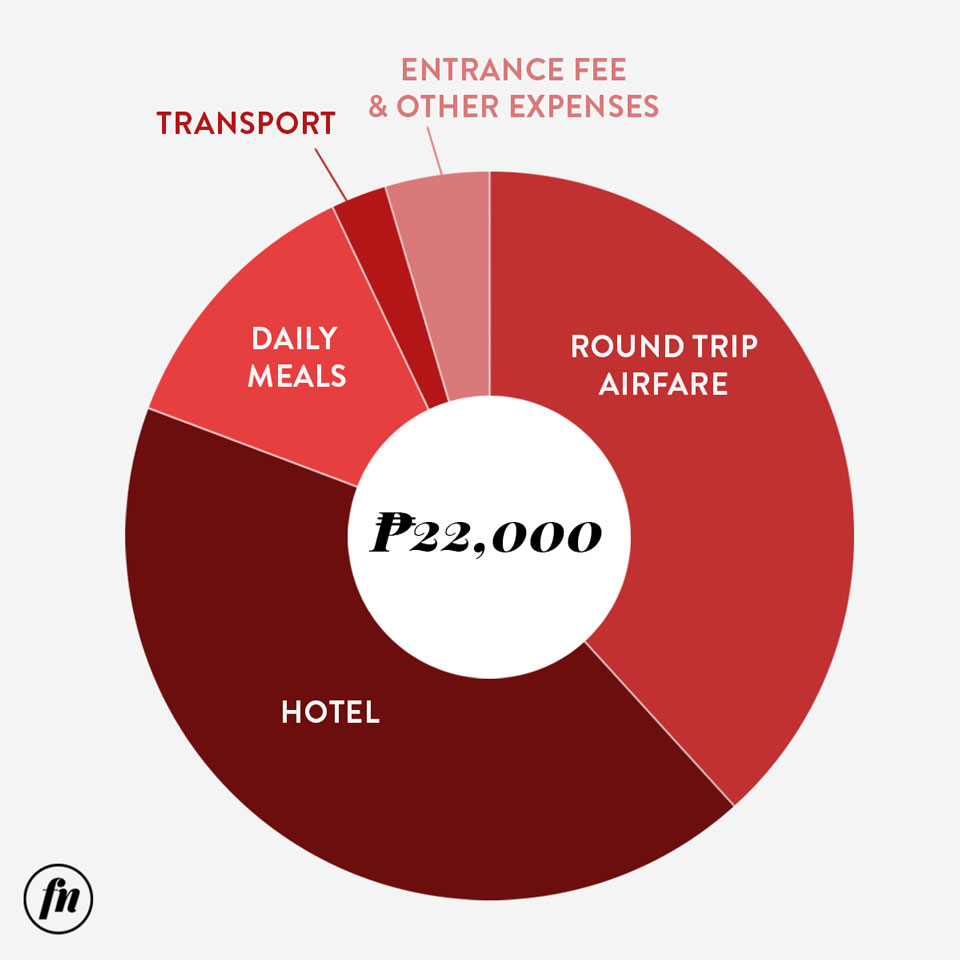 CONTINUE READING BELOW
Recommended Videos
Want to explore Bali on a budget, too? Check out some #TipidTips and strategies to stretch your peso and make each day count in the "Island of the Gods":
*Rates may change without prior notice
1. Support local
Dine like a local at a warung, the Indonesian version of our carinderia or turo-turo. They can be found everywhere in Bali, serving authentic Indonesian food. Enjoy budget-friendly meals averaging only Rp40,000 (P150).
When buying souvenirs, support local entrepreneurs and businesses. During our Ubud tour, our driver recommended shopping for souvenirs in Ubud instead of more touristy areas like Seminyak and Kuta. Ask locals for tips and suggestions and you'll save more pocket money.
2. Rent a scooter
The most fun and cheapest way to get around Bali is by riding a scooter! Rent one for Rp50,000-Rp60,000 (around P200) per day if you're traveling solo or with a travel buddy. Almost all Bali locals and residents commute via scooter so if you're confident enough to ride, then go for it! Just be extra careful on narrow roads right next to rice fields and remember to get travel insurance before your trip.
ADVERTISEMENT - CONTINUE READING BELOW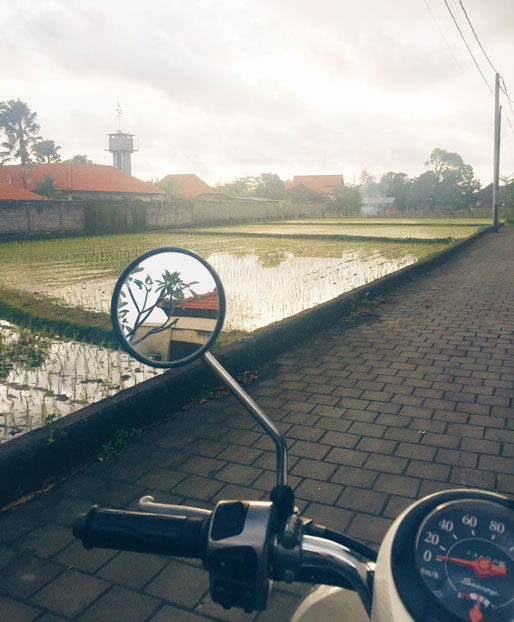 3. Refrain from splurging daily
Many travelers have the habit of splurging (especially at the start of the trip) because they're on vacation. But that's the fastest way to overspend and exceed your budget. It's totally fine to go to an Instagrammable café once or twice, but there's also nothing wrong with enjoying a cheap yet delicious meal at a simple eatery like a warung  (local eatery). If you want to save money, try to convert all the prices to your local currency and you'll be surprised at how much you'll save. It's easy to get overwhelmed with the prices and the value of money in Indonesia, where you'll be an instant millionaire because Rp1,000,000 is equal to approximately P3,700. 
ADVERTISEMENT - CONTINUE READING BELOW
4. Withdraw cash from local ATMs
If you're coming from the Philippines, bear in mind that it's difficult to find money changers who sell rupiah even in the heart of the city and at NAIA. A Filipino friend who lives in Bali recommended withdrawing from the ATMs there instead of going to a money changer because of terrible exchange rates. To be safe, exchange some pesos at the Ngurah Rai International Airport when you arrive. 
Must-sees and must-dos
Ubud Day Tour
Go on a private tour of Ubud to experience the heart of Bali's art, nature, and culture. An hour and a half away from Canggu, this traditional town located amongst rice paddies boasts lush greenery and active volcanoes, namely Mt. Agung and Mt. Batur. Renting a van with a driver can set you back Rp500k (P1895) but it's definitely worth it.
1. Monkey Forest Sanctuary
ADVERTISEMENT - CONTINUE READING BELOW
Entrance fee: Rp50k (P190)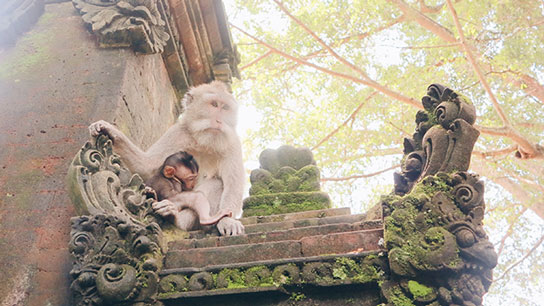 This 10-hectare nature reserve with three Hindu temples is home to hundreds of macaque monkeys. While touching monkeys isn't allowed, watching them play and eat in their natural habitat is quite a sight. Avoid wearing sunglasses, hats, or any loose items that the playful monkeys can grab. Secure your belongings and your pockets, too, lest you'd like to spend the whole day trying to retrieve your wallet from a monkey in a huge forest.
ADVERTISEMENT - CONTINUE READING BELOW
2. Tegalalang Rice Terraces
Entrance fee/parking fee: Rp10k (P37) per person*
*When you reach the top of the terraces, you'll be asked for a donation before entering the viewing point.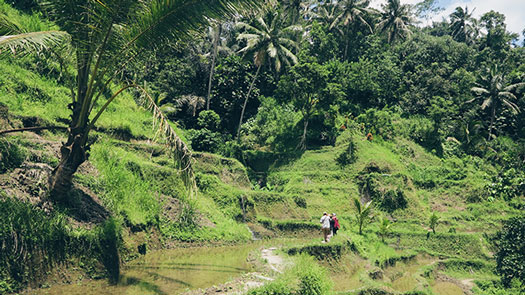 For a more authentic experience, hike the terraces for half an hour and take a break over a cup of exotic luwak (civet) coffee at Smiling Coffee, a serene setting overlooking the rice paddies. If you're lucky, you'll meet the producer and he'll give you a free cup of coffee when you buy a pack. Next to the terraces, you'll also find souvenir shops with reasonably priced items. The popular and stylish ata rattan bag is sold there for only Rp200,000 (P700).
ADVERTISEMENT - CONTINUE READING BELOW
3. Tirta Empul Temple
Entrance fee: Rp30,000 (P113)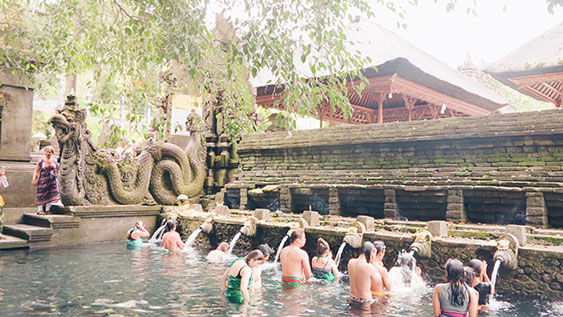 One of the more touristy attractions, this large water temple is famous for its holy springs where Hindu Balinese (and tourists) do the purification ritual to cleanse the mind, body, and soul. If you'd like to try it, ask a local guide for assistance. The formal routine is strictly meant for pilgrims and devotees.
ADVERTISEMENT - CONTINUE READING BELOW
Canggu Food Trip
Hop on a scooter and go on a food trip around Canggu, Bali's up and coming trendy town. From warungs and cozy cafés to posh beach clubs, Canggu offers a variety of delectable choices for every budget.
1. Sedasa Lodge Café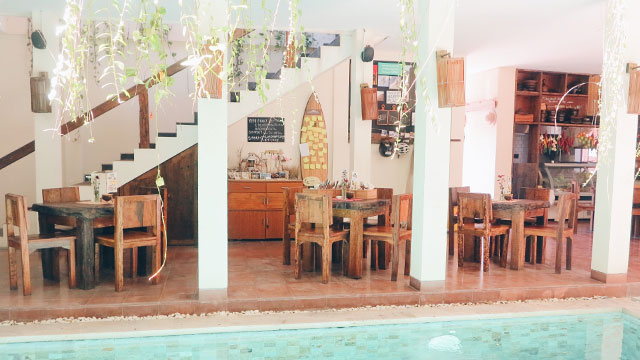 The hospitality of the staff and the quality of the main courses at the three-star hotel Sedasa Lodge deserve five stars.
ADVERTISEMENT - CONTINUE READING BELOW
2. Rasa Canggu
An Indonesian fusion restaurant that lets you create your own rice dishes or bowls and healthier renditions of local favorites at warung prices.
3. Koko Loko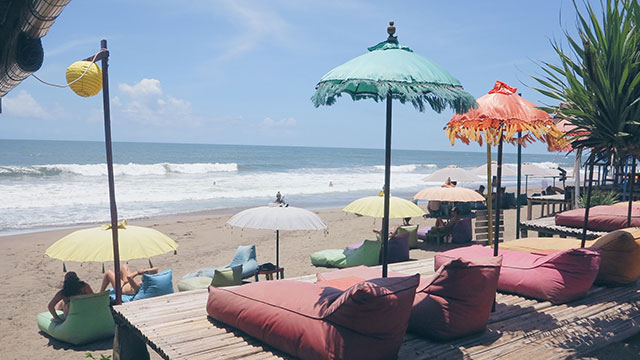 A trendy beachfront hangout that lets you enjoy local delights, healthy smoothies, and cocktails while watching the world go by.
ADVERTISEMENT - CONTINUE READING BELOW
4. Warung Heboh
A roadside eatery that's popular among locals and residents who prefer to eat an affordable yet satisfying meal buffet-style.
5. Milu by Nook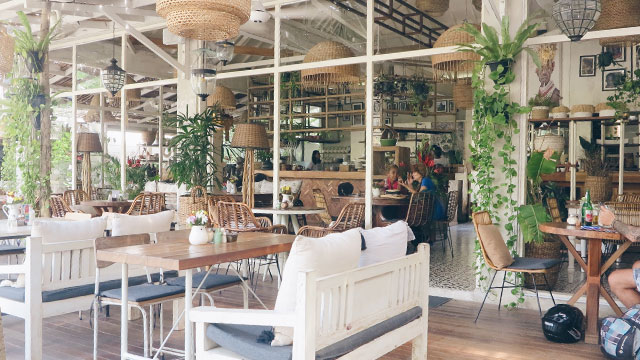 Indulge a little and try the salted banana caramel gelato and iced coffee at this picture-perfect café and restaurant with a rustic charm and relaxed atmosphere.
ADVERTISEMENT - CONTINUE READING BELOW
Runners-up and Instagrammable hangouts: Old Man's and Nalu Bowls
Tanah Lot Sunset
Entrance fee: Rp60,000 (P227) per person and parking fee (prices vary)
Tanah Lot is one of Bali's most iconic sights with two Balinese temples on top of a unique rock formation facing the wide open ocean. Take a private tour and head to Tanah Lot before sunset (around 6.30 p.m.) and be ready to capture the stunning sunset with the temple in the foreground.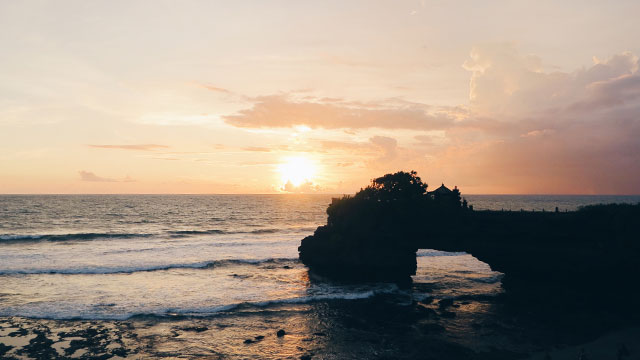 ADVERTISEMENT - CONTINUE READING BELOW
There you have it! We hope these #TipidTips will help you have a blast in Bali without busting your budget. Selamat jalan! (Have a good journey!)
* A seasoned copywriter and travel junkie, Jenie Gabriel has lived in Singapore and Tokyo. She recently returned to the Philippines and plans to explore more places in her home country. Follow her adventures on Instagram.
Load More Stories