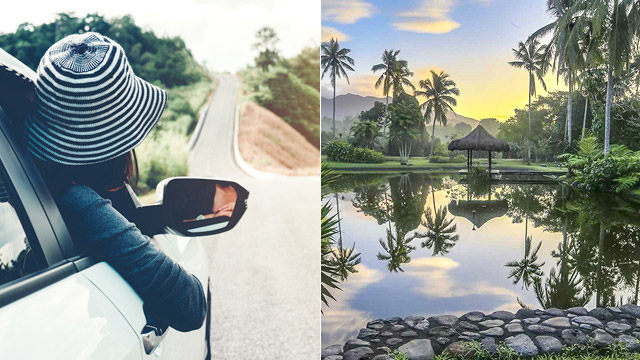 So you've finally submitted your resignation letter, cleared out your cubicle, and heaved one big sigh of relief as you clocked-out your now former office for the last time. There's nothing like the freedom of leaving a job that you know isn't anymore for you—it's like having a huge weight lifted from your shoulders. Now that you have time for a bit of R&R, we suggest that you go all the way.
ADVERTISEMENT - CONTINUE READING BELOW
The Farm at San Benito is a great option if you're not too keen on flying out but want to get away from the city. Located in Lipa, Batangas, it's only a few hours drive from Metro Manila, and even if you're bombarded with traffic heading out, at least you know that you'll be greeted with calm greenery that your mind and body have been longing for.
CONTINUE READING BELOW
Recommended Videos
ADVERTISEMENT - CONTINUE READING BELOW
Of course, booking at this resort automatically gets you lots of lounging time, but if you want to totally flush the stress of your past job from your system, then you're free to consult with many of its doctors who specialize in fields such as integrative medicine and stress management. The Farm offers different wellness programs from pain management (great if you've got back pain that doesn't seem to go away) to de-stressing (which all of us definitely need).
ADVERTISEMENT - CONTINUE READING BELOW
If full-on programs aren't your cup of tea, you can also simply book a room and enjoy one of the many spa treatments offered. Get a body scrub for total exfoliation or indulge in the all-Pinoy Hilot Lakambini to work out those muscle knots.
Need more convincing? Head on to The Farm's website or their Facebook page for more details and rates. If you'd rather enjoy the first few weeks post-resignation at home, here are a few things you can do:
ADVERTISEMENT - CONTINUE READING BELOW
Clean everything out.
If you haven't seen at least one episode of Tidying Up with Marie Kondo on Netflix, then better get on it! It'll inspire you to clear out the clutter you've accumulated from your previous employer (and basically, everything through the years) so that you can start with a clean slate.
Keep a daily schedule.
It can be really tempting to just lounge around while you're on hiatus, but keeping a daily schedule—like waking up at the same time every day—can be more beneficial, as aside from efficiently using your time, your body also adjusts to the proper cycle of resting, eating, and moving.
Start looking for a job that you know you'll love doing.
At this point, you have to stop applying for positions that you're lukewarm about just because you know the pay will put food on the table. You'll have to be adamant about what you want and what you can do, because if you don't pursue a career that you're really passionate about, you'll just keep on resigning and you won't find the kind satisfaction you've been longing for. Make your career worth your while. A job that you love is a job that will love you back.
ADVERTISEMENT - CONTINUE READING BELOW
Load More Stories