Behind the curtain of wavy hair, Mara Manalo—an interior designer, production designer, and events stylist—laughs at a self-realization: "As a person kasi, I'm not really the type to have 'big dreams' or what. I just want to go with the flow, I don't need to think about stuff a lot," she confesses. "Even with how I am now with my work, it's more of like whatever comes. I guess that's why I also pick different kinds of projects… I don't work towards a specific goal."
This personal philosophy is one that she has followed her whole life. Coming from a family of businessmen and women, she had initially thought that she would simply follow the same path, until she found interior design.
"I didn't think I'd end up in a creative course, because even in high school I wasn't really a creative person," she says. "I used to dance a lot, but you know, parang some people are into art… but it wasn't like that for me."
ADVERTISEMENT - CONTINUE READING BELOW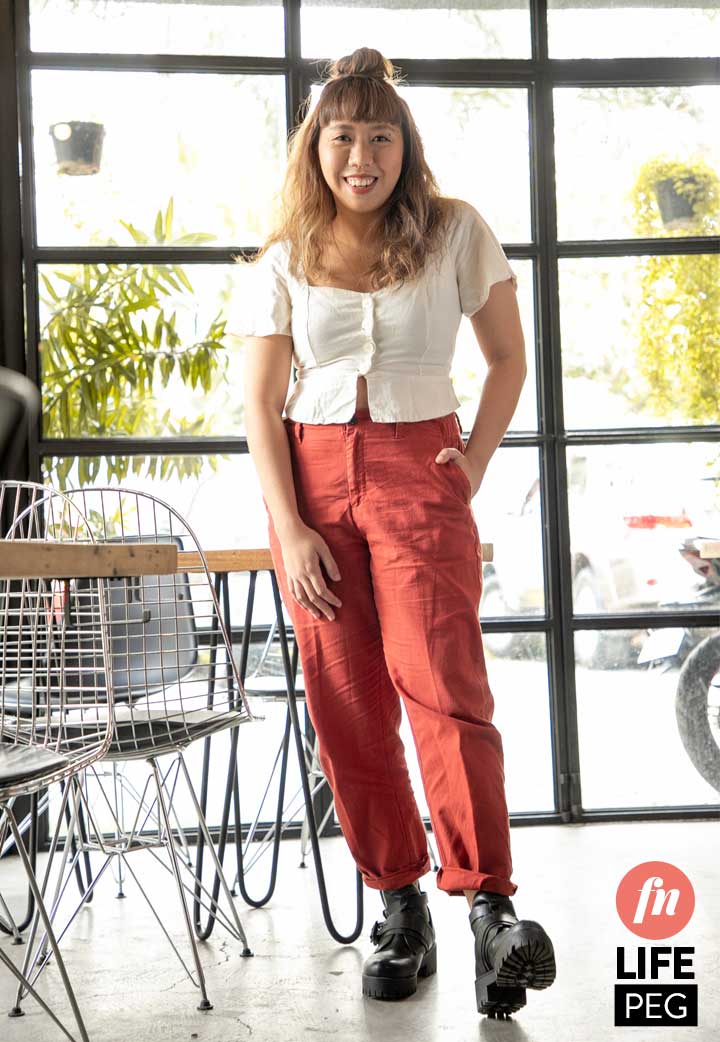 Mara Manalo chooses to go with the flow, yet holds tightly to the joy she finds in creativity.
PHOTO: Jico Joson
Even after passing the board, she admits to not actively pursuing a job in a design firm, noting that a huge part of where she is now was based on luck. "I was lucky because my first project was featured in Real Living. Monte Café… it was a café in Antipolo... Parang ang nangyari, the photographer who shot the place, they put up their own restaurant and they became my next client na, and then from there tuluy-tuloy na talaga siya."
But luck is probably at the bottom of the list when it comes to reasons why Mara has been successful thus far. A talented young designer, she already has an impressive portfolio, which includes designing retail stores of brands like Renegade Folk and Zoo, doing sets for television shows (one with Erwan Heussaff) and advertisements, and creating beautiful aesthetics for digital and glossy magazine cover shoots. Beneath her seemingly flexible take on life is actually an intensity that pushes her to give her 100 percent to everything that comes her way.
ADVERTISEMENT - CONTINUE READING BELOW
Recommended Videos
"It's different when you look at things creatively."
"All my projects are very personal to me as compared to them being as business lang, as work lang. Kaya my designs, ini-internalize ko sila," she shares. "Sometimes if I don't come up with something on time, I really text my clients na, 'Hey, I'm not happy with what I have pa, can you give me until Friday?' I'm really honest with them."
Mara explains how much effort comes with bringing spaces to life. "It's easy to sit down, create a space, design it, but then executing it is a whole different thing. So imagine talking to the designer, talking to the contractor, making sure every detail is done correctly, sourcing for the materials…
ADVERTISEMENT - CONTINUE READING BELOW
"I think not a lot of people know how technical our work is," she continues. "For me, the most challenging part is that I don't really have control over everything… Everyone needs to work together."
It was also her career that taught her to appreciate the little things. "Attention to detail, I think that's something I'm learning, kasi I'm more of a big picture kind of person. Before, as long as it looks nice as a whole, okay lang if the small elements are not done nice. Kaya lang I have clients who are particular of the smallest things.
"Then I realized na... these spaces are built by the smallest objects."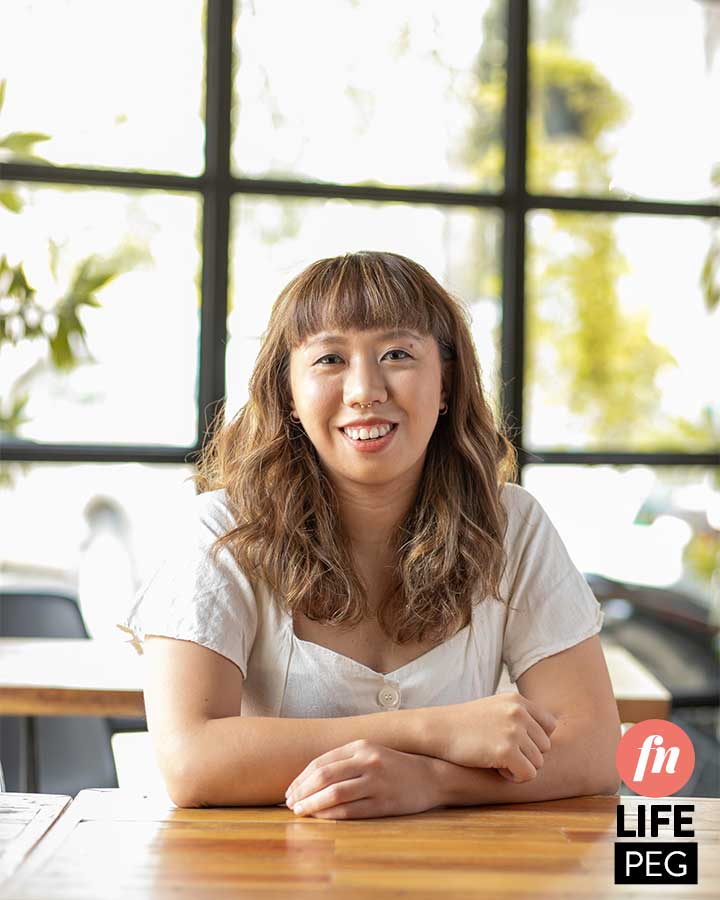 "That's what I love about freelance—I get to control my time in a way, but the problem with that, I also don't get to control it daily. Given na I have a lot of projects."
PHOTO: Jico Joson
For Mara, the concept of creation that is the soul of interior design is something that she wishes to integrate into her life. "For me, creativity is kind of something that I committed to." She shares a crucial turning point in her life—seeing a documentary about Charles and Ray Eames.
ADVERTISEMENT - CONTINUE READING BELOW
"They're a couple… They're big architects of the mid-century movement, which is very uso now," she explains. "Sila kasi, instead of just being designers na parang 'on-off' na may work and then may life, parang ni-live out nila 'yon. Every day, they're just creating and creating… they did a lot of things. They're very experimental. How they approach life, is they look at it creatively. What they can do to make it better?
"That's something I want to happen for myself… It's different when you look at things creatively."
"My quality of work is also affected if I don't take care of myself."
She admits, however, that in her pursuit of living the creative life, she has had several boundaries crossed when it came to remembering to take care of herself.
"A lot of people message me na parang 'I love your work,' siyempre the younger designers, they look up to me, but behind all that naman sobrang hirap din ng pinagdadaanan ko, like with mental health.
ADVERTISEMENT - CONTINUE READING BELOW
"What happened to me, sobrang nagtrabaho lang ako all the time. Imagine, parang I average ten projects at a time and I have a really small team, and I do all the design work… Late last year, I really had a breakdown na parang oh my god, hindi kaya. I wanted to quit ID (interior design) na and all."
ADVERTISEMENT - CONTINUE READING BELOW
Mara openly admits that there have been many times she's had to deal with burnout, but in the recent months, she has been trying to allow herself to take it easy.
"I'm also just a work in progress. I try my best to stay grounded."
"I'm very conscious na now of my mental state. I really see to it that I get to breathe, I get to rest now." She has also learned that rest is a key factor in actually churning better and more innovative ideas.
"This year, first time kong na-feel 'yon na parang I can't think of anything anymore, because my deadlines are sunud-sunod. Imagine having to design one concept every day, and submit every day. Restaurant today, tomorrow retail space, the next day another shop…
"What I realized lang, my quality of work is also affected if I don't take care of myself… When it comes to ideas, I think it's important to take care of myself, and the quality of work that I produce depends on the amount of rest I get as well.
ADVERTISEMENT - CONTINUE READING BELOW
"That's the thing…I always forget. Na parang, I should give myself time to stop to rest, to go to the beach, surf, ganyan, kasi whenever I do that, when I go back to work, sobrang dami kong new ideas na naiisip."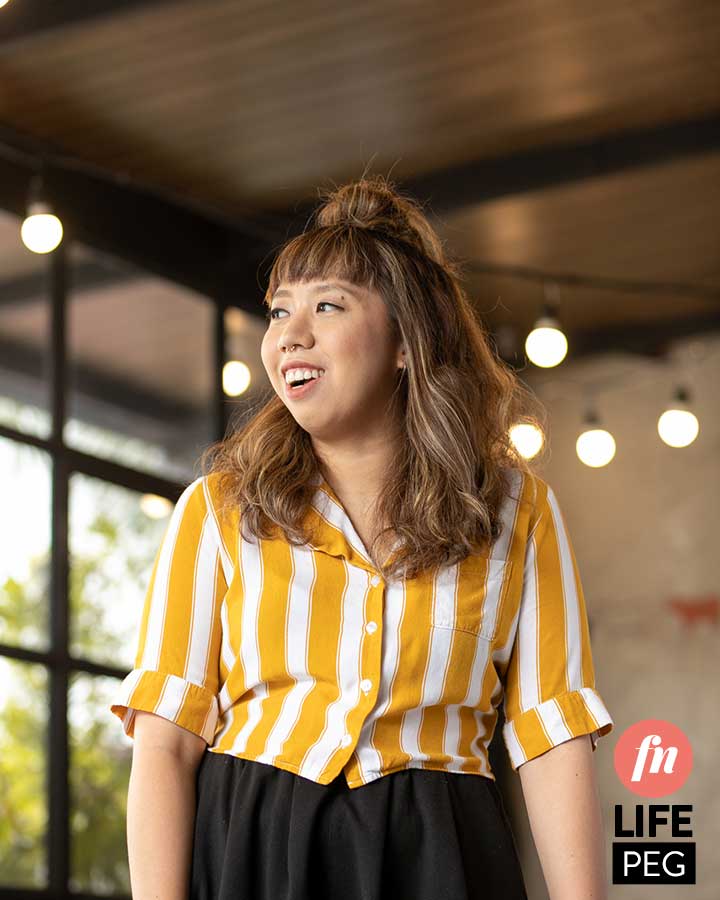 Mara continues to find balance between work and rest, acknowledging that creativity flows when the mind is at peace.
PHOTO: Jico Joson
Quite self-aware, Mara acknowledges that there are still a lot of adjustments that she has to do if she wants to keep going in the direction that she currently is. "If ever I want to pursue ID, I want it to be sustainable, because at my pace now, hindi ako tatanda ng maayos."
"I'm also just a work in progress. I try my best to stay grounded," she continues. "I think that's one that's why I try to do a lot of things because I feel like I need to explore as much as I can before I settle down on one aspect as a designer. Kasi, 'di ba some designers they stick to one design philosophy. But for me kasi, it's very organic. It's a creative journey talaga."
ADVERTISEMENT - CONTINUE READING BELOW
For all her successes, Mara continues to find the golden mean between living a creative life, and simply living—something that most women with a burning passion hope to one day achieve. "Maybe in ten years I won't be as strong as I am now to have this lifestyle, but I'm working towards that balance."
ADVERTISEMENT - CONTINUE READING BELOW