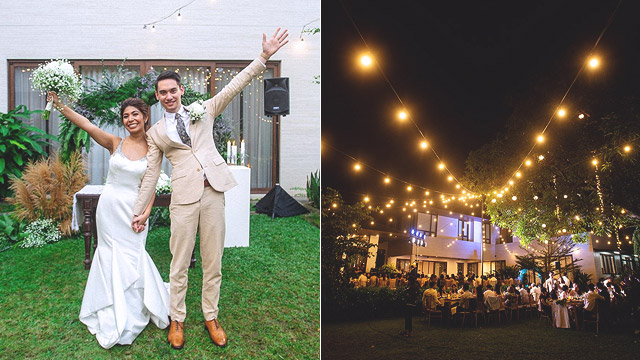 For Pinay bride Erika Dizon, the perfect wedding venue wasn't at a grand, formal ballroom or another far-flung destination—it was right at her family home's backyard in Antipolo. Because, yes, there truly is no place like home. 
ADVERTISEMENT - CONTINUE READING BELOW
CONTINUE READING BELOW
Recommended Videos
With a little creativity and resourcefulness, the bride and her partner (along with the help of her florist Ginger Events Styling) transformed the spacious yard into a rustic garden venue, where they had  both the ceremony and the reception. 
As most wedding venues nowadays come with a hefty price tag, setting up your wedding in your own home is certainly a cost-efficient move, but according to Erika, the savings were just a bonus. The best part about throwing a cozy, intimate wedding really is "knowing that you have a relationship with each and every one of your guests and [that] they actually want to celebrate this milestone with you," she shares. 
While a backyard wedding is an amazingly convenient idea, keep in mind that it can also take a lot of work to pull one off (remember, your house may not be prepared to have 100+ visitors!). Read on to learn how this Pinay dressed up her own backyard, as well as how she DIY-ed some of the rustic details of her nuptials: 
ADVERTISEMENT - CONTINUE READING BELOW
Can you tell us the story behind why you chose to get married in your backyard? 
Getting married in our backyard has always been a no-brainer decision since we only started [planning our wedding] just six months prior the big day. We never considered renting out an events venue because we have so much open space at our house in Antipolo! It was the intimate wedding of our dreams and we were just extremely blessed to have that kind of space all to ourselves—saving thousands of pesos was only a mere bonus. I knew it was what my parents wanted as well, so we can't really argue with that. 
How many guests did you have?
We had a total of 120 guests, mostly made up of close relatives and friends. My husband and I originally wanted the guest list to not exceed 100 people, but we realized later on that it just wasn't possible (for us, at least). Filipinos are very family-oriented and we didn't want to leave anyone out.
ADVERTISEMENT - CONTINUE READING BELOW
How did you dress up the venue? 
We didn't have a lot of trouble decorating the place because it was already lush with greenery. In spite of that, we still got a florist-slash-stylist, through our wedding coordinator, to help translate our vision into a reality and add finishing touches, since my husband and I knew little about design and floristry. We wanted a garden wedding with rustic touches—think reclaimed wood, burlap, wooden crates, delicate white flowers—and we got it! Now that we think about it, hiring a professional who already had those materials in their inventory was the best option. For one, it saved us a lot of time and money from buying and scouring in who-knows-where for "rustic" materials, which we know we'll never use again after the wedding. Besides practicality and cost efficiency, it was sustainable, too!
ADVERTISEMENT - CONTINUE READING BELOW
What was the hardest part of throwing a wedding in your own home? 
The fact that your home will be a mess after the wedding! Prepare to do a lot of cleaning. Since it wasn't an events venue where everything was in tip-top shape, it was also months of preparation and polishing so we could have a more presentable place for guests. 
On the other hand, what was the best thing about your intimate wedding? 
Everybody loved how simple and heartfelt the wedding was, which I think is a given in all small weddings. The best part is knowing that you have a relationship with each and every one of your guests and they're there because they want to be there and they actually want to celebrate this milestone with you. Making the guest list was one of the toughest parts for us, but I guess you just have to trust your instinct and invite who you want to invite. 
ADVERTISEMENT - CONTINUE READING BELOW
Aside from your venue, were there other details of your wedding that you DIY-ed? Are there other ways you were able to cut down costs? 
Instead of hiring a graphic artist to design our invites, ours were created and hand-painted by my talented sister. We even dedicated weekends to looking for good printing shops that could give us the best deal. We also didn't rent out string lights for the garden anymore since that would've cost us extra—my dad bought the light bulbs himself and had the light fixtures done a few months before the wedding.
One of the things we were most proud of was the DIY gin bar! My husband and I actually bought all the ingredients days before the wedding, even going as far as Tagaytay to source fresh and cheap fruits. We even woke up extra early on the big day so we could prepare the gin bar components—we were at the kitchen chopping the fruits a couple of hours before the ceremony! 
ADVERTISEMENT - CONTINUE READING BELOW
Any tips for brides who also want to DIY their wedding venue? 
Don't be afraid to ask for help! Accept that you cannot do everything on your own and trust that there will always be people willing to help you achieve your dream wedding, no matter how small or grand the gesture is. Have a firm idea of what you want and always weigh your options and choose whatever you think is best and would make you satisfied. In the end, it's your wedding! 
Click here to see more photos of this backyard wedding shot by photographer Liz Rañola. 
Comments
Load More Stories