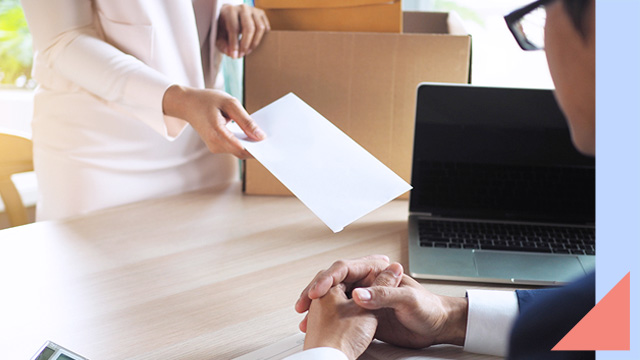 Resigning from your job is often a bittersweet decision no matter how long you've stayed in an organization, but while you will always have a lot of great moments and memories, there are times when staying is no longer the better option. You may think that leaving an employer makes you flakey—possibly because of how your parents stayed with their employers their entire career—but times are different, and it's quite alright to shift jobs when your current one isn't working for you anymore.
ADVERTISEMENT - CONTINUE READING BELOW
Whatever the case may be, always remember to avoid burning bridges, and aim to have a graceful exit. One truth that people working in the same industry realize sooner or later is that it's a pretty small world, so if you need help with smoothly communicating your departure with your boss, here are a few things you can try, depending on your situation:  
Situation 1: When you're leaving a job because of bad management
HR would encourage you to be honest during the exit interview. But how can you do so if your reason for leaving is bad management? First thing you should do is to define what bad management means because more often than not, "bad" is subjective and is not always as black and white as we think it is. You don't want to falsely accuse your employer, so some thoughts you may want to reflect on are: Is the management bad due to non-compliance of the labor code? Are the leaders not grooming next in line employees? Does the culture allow yelling and cussing at people? Are you not paid on time?
Answering these questions may allow you to solidify your ground that perhaps you deserve a better company to work for. Justify your answers to your boss in a matter-of-fact, respectful tone. Who knows? It may open their eyes and encourage them to address the concerns you mentioned. This way, they may avoid losing talents like you. Just remember to refrain from speaking ill about them as you wouldn't want to be known as someone who badmouths her employer.
Situation 2: When you found a better career opportunity
Better career opportunity may mean a higher position, better pay, wider scope, broader exposure on your field, different industry, more flexible schedule, or even a closer location to your home. Identify the key factor driving you to take that job offer from another company, and share the reason for letting go of your current job for that other opportunity. If you're an exemplary talent, your superior may make ways to keep you and not lose you to another organization through a counteroffer.
ADVERTISEMENT - CONTINUE READING BELOW
Usually, people get confused upon receiving a counteroffer but remember that it's always a possibility, especially if you're an asset to the company. If you've already signed with your new company, you'll obviously have to turn it down (be a person of your word), but if you have yet to do so and the it ticks all the boxes for you, then it's alright to revist your options. Remember your priorities, and do what's best given your current arrangement. 
Situation 3: When the company's ideals, values, or goals don't align with your own
All organizations have a set of ideals or values that serve as an anchor for important decisions and company-wide goals. Sometimes, due to industry changes, you're moved into a situation that, while not necessarily wrong, you're just not comfortable with. It could be anything from asking you to take on extra work you're not trained to do, to marketing a product you don't believe in.  
ADVERTISEMENT - CONTINUE READING BELOW
You can explain to your boss that you understand the direction of the organization is taking, but you can no longer be part of it. More often that not, Management will take heed and find an arragement that can be amicable to the both of you, but if you find that there's no room to move around anymore, explain that it may be more beneficial to the company to find someone more fit for the job, and extend your help should they need it. 
Situation 4: When you want to prioritize your health
Remember that above your job, your health should be your priority. If you're filing your resignation due to this, all you have to do is to present your medical certificate to your boss. It pays to be honest with your senior when it comes to your health.
There are some who wish to resign in order to focus on building a family. Depending on your manager or organization, you could possibly be given the option to take a sabbatical leave so you can take a long break instead of leaving your company for good, but of course, the decision will always rest on you.
ADVERTISEMENT - CONTINUE READING BELOW
Situation 5: When you're overworked
Being overworked needs to be quantified in terms of time spent working, amount of work to be delivered, how it affects your personal life, because this statement is based on an individual's threshold. Once you've validated your thoughts, communicate them to your superior and inform her that there may be a mismatch in terms of skills vs. the role, or probably unrealistic expectations. Share with her the series of events that led you to your decision and let her know what your personal goals are with the intention to end with a positive note.
* Sheena Abellera is an MBA graduate and is currently working for a food manufacturing company as an HR practitioner.
Load More Stories