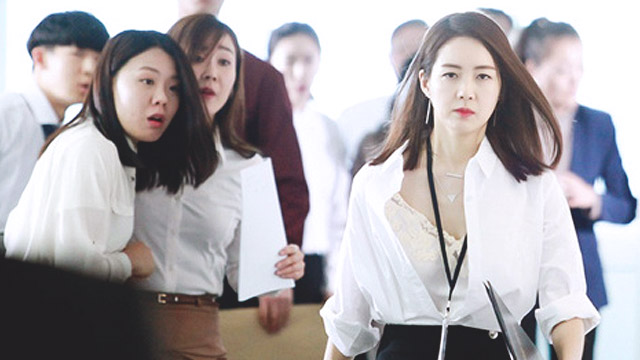 You've probably had a strict boss at some point in your career: one who doesn't take anyone's crap, who's focused on efficiency, and who pushes you to your limits. Maybe he or she turned out to be your accidental mentor, because of whom you wouldn't be in the place you are now.
ADVERTISEMENT - CONTINUE READING BELOW
And then there's that boss who's just plain mean-spirited and who finds pleasure in seeing you suffer. A person like this has no goal but to hurt your career and reputation, and the reason doesn't even matter because sometimes, there's no reason at all. We've listed several red flags below, and if you tick one or all of them, then you're in an abusive relationship with your boss, and you need to take yourself out of the situation right away.
Red flag #1: She demeans your efforts in public.
While everyone makes mistakes, singling you out and embarrassing you during a meeting despite how much you've worked on a project is improper and uncalled for. Anything that can be improved on should only be between the two of you, and if something big and bad did happen, only those who need to be updated should be informed professionally, and not in the form of a personal attack. As Forbes contributor Kevin Kruse notes, "Anything good someone has to say can and should be said in public. But saying anything negative, or criticism, should be shared with you in private."
Red flag #2: She verbally assaults you.
It's one thing to constructively criticize you, but it's a whole new ballgame when she talks to and about you condescendingly and begins to call you names. This means that she doesn't respect who you are as a person, and it's something that you should never tolerate.
Red Flag #3: She micro-manages you and gets mad when you show initiative.
You feel like you're always under a microscope. She wants you to tell her every little thing that you're doing, and when you don't, she snoops around without your permission. She wants you to deliver but she doesn't want you to take initiative—in fact, she gets mad when you do because she thinks that you're stealing her thunder. This leaves you with very limited space to move because you really don't know what else to do, and when you're stuck, she claims that you're not doing your work. 
ADVERTISEMENT - CONTINUE READING BELOW
Red Flag #4: She withholds information from you then blames you when sh*t hits the fan.
What you don't know can hurt you, and she knows that. She finds ways to sabotage your tasks and you end up cleaning after a mess that you didn't start. She then spreads rumors of your ineptitude when in fact it's her fault that things went south. Basically, she's "nanglalaglag"—she drops you like a hot potato then washes her hands clean of the issue.
Red Flag #5: She steals your accomplishments.
There are very few things worse than working hard only to have someone else claim the credit for it. An abusive boss will incessantly breathe down your neck and blame you for your shortcomings, but when you succeed against all odds, she stands in your spotlight. Best keep receipts when you're working for someone like this so that your case can stand if ever you plan on reporting her.
ADVERTISEMENT - CONTINUE READING BELOW
What can you do?
Can you work around an abusive boss? Possibly, if the people above her or HR are neutral and are known to value integrity. In the real world, however, it can be pretty hard to get over the hurdle of a power-tripping superior, so weigh your options: is your position worth it? Maybe there are similar openings elsewhere less toxic. If you can handle a company move, do it as soon as you can, and don't wait until it's too late and you're performing poorly before saving yourself from emotional and mental distress.
Load More Stories