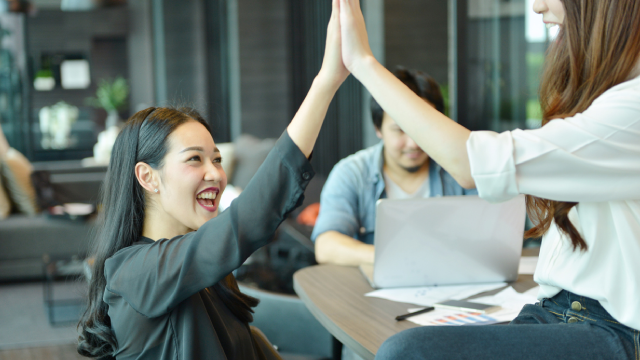 You've probably already read about this a number of times in our past articles, but being smart about your money is something that every Pinay should prioritize, what ever your source of income... not just because you have donya dreams, but also because you'll actually get to enjoy your money more when you're responsible with it. And while a lot of women may have had a few financial mistakes in their early 20s (much like this writer), know that your 30s is your chance to begin being masinop with your suweldo.
ADVERTISEMENT - CONTINUE READING BELOW
Here is a checklist of smart things you can do with your money by the time you hit your 30s. If you've already done some of them, then you still have a lot of time to plan for the rest, but if you've already done all, then just keep on doing what you're doing—at least you can rest easy should a rainy day come:
1. Have a savings account
This is probably one of the most basic things you can do with your money. A savings account is basically just a safe place where you can keep your cash, and most have it as a spending deterrent, thinking that keeping cash will entice them to spend more.
FN Tip: If you really want to keep yourself from spending money from your savings account, don't get an ATM card, and practice over-the-counter withdrawals.
Money in your savings account also earns interest per year, however, it's often not too big to make a notable difference. While you shouldn't rely on a savings account if you want to build wealth, it's still important to have one, as aside from having a safe place to keep your money, you also create bank records which are important in many applications and transactions, including getting travel visas.
2. Get a time deposit
If you're looking to keep your money in the bank, and you really, really want to keep yourself from touching it, get a time deposit. A time deposit is basically money you can't touch for a certain amount of time as it earns interest that's higher than a savings account. Depending on the amount you put in and the term you pick, your money can earn anywhere from 0.25 to 1.125 percent. The good thing about it is it's pretty low risk, and many banks even offer terms as short as 30 days.
3. Have an emergency fund
Your emergency fund should be different from your savings account and should not be touched. It's said that you should set aside an amount that can tide you over for a year in case something happens and you get financially compromised. Your emergency fund can also be kept in a savings account, but it's also good to be liquid, especially during times of calamity and there are no banks to run to.
ADVERTISEMENT - CONTINUE READING BELOW
4. Get life insurance
It's actually best to have life insurance early, since the younger and healthier you are, the less the cost that you have to pay. Depending on your lifestyle and your earnings, you can choose between two life insurance types: term, which basically requires you to pay premium for a certain number of years depending on the package; or whole, which is most of your insurance-investment offerings that you need to pay for continuously.
Both have their pros and cons: term life insurance is a whole lot cheaper than whole, specifically because there's no savings/insurance aspect to it. Once the term is done, though, so is your coverage, and you don't get any money back. If you're getting another package, the price might be higher as you've already become older.
Some people prefer term life insurance since aside from the price, they're not tied to one provider. Moreover, they can put their extra money in another kind of investment; it does come out more economical than whole life insurance, and your returns are often bigger.
ADVERTISEMENT - CONTINUE READING BELOW
Whole life insurance is more expensive, and it's something that you need to pay for constantly, or at least until your investment can pay for the premium itself. The perk is that your premium stays the same amount through the years; the con is that as an insurance vehicle, it won't earn as much as other low-risk options such as bonds. 
5. Get into investments
There are a lot of options and variations for all types of income that it's almost a sin not to get into investments if your goal is to build wealth. Let's face it, saving up your suweldo won't really cut it, which means you'll really need to look into other sources of income.
One good way to start is to look into bonds, as these are often low-risk and provide huge earnings by maturity. You will need to shell out a bigger amount (often starting at P50,000) but depending on the interest rate, you're more likely to earn a good sum once the term is over.
ADVERTISEMENT - CONTINUE READING BELOW
In order to get the best deals, you'll need to watch out for news about offers from trust-worthy banks and companies, as the ones with the biggest interest growth per year typically get bought out first. The key is to keep in touch with the institution you're investing in, because if they see you as a good investor, they'll contact you about new offers prior to their public announcement so you can get first dibs. 
If you're more secure about your financial skills and you know you can manage your money well, you may want to get into stocks. The Philippine Stock Exchange holds regular talks on this kind of investment, so it's best to get to know what you're getting into before jumping in.
6. Enjoy your money
We get it. All these tips to become financially free can be a bit overwhelming, but while manuevering through everything, one thing that you should never forget is to enjoy your money. You've worked hard for it, why shouldn't you have fun with it? Always set aside money for leisurely pursuits, may it be a new hobby or your next out-of-the-country trip, or even a product that you know will make you happy. The point for all the wealth-growing is for you to stop worrying about money, even when the time comes that you'll need to shell out a great deal of it, so take time to actually appreciate the fruits of your labor.
ADVERTISEMENT - CONTINUE READING BELOW
*Bonus: get a franchise
If you're brave enough and you have the funds as well as the time to run a business, why not get into franchising? It's a good way to wet your feet when it comes to being your own boss, plus there are a lot that offer an initial investment below P300,000. When you get the hang of it, you can opt to get more kiosks, or even start your own.
H/T: Everygirl
Load More Stories