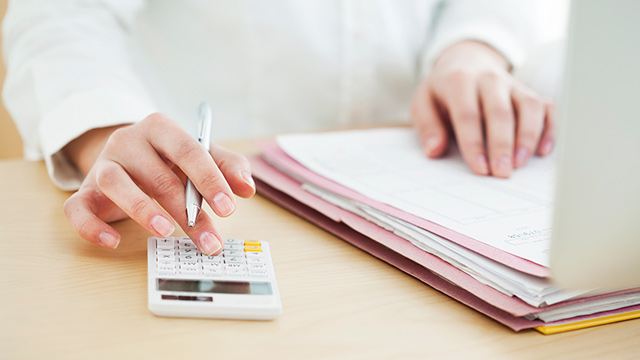 When you hear the word investment, you often associate it with the Philippine stock market or the property market. Now, putting your savings into the stock market can be a gamble as the market can be volatile and high risk, but there's a chance for high returns. You can earn from stocks when your stocks increase in value or when you earn dividends. The property market, on the other hand, generally appreciates (increase in value through time), however, the initial investment is high. When you buy a condominium unit, you can earn from the increase in its value or by renting it out.
ADVERTISEMENT - CONTINUE READING BELOW
The type of investments you may be interested in is based on your risk appetite (the amount of risk you are willing to take) and the amount of money you have allocated for investing. If you are only willing to take moderate risk and don't have a lot of savings to buy property, perhaps treasury bills or treasury bonds are for you.
Treasury bills and treasury bonds are units of debt issued by the Philippine government. You earn from regular interest payments and you can get the amount you lent (the principal) upon maturity. These are stable investments because the risk that the Philippine government will default (not pay the interest and the principal) is zero to none. You may opt to hold these investments to maturity or trade them to earn from fluctuations in the market.
Treasury bills are short-term investments and can be held for 91, 182 and 364 days. It can earn between 2.394% to 3.007% per year according to the bond market update dated April 24, 2017. It provides a relatively high return compared to the average rate of savings accounts with commercial accounts at 1.117% per year.
Treasury bonds are moderate-term or long-term investments and can be held for 2, 5, 7, 10, 20 and 25 years. There are two types of peso-denominated bonds: Fixed-Rate Treasury Notes (FXTN) and Retail Treasury Bonds (RTB). Please see comparison below.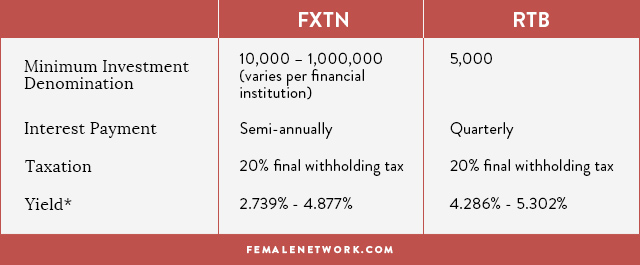 RTBs are more catered to individual investors because of its smaller denomination as well as more frequent interest payments. Both are virtually risk-free.
ADVERTISEMENT - CONTINUE READING BELOW
The 19th tranche of RTB amounting to P70B was issued by the Bureau of Treasury last March 28, 2017. It is for 3 years. Its coupon interest rate is 4.25% with issue date of April 11, 2017. (Check here if you want to start calculating!) Because of the demand, there was an issuance of P15B with a 7-year maturity period last April 18 and an upcoming issuance of P15B with 10-year maturity period on May 2.
If interested in either treasury bills or treasury bonds, get in touch with your bank.  The most recent tranche of RTB is available with the following selling agents: Banco de Oro Universal Bank, BDO Capital & Investment Corp., BPI Capital Corp., China Banking Corp., Citibank N.A., CTBC Bank (Philippines) Corp., Development Bank of the Philippines, First Metro Investment Corp., ING Bank, Land Bank of the Philippines, Metropolitan Bank and Trust Co., Philippine Bank of Communications, Philippine National Bank, Rizal Commercial Banking Corp., Security Bank Corp., Standard Chartered Bank, and United Coconut Planters Bank.
ADVERTISEMENT - CONTINUE READING BELOW
Happy investing!
Pamela Lloren is a Certified Public Accountant and is currently teaching accounting and finance subjects at the University of the Philippines.
Load More Stories