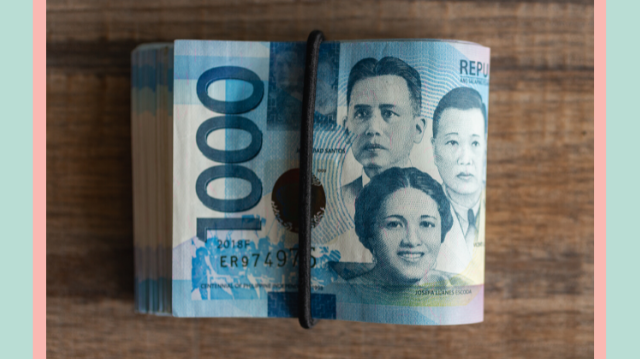 With a lot of financial terms and potential risks involved, investing can seem intimidating at first. 
But while investing is definitely not easy to master, it's not rocket science either. In reality, you don't have to be an economist to learn how to invest your money properly. Starting small is key to understanding the business. In this article, we'll walk you through how you can grow your P5,000!
ADVERTISEMENT - CONTINUE READING BELOW
Investing through Bonds.PH
Gone are the days when investing and trading were exclusive to the Wall Street guys. Good news is, investing has now been made easier through accessible online platforms. One of the platforms that are currently helping Filipinos make the most out of their finances is Bonds.PH. 
What is Bonds.PH and why should I invest here? 
Bonds.PH is a platform for buying and selling Philippine retail treasury bonds. It combines the security of investing in treasury bonds and the convenience of online banking. With this platform, you can invest in risk-free Philippine treasury bonds no matter where you are in the world.
A product of a partnership between UnionBank of the Philippines and PDAX, Bonds.PH is the ideal platform for Pinays who are taking their first step in investing their money. Because it deals with treasury bonds, it means there is little risk involved. 
The Bonds.PH app can be downloaded from Google Play and the App Store. PDAX, which acts as the technological partner for UnionBank, is a virtual currency exchange. It is licensed by the Bangko Sentral ng Pilipinas. PDAX utilizes blockchain technology to improve financial services in the country.
CONTINUE READING BELOW
Recommended Videos
How do I invest in Bonds.PH? 
Once you've downloaded the app on your device, you will have to create an account. When you have the app, you can follow these steps:
Click on the Sign Up button to enter your personal information and then create a 6-digit PIN.
A verification link will be sent to the email address that you registered. 
Once you've clicked the link, you will be redirected to the app to complete the sign up process. 
The sign up process is straight forward and you can do it in a few minutes!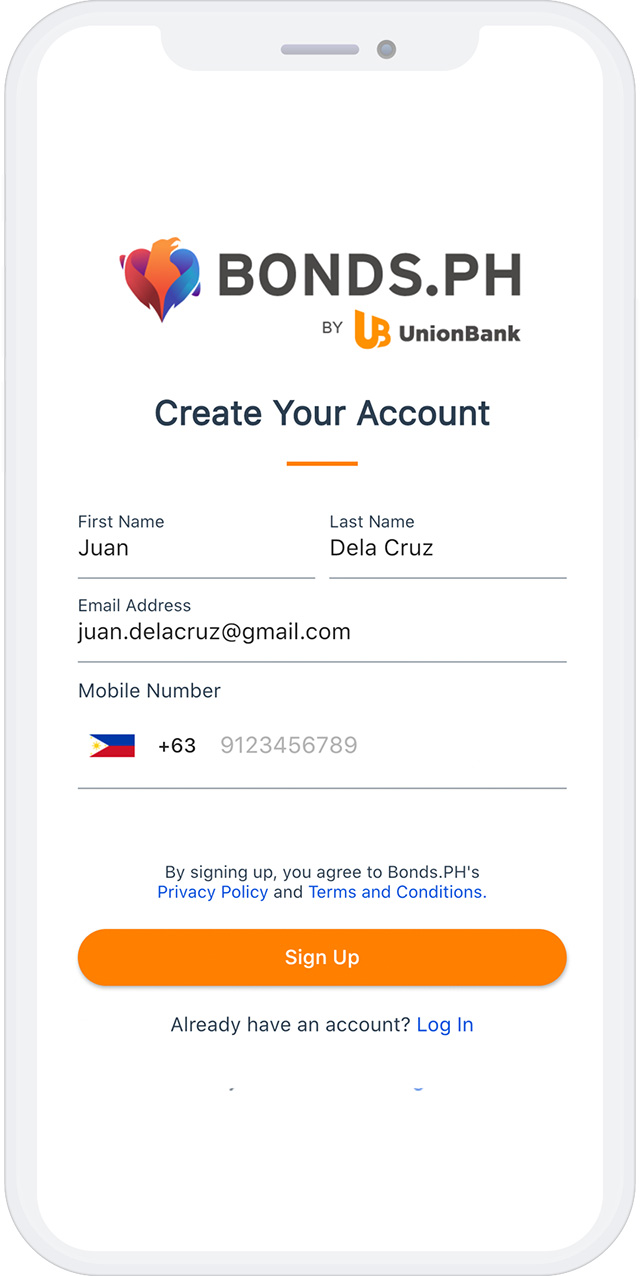 ADVERTISEMENT - CONTINUE READING BELOW
How much is the minimum deposit rate? 
The minimum investment amount for retail treasury bonds varies but for the current issuance, or RTB 25, the minimum investment amount is P5,000. 
After your account has been verified, you will be able to use the cash in feature of the app, allowing you to invest.
How do I withdraw money from Bonds.PH?  
Withdrawing money from the app is just as easy as cashing in. To cash out all you have to do is pick from the available cash out channels on the menu of the app. You can get your money through electronic money wallets.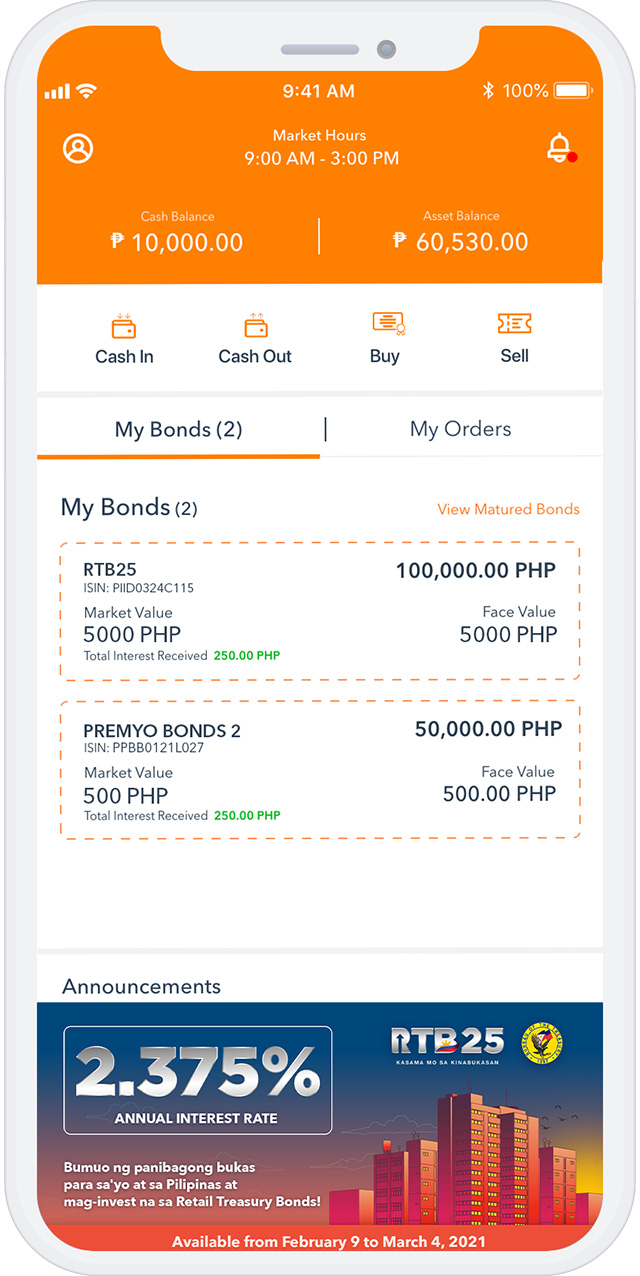 ADVERTISEMENT - CONTINUE READING BELOW
How investing today can be worth it in the future
Ready to invest your P5,000? RTB 25 has an interest rate of 2.375% and after a three-year period, your investment will give you a P285.00 return.
Now, that doesn't seem like a lot of money.
Most people have this idea that investment would bring in large returns. However, it usually doesn't work that way.
Returns that are too promising may very much likely be dangerous ploys. Large returns would entail higher risks involved. Remember, when it comes to investments, you need to be careful with those that promise substantial returns after a short period. As always, it's wise to keep in mind that if it's too good to be true then it's probably a scam.
In typical investing, the amount of return that you are going to get will depend on a lot of factors including the amount of your initial investment and the interest rate of the investment vehicle you've picked. 
ADVERTISEMENT - CONTINUE READING BELOW
Think of investing in retail treasury bonds and other forms of investments as long-term activities. You're not investing in those vehicles to get the benefits now. In a few years' time, the money you've invested may have higher returns than just allowing it to "sleep in the bank." 
Looking for more options for possible investments? You're not alone. Visit Girltalk to hear about where fellow Pinays are putting their money and share your own experiences!
Female Network is now on Quento! Click here to download the app and enjoy more articles and videos from Female Network and your favorite websites!
Load More Stories