Growing your money without working for it sounds great, right? But put subscription amount, time value of money, and the risk involved into the equation and you have what we'd like to call the IAS—"Investment Avoidance Syndrome." 
ADVERTISEMENT - CONTINUE READING BELOW
If you're new to investments, the concept itself may come off a bit jarring at first—and that's not uncommon. According to Bangko Sentral ng Pilipinas' 2017 Financial Inclusion Survey, most adults avoid investing due to a number of reasons: the lack of money, the belief that investments entail high costs, and the lack of awareness.
In reality, investments shouldn't be as terrifying as they seem to be. 
In fact, there are a lot of investment opportunities such as GInvest that provides users with options that require low capital and entail lower risks. It now allows investment products that require as little as P50 for minimum subscription.
GInvest is an investment platform of GCash—a leading and established mobile wallet platform in the Philippines since 2004 that has made investing much more feasible and easily accessible even for the ordinary Pinay. In this article, we'll walk you through how you can easily grow your P1,000 through GInvest.
ADVERTISEMENT - CONTINUE READING BELOW
Recommended Videos
What is GInvest and why should I invest here?
GInvest allows users to invest in the company through various investment funds made possible by Globe and their partner, ATRAM Trust Corporation.
If you're new to investing, GInvest would be a great place for you to begin. Its simple user interface, flexible investment options, and a minimal investment amount for as low as P50 can be a great start for beginners. You can start small or aim high depending on your risk appetite. Investing in an established company is also a good way to ensure that your returns won't be jeopardized at the expected maturity date.
How do I invest in GInvest? 
It's not an exaggeration when we say that investing your money today has been simplified to doing eight easy steps. If you have a GCash account, you're already one step ahead!
Step 1: Register
It's important to note that Ginvest is only accessible through the GCash mobile app. Make sure to download the GCash mobile app first. From the home page, click "show more" then head over to Financial Services GInvest.
ADVERTISEMENT - CONTINUE READING BELOW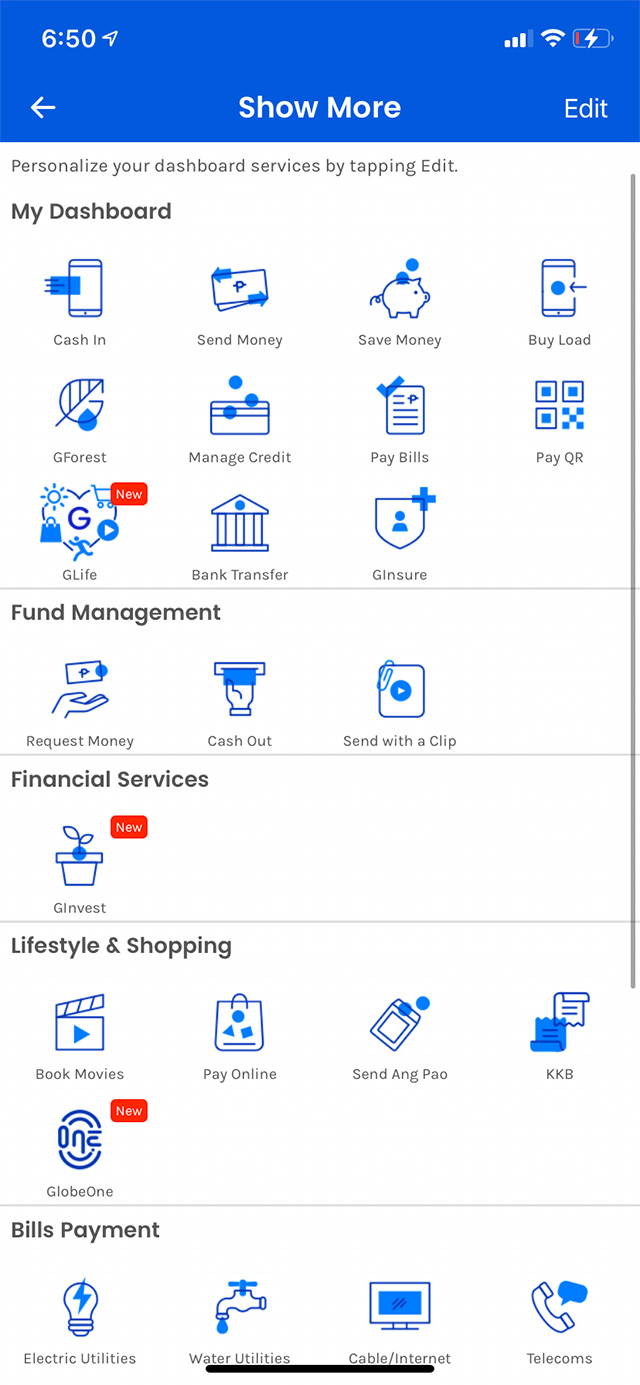 To begin the registration process, hit "Proceed." You will be filling out personal information and will be asked to confirm your account afterward via email.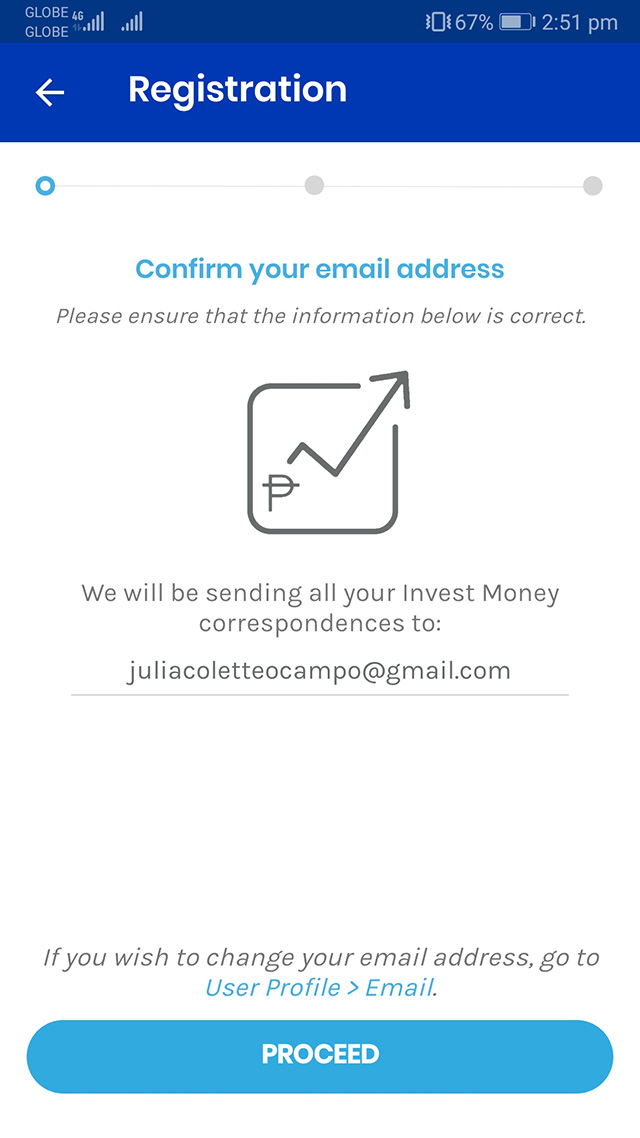 ADVERTISEMENT - CONTINUE READING BELOW
Step 2: Fill out Risk Profile
An important part of setting up your investment profile is choosing what type of GCash investor you are and assessing your "risk profile". You will be asked to answer a couple of questions i.e. your estimated net worth, your source of funds, your desired investment program, the purpose of your investment, estimated investment amount, etc. This allows you to know yourself better so you can identify your investment goals. After that, you will be asked to indicate if you're a citizen of the U.S or not.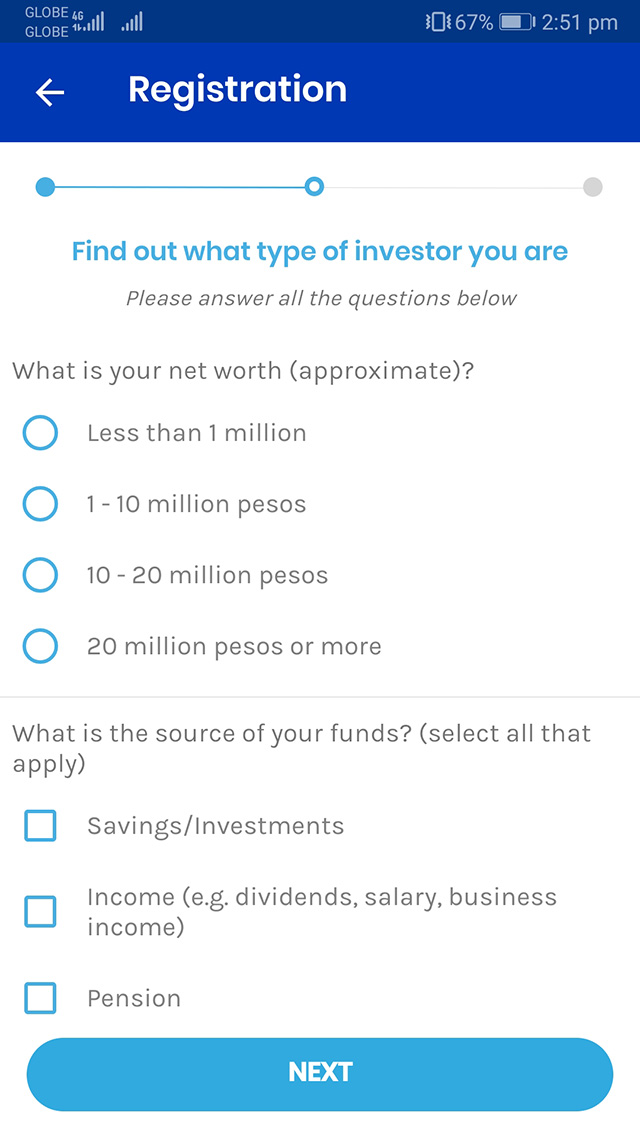 ADVERTISEMENT - CONTINUE READING BELOW
Step 3: Don't Skip the Terms and Conditions
At this point, you will be lead to GCash's User Agreement or Terms and Conditions for your investment. It is important to read this thoroughly so you know your rights and limitations as an investor as well as what to expect from your investment experience. Once you've read through and agreed with all terms, tick the box and hit "Confirm." 
ADVERTISEMENT - CONTINUE READING BELOW
Step 4: Run Through your Risk Profile
After hitting confirm, you will then receive an assessment report of your risk profile as an investor. The assessment result will show you what type of potential investor you are based on your answers to your investment profile evaluation. For instance, you may be described as "moderately aggressive," which means that your goal is to grow your investments but at the same time moderately hesitant to take too much risk.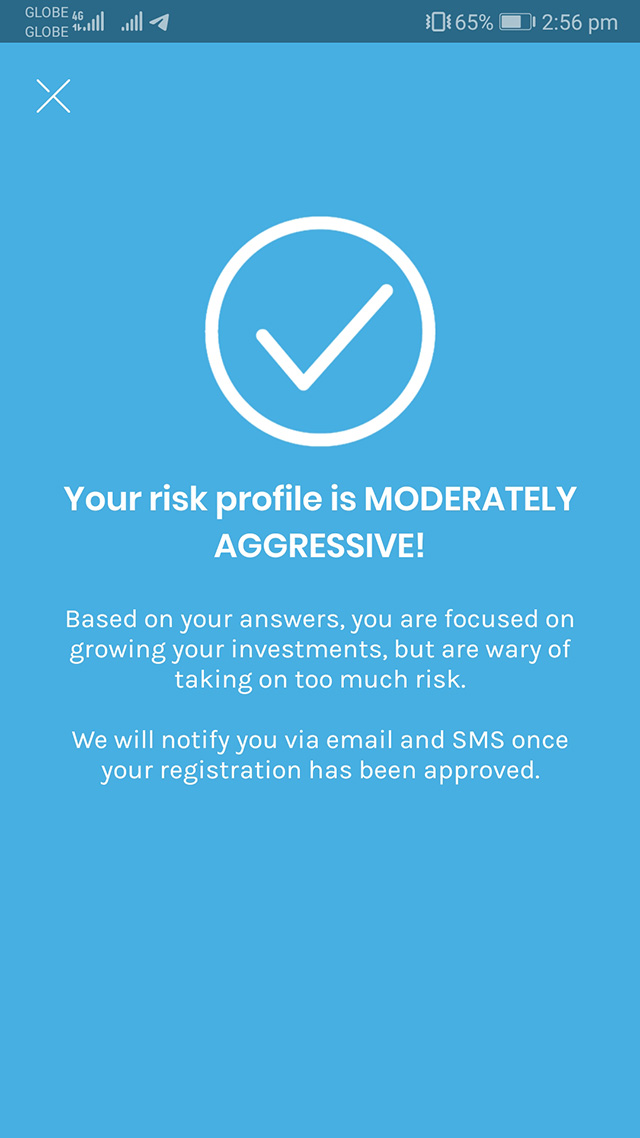 ADVERTISEMENT - CONTINUE READING BELOW
Step 5: Wait for Confirmation
Wait for your email or SMS confirmation that your GInvest application has been approved. Once you've received the confirmation, you can now begin to invest.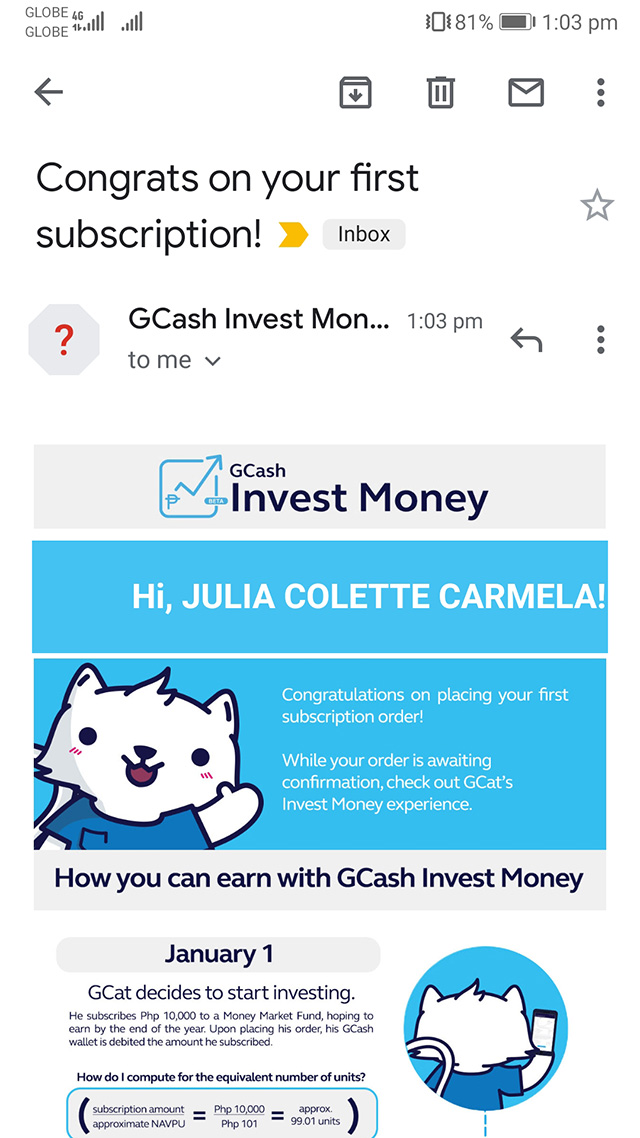 Step 6: Select Investment Option 
Once you've established your profile, you can now select from a number of investment options that GInvest offers. Depending on your risk profile, you will be given a number of options that may suit you, ranging from ATRAM Global Consumer Trends Feeder Fund, to ATRAM Philippine Equity Smart Index Fund and many others. Each investment product has a risk rating to help you make the right choice for your investment needs. 
ADVERTISEMENT - CONTINUE READING BELOW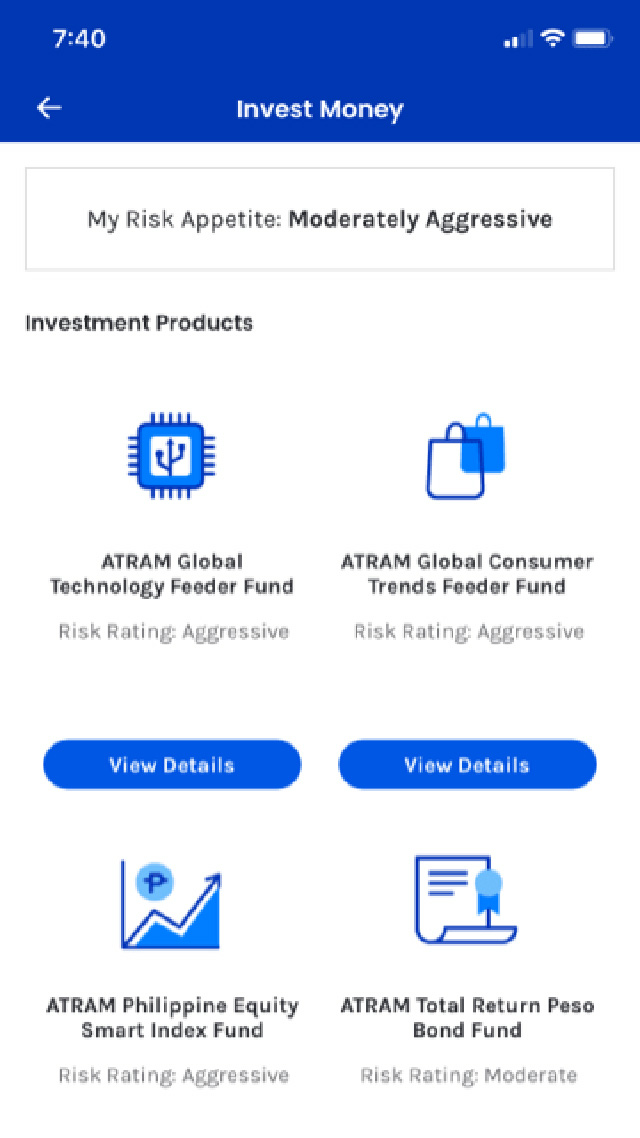 Step 7: Buy Units Using GCash Your eWallet
Now, you can invest by buying units from your investment option. In order to invest your P1,000, click "Buy." You can choose your own investment amount (with a minimum of P50) which will be deducted from your GCash Balance. 
An SMS will confirm that your buy order is pending. Another SMS will confirm that your order has been approved. 
ADVERTISEMENT - CONTINUE READING BELOW
Step 8: Keep Track of Your Progress
Last but not the least, you can now track and sell your investments anytime using the app. Whenever you decide to sell some of your units, GInvest holds no fees and no holding period. You can also set up your GInvest profile to set reminders for investment schedules.
How much is the minimum deposit and interest rate of GCash investment?
GInvest claims to be a platform with the "lowest minimum investment amount ever." For as low as P50, you can now invest in most of GInvest's investment options.
There are five available investment options in GInvest, each with a different interest rate and minimum subscription amount, as shown in the app. 
According to Gcash Resource, the table below shows the historical interest rates (per annum), minimum deposit rate, and risk rating of the investment products. Note that they are variable and may change over time.
ADVERTISEMENT - CONTINUE READING BELOW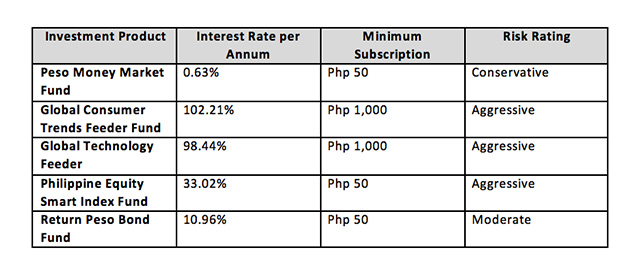 So if you've deposited P1,000 under the Global Consumer Trends Feeder Fund, you will potentially grow your money to P2,221 on the maturity date.
Your availability to access these options depends on your risk appetite. The old financial adage remains a simple guide for investing: "The higher the risk, the greater the expected return." Thus for lower-risk profiles, you will be offered investment products that have a lower rate of interest. Still, the lowest rate which is 0.68% per annum is still higher than conventional banks.
ADVERTISEMENT - CONTINUE READING BELOW
How do I withdraw money from GInvest?
Say, you want to withdraw your money plus interest earned in GInvest. You'll simply need to click "Redeem" on the page where you've invested your money in. Then, key in the amount that you'd want to redeem. Afterward, you will be asked to agree to the Terms of Redemption. An SMS will let you know that your redeemed amount has been credited from GCash Wallet.
Final Thoughts
While most investment schemes require a minimum of P5,000 to P10,000 of investment, GInvest has provided flexible options for different investors. Thus, investing is now no longer exclusive to the financially highly literate or capable. There is no limit to the amount of risk that you're willing to take with GInvest. Furthermore, no investment is actually without any risks. However, its simple user interface and informative platform has made investing a far less intimidating venture to dive into. Now, being an investor is simply a few clicks away for you! 
ADVERTISEMENT - CONTINUE READING BELOW
Female Network is now on Quento! Download the app on iOS and Android or visit the Quento website for more articles and videos from Female Network and your favorite websites. 
Load More Stories