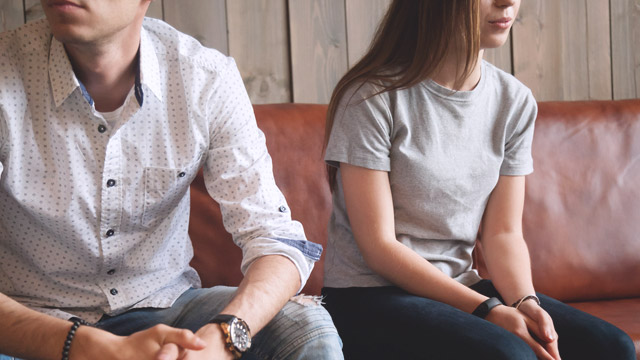 Being cheated on is one of the worst things that can happen to you in a relationship. After all, you gave your trust and commitment, and while reconciliation is always on the table (if you decide it to be), it can be very hard to bounce back from a harsh betrayal.
ADVERTISEMENT - CONTINUE READING BELOW
In our most recent #FNAsks post, Girltalkers and Female Network's Facebook and Instagram followers shared their opinions on whether or not they'd take a cheater back.
Here are some of the replies you can probably relate to:
It's his loss.
Girltalker Bridgette* explained that second chances are important, but there will come a time when enough is enough. "Everybody deserves a chance to make it right, but that does not mean that you can always have that chance all the time...
"And yes, I have moved on from him since we broke up…because I gave it all. I gave all that I can to prove my love for him.
"Now it's his loss, a cheater's loss."
Never again.
For Facebook commenter Aya Matsutoya, the answer was simple: "A compulsive liar will always lie. So does the cheater." Queenzhing on Instagram also had similar thoughts. "Do we still need an answer for this? A smart woman knows what to do."
Forgive, but not forget.
"If I was ever cheated on by my boyfriend, I would forgive him but I would not take him back," explained Girltalker Miss Taken. "Cheating is a conscious choice and knowing that he broke my trust and wasted all my love for him only shows that he's definitely not the right guy for me. Knowing myself, I could never fully trust him again if I decided to stay in the relationship so better just to end it. I will always wonder what went wrong, why I am not good enough and I don't deserve this kind of emotional torture."
ADVERTISEMENT - CONTINUE READING BELOW
Don't be an option.
"How will you stay in a relationship full of lies?" asked @rejina_joy on Instagram. "He is selfish and thinking [of] ONLY his benefits from you and that girl next door. Learn to love yourself…if you are afraid that you won't be able to find someone anymore… eventually there is someone for you, who is yours wholeheartedly, who will not hurt you…
"Kaya may pangalawa kasi hindi ka pala sapat sa kanya. Sad reality but cheer up! Appreciate yourself first, kung kayo, kayo, kung hindi, hindi."
That's that.
For Girltalker orta_vez, cheating is a point of no return. "I believe in forgiveness but there's no coming back from infidelity. You can never fully trust the other person again and life is too short to be spent wondering and worrying if the other person will cheat on you again, which is highly likely. Relationships and marriage-- they're wonderful, don't get me wrong. But it takes two complete, conscientious, self-sacrificing people to make it work. There are many steps to cheating. It's not a mistake, it's not an accident. People who cheat are out to destroy their relationships, whether or not they want to admit it."
ADVERTISEMENT - CONTINUE READING BELOW
It's still all up to you.
Girltalker lysardiente explained that there's still a possibility of working things out. "I guess it depends on the amount of love you have [for] that person and how much he is willing to give and do to make [it up to] you. If you still find him sincere in wanting you back and you see that you [can] still trust him (in the future) and you are also willing to work things out with him, then you could give it one last shot."
Heaven forbid that it happens to you, but if it does, what would you do? We'd love to read your answers on Girltalk.
*Minor edits have been made by the Femalenetwork.com editors for clarity.
Load More Stories