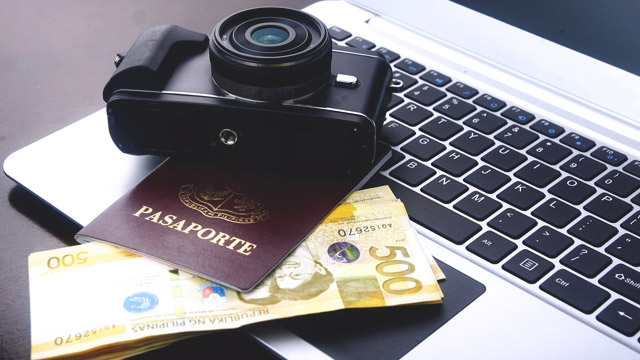 The beaches of Australia, the busy streets of Tokyo, the blissful street food of Bangkok, and the historic temples of Cambodia—these magical places have never been easier to visit than they are today. Airlines are constantly dropping huge discounts on flights, making tickets easier to acquire. Hosting apps and services now provide more accessible lodging options for both the frugal and luxurious traveler. And social media has shed a lot of light on unique vacation spots that every traveler must see.  
ADVERTISEMENT - CONTINUE READING BELOW
But of course the first thing you need to have on you when travelling to these exquisite places is your passport! If you haven't taken that little booklet out from hiding for quite some time, you'll probably have to renew your passport already. Most countries require that your passport still has at least six months of validity on it before you'll be allowed in, so make sure to check the validity date often so you don't forget! Thankfully, our government offices have made it a lot easier to get a new passport, or to renew your current one. 
Let's take a step-by-step look at how to renew your Philippine passport.  
How to renew your Philippine passport
1. Make an appointment
Appointment slots do get filled up quickly, which is why it would be wise for you to book your appointment as early as possible. Don't wait until it's too close to your trip date, because your appointment might be months from now! There are two ways to do this: 
CONTINUE READING BELOW
Recommended Videos
B

ook online through this website: 

https://www.passport.gov.ph/appointment

. Remember that booking a slot is FREE, and so you should be w

ary of parties

 

that charge you a fee for this. 

 

Book

 

via phone – The DFA Appointment Hotline can be reached at (02) 737–1000 from Monday through Saturday, from 8am to 5pm. 

 
Take note that walk-in applications to renew your Philippine passport are NOT ALLOWED, except for these specific cases: 
If you are a Senior Citizen carrying a

 

Senior Citizen ID

 

If you are a Person with Disability (PWD) who holds a PWD ID, or have a visible disability

 

If you are an

 

O

FW with proof of status. You can present your

 

iDOLE

 

OFW ID card, wo

rk visa, or your employment contract

 

If you are pregnant with medical certificate prescribed by your OB-GYN

 

If you are a m

inor aged seven (7) years old and below.

 

 
ADVERTISEMENT - CONTINUE READING BELOW
Those qualified for walk-in appointment bookings may visit the Priority or courtesy lane at any DFA office. Senior citizens and PWDs are allowed to have one companion, and this companion will also be allowed to ply for a passport through the priority lane.  
The people allowed to accompany senior citizens or PWDs applying for a passport are the following:   
Immediate family member – spouse, siblings, parents-in-law

, children-in-law, adult children, and adult grandchildren. Proof of relationship must be presented upon application.

 

Companions that are not immediate family members have to present proof that they will be traveling together. This can be your airline tickets or confirmed airline bookings, or a statement of account from confirmed hotel bookings. 

 
2. Pay the necessary passport processing fee

 
It was implemented in 2018 that all applicants must pay the passport processing fee before you go to your booked appointment. Upon filling up the online forms, you will receive an email with a Reference Number needed upon payment. There are several DFA accredited venues or payment centers that you can go to for easier transactions:   
ADVERTISEMENT - CONTINUE READING BELOW
Bayad

 

Center

 

7-11 Convenience Stores

 

USCC (Western Union)

 

Robinson's Business Center 

 

Waltermart

 

Department Store

 

EcPay

 

Pera

 

Hub

 

Villarica

 

Pawnshop

 
For regular processing, the fee is P950 and your passport will be released after 12 business days. You can opt for express processing which costs P1,200 for earlier release. Your passport will be available in six (6) business days for applications within Metro Manila, and seven (7) business days if you are outside of Metro Manila. All passports that are processed on a Saturday have a P1,200 processing fee.  
Make sure to hold on to your receipt after making the payment! Once everything is confirmed, you will receive a packet in your email confirming your appointment. It will also have a link that lists the documents you are required to bring to your appointment. Make sure to print these out and have them with you when you make your personal appearance. 
ADVERTISEMENT - CONTINUE READING BELOW
3. Show up on time on your appointment date
This goes without saying, but make sure to make a personal appearance on your booked date and time! Proxies are not allowed, and you must be physically present in order to renew your passport. Have all of the required documents with you, which you will present at the counter. You'll get a number, which will be called out once it's your turn. Once your application is validated, then you can proceed to the next step.  
4. Photo-taking and data

 

encoding
You've finally made it to the last part of the process! You will be asked to proceed to the encoding area where your photo and biometrics will be taken, and confirmation of your basic personal information will be recorded. This may be the longest part of the process depending on how many people are applying on that day. But don't worry, you're almost done! 
ADVERTISEMENT - CONTINUE READING BELOW
5. Find out your passport release date and ensure your mode of delivery
You can choose to have your passport delivered to your address or pick it up yourself. For deliveries, just pay a delivery fee at the courier counter right before you exit the DFA office. If you wish to pick up your passport personally, you can go to the releasing counter at the DFA office where you applied on your scheduled release date and just present your payment receipt.  
When is the best time to renew your passport?
It's important to always keep your passport valid, as aside from it being a widely-accepted verification tool for your personal details, you can't travel if your passport has only less than six months of validity according to law. So if you love adventuring far beyond local borders, do your due dilligence and renew your passport a full year before it expires.
ADVERTISEMENT - CONTINUE READING BELOW
Good luck and happy travels!   
Source: DFA.gov.ph
Load More Stories