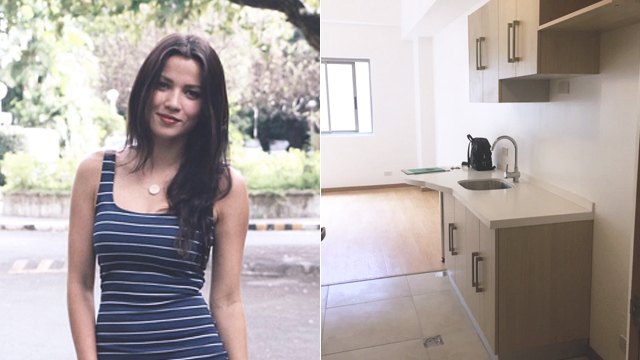 "A year from now, you'll wish you had started today."
This is the subhead of model and entrepreneur Julia Quisumbing's personal blog, where she narrates her experience of purchasing and renting out a condo unit in an entry called My First Investment. According to Julia, this entire venture all started with a desire to become financially stable.
"Modeling gave me a great income with a lot of freedom. The only problem was that I never knew how much I would make every month. That lack of stability drove me crazy. I decided to put all of my income into an investment."
After some consultations and a lot of thought, Julia ended up buying a condo in Baguio for P3 million back in 2015 (the turnover date was July 2017). "This was to my knowledge, a great deal because it was in the center of the city in a great location and across from University of Baguio." 
ADVERTISEMENT - CONTINUE READING BELOW
She was able to afford the downpayment thanks to a commercial she did, and spent the next two years paying P15,000 a month. 
"I had two years to save enough money to pay the exceeding amount. The way I saw it was I put all of my money in a bank (the condo), the property was my asset, and I could have a stable monthly income by renting it out. [I could also] sell it in the future, getting my money back with some extra profit from the increased value."
Investing in a pre-selling condo always comes with a risk, but if you do enough research, you'll always find a reliable developer. The moment Julia saw the building, she fell in love with its "beautiful, modern, large and clean" interiors. She was also pleased to experience first-hand how accessible it really was.
"I was so happy that I trusted my gut to get the place, even though a lot of people wondered why I chose Baguio; somewhere I rarely go. Honestly, it was just because I was young, inexperienced, and needed a better deal. I had no idea that I would be getting such a prime location with amazing quality."
Afterwards, she spent around P100,000 furnishing the unit (saving some money by accepting a couple of hand-me-downs). "My friends were asking me why I was spending so much on the condo because I could just rent it out unfurnished with a cheaper rental rate or just furnish it simply. The reason was because I was told the average rental in the area would go for P15,000 a month, which made sense for a 27sqm studio in Baguio. I could not accept this amount since I wanted a faster return of investment, so I decided to try Airbnb.
"I was so shocked when the next day I got a booking and I had to rush and find a housekeeper online. That month of July, I made more than a full months rental in half the month. I got so inspired that I returned to Baguio to improve the design and supply extra linen and necessary items for a daily rental. The following months took me on a new journey of fulfillment and success."
Now, Julia makes about P40,000 – 50,000 a month by renting out her unit. In an interview with FemaleNetwork.com, Julia expounds on the challenges she faces as a host, and what her next steps are as an entrepreneur:
What are the challenges of being an Airbnb host?
The challenges are keeping my ratings up by ensuring cleanliness, response rate, and providing an excellent guest experience. It's like a roller coaster ride but after a while you get the flow of it and don't sweat the small stuff. You will have good and bad experiences since every guest is different. You will learn how to be patient, stay calm during a crisis, and solve problems with a clear mind.
How do you manage your time efficiently?
Airbnb is a breeze if you stay organized and don't procrastinate. I use the saved responses feature a lot. I also would recommend getting a smart digital lock for your home to better manage it without stress.
Can you describe a regular day for you--how much of it is spent doing condo maintenance?
I spend very little of my day doing things for Airbnb because I organize things in advance. When several guests book at once, I immediately send them a thank you message with information, register them for their stay by sending emails to the building administration, reserve the housekeeper for their checkout dates, and I have an automatic smart lock that updates them with a pin code for check-in. This takes me about 15 minutes. If they have extra questions, I answer them any time of the day but it's just like texting a friend in a more polite and hospitable way. 
ADVERTISEMENT - CONTINUE READING BELOW
During their stay, I only check on them once because I want them to have their privacy. If my current guest is happy and I am booked for the rest of the month, that means I don't have to do anything for weeks since I accomplished everything in advance. I do message my guests to thank them during checking out time.
I never physically meet my guests and do everything from my iPhone, even when I'm traveling abroad.
What are your future plans in terms of being an Airbnb host?
My plans are to add more amenities for my guests and to maintain my Superhost status with a five star rating.
Do you see more opportunities for growth?
Always. The key is to always listen to your guest and see what is lacking.
Are there any other investments you're eyeing?
I have another condo I will be putting on Airbnb soon so my investments will be on hold for now until renovations are done. After that, I'll be investing in a new business which I will mention in my blog once it is ready.
How did the success of this endeavor shape your financial planning?
It gave me motivation for the future because I am making triple the amount I would have made with a regular rental. Everything that I put into this investment is giving me a stable income that will far surpass the amount I initially put in. I feel safer knowing that I have these properties working for me like a hotel and that they can support any dream I have for the future.
Load More Stories