Indoor cycling has become the cool and hip way to get fit in recent years, and it's easy to see why. It's fun to push yourself in group classes (especially if you're competitive by nature), you have an excuse to shop for fashionable activewear as you Instagram your workout OOTDs and meet new friends. And that great feeling after a workout is more than enough reason to come back.
ADVERTISEMENT - CONTINUE READING BELOW
CONTINUE READING BELOW
Recommended Videos
But indoor cycling, as with any disciplined workout, is more than just an exercise. Once you embody the principle and science behind it, it becomes a game changer in your physical and even mental well-being. As Saddle Row Program Director Chris Allison puts it, "It's not necessarily just about burning calories, what it is is reversing and sort of helping your body undo the damange of what your lifestyle has brought you to now."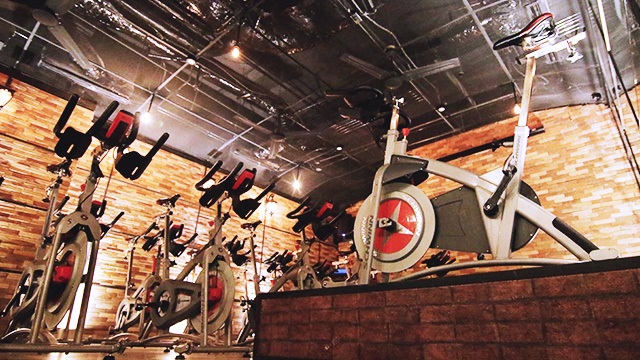 ADVERTISEMENT - CONTINUE READING BELOW
But wait, what is indoor cycling exactly?
Indoor cycling is ultimately "cycling indoors on a spin bike. It's bringing the outdoors in, but you're creating a different experience."
Chris is a former professional cyclist, and a certified personal trainer and spin instructor who is currently the program director of Saddle Row, an indoor cycling and rowing studio located in Serendra. "From our perspective," he shares, "in 45-90 minutes, you get a workout that, from start to finish, keeps you moving. It's set to music with high energy from the teacher and it sort of takes you out of whatever you might have going on in life. You get your dose of exercise in this fun, energetic environment on an indoor spin bike."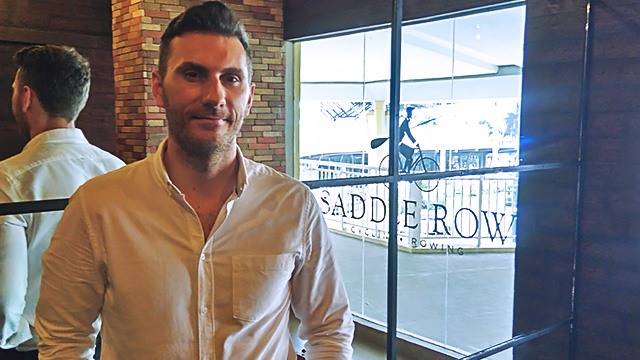 ADVERTISEMENT - CONTINUE READING BELOW
Sounds easy enough! Can I do it?
Because it's a low impact sport, anyone can do it. "Cycling is a cradle-to-grave sport. You can start riding a bike almost out of the womb on your tricycle and then you can go up riding until you're 80, 90, 100-years old because there's no impact; you're not getting a lot of traumatic impact through the joints. It's a very smooth, stable motion so it's great [even] for pregnant women."
Another reason why it's a good exercise for people on-the-go is because it's a full body workout that's repeatable. "You can do it three days in a row. It's a great way, combined with our rowing, where there's virtually no impact, to get those high-calorie burns.
"You do strengthen the muscles and our program, we work not just legs but core and arms, all in one cycling class. Our rowing as well, which is a good cross pairing to the cycling.
ADVERTISEMENT - CONTINUE READING BELOW
"Also, a lot of athletes who are runners who can't run, it becomes their mode of—not just rehabilitation, but keeping their fitness up. It's a very sustainable exercise—if done correctly."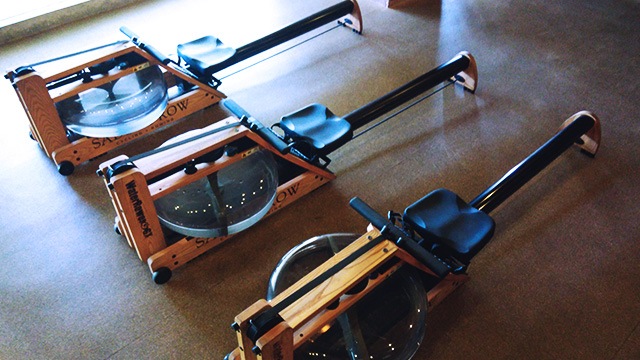 While many people have found joy in the practice, there have unfortunately been cases of cycling-induced rhabdomyolysis surfacing lately, which according to Chris, happens across several studios. Rhabdomyolysis, as WebMD notes, releases broken down muscle fiber into the blood stream, forcing the kidney to absorb its harmful by-products and eventually causes renal failure. Now, while Chris stresses that rhabdomyolysis isn't particular to cycling, there are ways it can be prevented. "Our program is structured in a way—and our safety record is a testament to that—that when you come in, you have knowledgeable people who know exactly what they're doing. The way that the program is administered... setting you up and properly taking you through the basics of how you clip in, clip out, how you control your resistance, why you need to use resistance... the way we structured it, it's done in the way to keep those problems of rhabdomyolysis away. Because if you understand the mechanism of why that happens, it's not just the dehydration.
ADVERTISEMENT - CONTINUE READING BELOW
ADVERTISEMENT - CONTINUE READING BELOW
"That's part of the picture, that's not the complete picture," clarifies Chris. "It's not your fault because you walked in dehydrated to the studio
—
not at all. There are other mechanisms that actually increase the likelihood of that, and a lot of that goes down to how your program is structured: what you're having the people do, how fast you're having them spin, how you lay out your peaks and valleys, when you go hard, when you go easy or do you stay hard all the time...
"The problem is the beginners tend to hang out in the back, they don't want to be up on the front row... They're not sure, so they kind of slurk off in the corner... [then it ends up that] the instructor isn't keeping them in mind so that tends to also contribute to why something like that happens. But it's of no fault at all for any kind of lack of preparation on behalf of the beginner, and that's our philosophy. Every single class we offer at Saddle Row is beginner-friendly."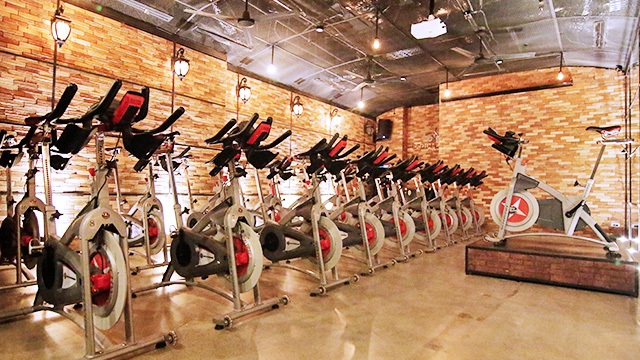 Because of the studio's "come as you are" policy, the students' safety is definitely their biggest priority. "Our philosophy is, a beginner person can walk in and take a class next to an advanced regular, whose been coming for six months or a year; they'll both get a good workout, and everyone's gonna walk out of that classroom with all their body parts intact. They didn't fall of the bike, they don't go to the hospital the next day—that is the high standard I hold all of our instructors to and we put them through a rigorous training process to make sure that happens.
ADVERTISEMENT - CONTINUE READING BELOW
"We try to encourage them to give it time and respect the process... Think of exercise as medicine. It's dose-dependent. You don't want to overdose on your first time.
"This can absolutely be perfectly safe and fun and enjoyable and you can do it forever."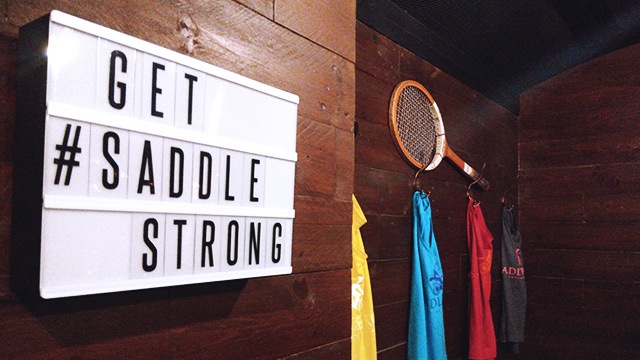 So if you've decided to try it, and you're nervous about your first class, some helpful reminders would be to get a good night's sleep the night before (don't party hard and come to class hungove—you might already be dehydrated then!), "take a light meal two hours before class would be something I'd do," adds Saddle Row cycling instructor Ting Joson. And before any class, especially if you aren't asked, remember to inform the instructor you're a beginner, as well as if you notice an unusually elevated heart rate or if you start to get lightheaded in the middle of class.
ADVERTISEMENT - CONTINUE READING BELOW
Aside from getting fit and losing weight, Chris also shares that cycling typically impacts one's lifestyle in other positive ways, too. Their students, along with encouraging coaches, have formed a community committed to helping one another get stronger and healthier. "They're all in this together. Everyone's progressing and becoming friends.
ADVERTISEMENT - CONTINUE READING BELOW
"'I just wanna lose weight.' That's usually the first goal of people. What they don't realize is, it's not just about losing weight. It's about orienting your lifestyle and the weight loss will come as a result of that," Chris shares.
ADVERTISEMENT - CONTINUE READING BELOW
"You can work out and work out, but if you continue to make poor dietary choices, that's an uphill battle. So community-wise, what we've seen is people pay more attention to what they eat. They start feeling good from the exercise—because it takes a couple of weeks, [but] once your body adapts a little bit, it becomes a lot more enjoyable.
"The neat thing is, your body starts to crave it.. It becomes that stress release, so that becomes your drug; exercise becomes your medicine."

It's crucial that whatever road to fitness you take, you listen to your body and that you don't overexert yourself. Do your research and enroll in classes from reputable studios, and if you have a special condition, make sure to consult a physician before trying something new. It's up to you to discover your fitness journey, but you won't know you're heading the right direction until you take that first step. Good luck, FN girls!
Comments
Load More Stories