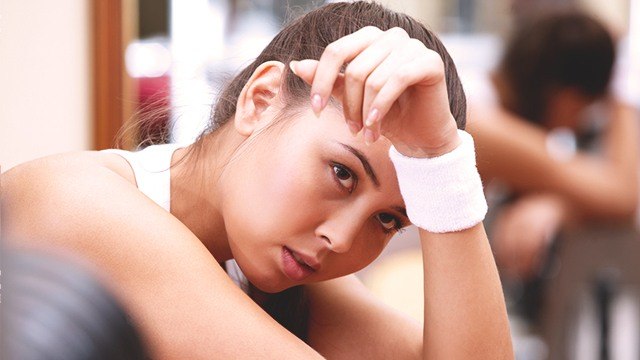 You see them all over social media: girls and boys in a group photo post-cycling*, looking so energized and fulfilled after riding to Ariana Grande's whole discography, trainers looking so ripped and glamorous announcing their Kanye West line up for the next ride, and sweaty friends in their sports bras captioning their photos "THAT RIDE WAS LIT! OMG SUPER FUN!" 
ADVERTISEMENT - CONTINUE READING BELOW
So when two friends said they were planning to go cycling soon, I jumped on the chance to join and finally try out the newest exercise fad taking over Manila. Great music, a studio that feels like a Berlin club and practically just riding a bike – sign me up!
On the day of the class, I went to the studio early, chitchatted with some trainers, readied my water and asked for the main instructor to help me manage my bike.
And before I knew it—with no warning, briefing or orientation—I was on the bike, seasoned riders alongside me all with their game faces on (because there was no beginner's class whatsoever), unaware that I was pedaling my way to rhabdomyolysis.
Yes, rhabdomyolysis. This isn't a new artist nor a new dance move. This is a serious, life-threatening condition that almost destroyed my kidneys and liver.
Medically, it is defined as "a condition in which damaged skeletal muscles breaks down rapidly. Some of the muscle breakdown products, as the protein myoglobin, are harmful to the kidneys and may lead to kidney failure."
But I only found out on the third day post-cycling.
Immediately after the class that my sedentary self miraculously managed to finish (by not following the choreography and staying on the saddle the whole time), I felt really, really, really sore but thought it was just the normal post-workout kind of sore. It even made me feel good, like my body was put to good use that day. Like, awyeah, I feel so fit.
The day after, my thighs started stiffening up and every movement, even the slightest one, felt like H-E-L-L.
I was in excruciating pain but still thought it was just my body adjusting to the new exercise. I walked super slow, needed my husband as a cane and couldn't climb any kind of stairs.
I woke up the next day with even more pain and I somehow knew this wasn't normal anymore. True enough, that night, I started peeing brow-red urine (think cranberry juice). Not normal, indeed. So my husband I rushed to the nearest ER.
There, I was put on a wheelchair (which I'd end up needing for the next five days) blood tests were done and even repeated for verification. Needles, ugh. Turned out, my CPK (creatine phosphate kinase) level (a kind of protein that your muscle excretes when you exercise) was OFF THE CHARTS. Like 77,000 kind of off the charts, when the normal range was 1-150.
ADVERTISEMENT - CONTINUE READING BELOW
Right then and there the doctors knew it was rhabdomyolysis.
"This condition leads to increased breakdown of muscle fiber post-workout. The release of proteins, fibers and electrolytes can overwhelm the kidneys and cause them to fail. It can also lead to electrolyte imbalance. This is the reason for the excessive soreness and darkening of urine," says Dr. Karen Llamoreda, an Internal Medicine Resident at Cardinal Santos Medical Center. Some even go through emergency dialysis to rid the body of these so-called exercise/[cycling]-induced toxins overwhelming the kidneys.  "I'm currently gathering cases of [cycling]-induced rhabdomyolysis to make a case series and so far, I've gathered five cases, all of whom were previously healthy," she continues.
I'm probably the nth case because during my visit to the ER, the doctors told me just in December of 2016 alone (month of my visit), there were five cases too. All from cycling.
"[Cycling], as with other, aerobic exercises, puts one at increased risk of developing rhabdomolysis because it sets the stage for dehydration, muscle fatigue from exertion and possible trauma to the area," Dr. Llamorena states.
ADVERTISEMENT - CONTINUE READING BELOW
Indeed, for a first-timer like me, the muscle fatigue was too, too much to bear. Especially for a muscle group that rarely gets used. I needed to be hospitalized for 4.5 days (starting Christmas Day!) to make sure I was aggressively hydrated. Every day, my blood was taken and my kidney and liver levels were monitored.
No Christmas song could cheer me up. I was annoyed with the studio for not having a proper briefing and orientation, no classes for beginners, no formal process of gauging the fitness level of new cyclers and most especially, no explicit warnings of rhabdomyolysis despite numerous cases being filed already.
So to cycling studios (and other exercise studios) reading this, Dr. Llamorena has this to say: "studios should advise their students to hydrate properly prior to attending class. They [students] should start at a pace in line with their fitness level and not the one dictated by the class, especially for those new to [cycling]. Although it is tempting to challenge yourself in an exercise, moderation should still be observed."
ADVERTISEMENT - CONTINUE READING BELOW
When I was finally discharged just before New Year's Eve, I felt a newfound appreciation for my kidneys, liver and legs. I vow to never put them through anything like what I had just experienced again. I'm sticking to tennis, Pilates and my favorite, dancing in my room.
As with all first-time exercises, it's best to consult a professional for any preparations you should do. To share your experiences with other Pinays seeking to get fit, visit Girtalk on FemaleNetwork.com.
*This story was originally published as 'How Joining an Indoor Spinning Class Almost Damaged My Kidneys and Liver.' However, while cycling and spinning are commonly interchanged, we would like to clarify the writer's story was based on her experience after an indoor cycling class. Spinning® is a registered brand that is not associated with indoor cycling studios.
Load More Stories