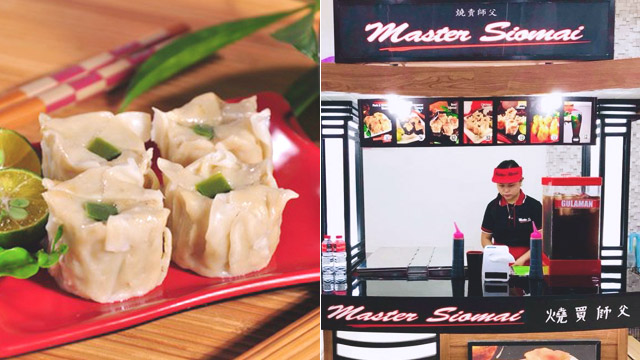 When you think about food carts, the first name that will probably pop into your head is Master Siomai. It's undeniably one of the most visible and familiar franchises in the Philippines, partly because its carts are situated in prime locations such as train stations and government offices, but also partly due to the fact that it's quite accessible for people interested in going into franchising.
ADVERTISEMENT - CONTINUE READING BELOW
How to franchise Master Siomai
They provide a slew of information online and offline (their office is pretty easy to contact via phone) to get you started. If you're a first-timer or if you have limited budget, a cart is the way to go since it's cheaper and more manageable than the bigger kiosk.
Ready to take the plunge? Here are the basics you need to know:
Application
There's a downloadable form that you have to fill up to begin the process of getting a Master Siomai cart. Aside from this, you'll have to submit:
two photocopies of a valid government ID
one proof of billing
a TIN number
a copy of your Certificate of Registration (COR) from the BIR
All these can be sent to inquiry@mastersiomai.ph.
Location
If you check your application form, you'll notice that you'll have to supply your proposed franchise location. Master Siomai franchise relations officer Raymond Delos Reyes notes that as with every other business, location is a top concern when setting up a Master Siomai cart, and that your choice of space should provide a lot of foot traffic. Representatives from the brand will also inspect the location prior to the approval of your application to see if it's up to par with their expectations.
Manpower
While it'll be your responsibility to hire a person to man your cart, Master Siomai can provide the training he or she needs to run your day-to-day operations. The training (which is included in the franchise fee) only takes a day.
Franchise fee
The franchise fee for a Master Siomai cart is P280,000 plus VAT. This includes the following:
ADVERTISEMENT - CONTINUE READING BELOW
1 Japanese-inspired food cart
1 chest freezer (5 cubit feet)
1 stainless steel electric siomai steamer
1 acrylic plastic juice container
a complete set of food cart kitchen- and plasticware: juice ladle, kitchen knife, chopping board, 2 sauce bottles, 1 pair of food tongs, 1 tissue dispenser, stainless steel tray
an initial stock of food and paper/plastic products worth P7,000 
food products: all siomai variants, special siomai sauce, chili garlic sauce, calamansi, gulaman syrup, gulaman powder, mineral water, sesame oil
paper/plastic products: styrofoam trays, sando bags, tissue paper, sauce packets (for takeout), toothpick, plastic gloves, plastic cups (12 oz)
crew uniform/s
cleaning materials: plastic trash can, plastic broom, dust pan, liquid soap, 2 towels, mop
marketing collaterals
calculator
chair
The cart package does not include:
location
manpower
permits required to operate a business
FN TIP: The franchise rate changes for kiosks, which has a bigger, more permanent location. According to Raymond, the rate would depend on the available space of the approved location, the kiosk design, and several other factors that need to be overseen by the brand's architects.
ADVERTISEMENT - CONTINUE READING BELOW
For more information about Master Siomai kiosks, call 709-5288 or 709-0901.
Payment scheme
Raymond notes that you'll initially have to shell out P5,000 for the inspection of your location. This amount will be deducted from your P280,000, which can be paid in two installments: the down payment of P140,000 can be given once the location has been approved, and the remaining P135,000 can be given once your cart has been scheduled for delivery. (Again, do note that the rate is subject to VAT.)
ADVERTISEMENT - CONTINUE READING BELOW
Master Siomai does not ask for royalties, but you can only sell official Master Siomai products. "Profit is based on the products you buy," says Raymond, so basically what you'll be spending for once your cart is set (aside from the permits, rent, utilities, and manpower) are the siomai and gulaman you'll be selling.
Processing period
It approximately takes one month for you to receive your cart from the day you sent your requirements. Within that time period, your application will be processed, an ocular visit will be made, and your cart will be released and delivered to your location.
Other things to remember
While you do have someone to man the cart for you, you'll still need to be hands on with your franchise. Remember, it's still a business, and you're the boss. Have a two-, five-, or even a 10-year plan, and do as much as you can to study franchising best practices. 
ADVERTISEMENT - CONTINUE READING BELOW
You'll have to make sure that your cart remains serviceable and approachable to your customers. Cleanliness is also a top priority. As you're serving food, sanitation and waste disposal should be a main concern no matter what your location is. Lastly, always have ample stocks, and always, always treat your patrons with kindness because while people really don't hang-out by a siomai cart for long, it's a place to take a quick rest from a long day—make it worth their while, and make every visit count.
Load More Stories