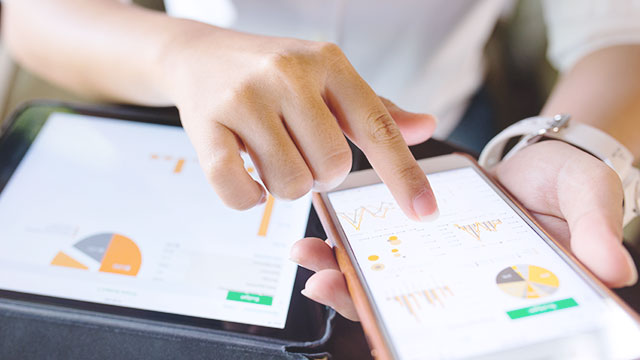 Putting your hard-earned cash in a savings account is a good way to get you started on your financial savviness, but being in your thirties means that you need to up your money game. This is the time when you need to focus not just on saving, but on wealth-building, and the best way to do that is to pick the right investment vehicle for you. For starters, you can choose a platform with a good interest rate that will give you big returns.
ADVERTISEMENT - CONTINUE READING BELOW
We know: it's easier said than done. Also because there are so many (read: confusing) options in the market like unit investment trust funds and treasury bonds that make it harder to know where to go. The good news is that there are financial institutions that make things easier for you, so much so that you can start your investment on your mobile phone.
Manulife recently launched GradMaker, an investment product that comes with life insurance. It's skewed towards parents who want to start saving up for their child's education by showing them the actual tuition amount they need to save up for as the goal: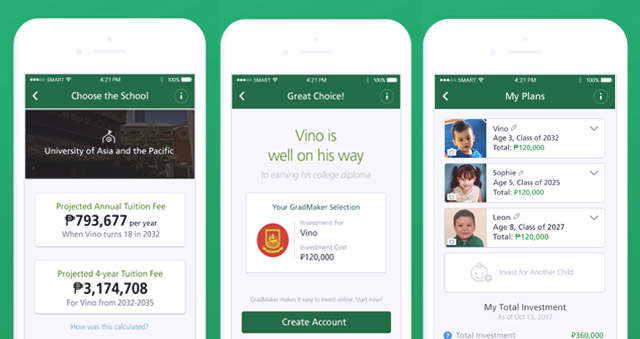 If you're single with no children, worry not—you don't need to have a kid or even be married to use the app. You can actually start a fund for the (ehem) "child" in you, create a money goal by basing it on the tuition on any school on the list, and start putting money in it.
"The way to think about GradMaker is it's a solution that provides you the information you need to invest. It makes it easy to invest," explained president and CEO of Manulife Philippines Ryan Charland. "The app is quite versatile." While its main thrust is to help you save up for your child's education, you can use the app for other goals, such as a long vacation you've always wanted to take or even your dream wedding.
SVP and chief marketing officer Melissa Henson added: "It's ultimately a way for you to save money with a bonus of insurance for your beneficiary, and the beneficiary could be your child. If you don't have a child, it could be a sibling, it could be a niece or a nephew. There's something there for everyone. It's not just for parents, it's not just for education."
ADVERTISEMENT - CONTINUE READING BELOW
To create a GradMaker account, you'll need to be between 18 to 50 years old with TIN and an SSS/GSIS numbers. You'll also need a government-issued ID with a photo, utility bills or your latest ITR, as well as a VISA/Mastercard credit or debit card.
A minimum of P10,000 transacted through your credit or debit card is required as a one-time payment for the policy, but you can invest as much as P120,000. Your money will then be invested in Manulife's Peso Dynamic Allocation Fund, which is "a combination of stocks and bonds suited for those who have medium risk appetite."
Everything then happens within the app—you can check your investment's performance, read your policy anytime, and even get another policy should you want to. An investor can have multiple policies totaling a maximum amount of P2 million. The upside is that Manulife promises to match one percent of your investment and donate the amount to Cartwheel Foundation, which supports the education of children in indigenous communities. Not bad for an investment/insurance policy.
ADVERTISEMENT - CONTINUE READING BELOW
GradMaker is now available for download on Google Play and Apple App Store. To read more about it, visit their website.
Load More Stories