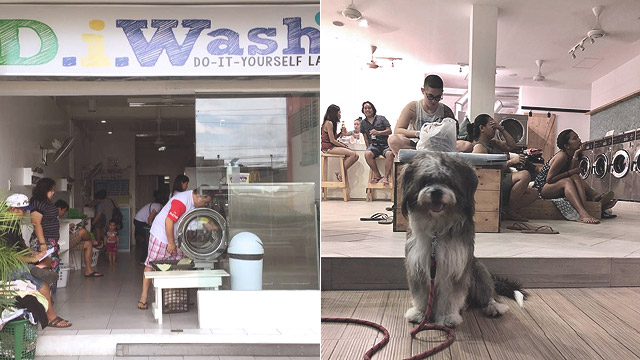 Coin-operated washing machines first introduced the idea of doing laundry as a luxury instead of a chore to Americans coming out of the Great Depression. Only recently has the Philippines picked up on it—and it has become quite the lucrative business opportunity.
Ina Villanueva, the President and CEO of D.i.Wash Do-It-Yourself Laundry, shares, "We're lucky that we were one of the first to open. In our first branch, people would really wait in line sometimes two hours, which enabled us to get our money back in less than two years." This was in 2014.
Since then, she has set up three other branches of D.i.Wash with her sister. The laundromat features a basic self-service laundry model in lower end markets where, Ina says, "[There's] less red tape, less restrictions, and more forgiving customers." In 2018, Ina took the business further and opened a branch in the high-traffic tourist spot La Union, where Washaka Laundry Lounge has essentially become a common living room for the surftown residents.
ADVERTISEMENT - CONTINUE READING BELOW
"Washaka was really my dream shop," said Ina, "It's what I imagined [when I thought of] doing my laundry and also be somewhere I would love to work."
Neighbors of the area schedule movie marathons while they do laundry together, get some work done with the fast Internet connection, or just have some coffee or beer at different parts of the day. During busy weekends, even the hotels have their laundry done at her shop. "Laundry is a need across all classes," she said, "It will never run out. It will work in every single community, you just have to adapt to the community it's in...
"From a simple distribution system, I tried to make sure our team and customers felt that I cared. Profit was only secondary to me," says Ina.
How to start a laundromat business
"Our shops cost P4.5M to P5M to set up," shares Ina. It's no startup capital, so how was Ina able to come up with this staggering amount?
At the age of 24, Ina started a laundry equipment distribution venture with her stepfather, around the time he was diagnosed with cancer. "It was the reason I decide to work with him even though I had no inclination for appliances nor business," recalls Ina, "I took up Communication Arts and my dream was to become a housewife!"
With the minimum required SEC deposit of P67,500 and a bank loan for the first shipment of machines, Ina was thrust into the laundry industry in 2007—and nearly a decade of heartache, failure, and crises passed before the first D.i.Wash ever even opened.
"After my stepfather's death [in 2008], I was really lost," shares Ina, "I had the choice to sell or close the business then, but I couldn't." Even as she stood on a path that she never thought she would be on, she decided to embrace what she realized were blessings and, of course, take care of her stepfather's legacy.
ADVERTISEMENT - CONTINUE READING BELOW
One of those blessings included the distribution rights to the top industrial laundry machine in the United States, which she uses for all her laundromats. "You could opt for cheaper, smaller machines, but the capacity, efficiency, machine life, and quality will also be lower. Our machines are built to last up to 15 years, so in the long run it's well worth it." Of the P4.5M to P5M needed to open, P3M to P3.5M would go to washing and drying machines.
ADVERTISEMENT - CONTINUE READING BELOW
Construction costs for her laundromat business ran between P1M to P1.5M, with the water and gas systems driving up the majority of the expenses. In La Union, where there is ironically a water supply problem throughout the year, Ina had to invest in installing her own water tank on the premises. She also estimates that up to P500,000 will be used for starting capital, permits, fees, deposits, and accessories.
When your business is a (literal) chore
"When choosing a location, we like to go around and see if it is a place we personally would like to frequent," says Ina, "Somewhere close to neighborhoods, where you can feel at home—because laundry is a home chore. You wouldn't really want to go to a mall to do your laundry."
ADVERTISEMENT - CONTINUE READING BELOW
Ina considers a lot of things before setting up a new branch, noting that while foot traffic and accessiblity are high on the priority list, a good vibes and a moderate flow of people are also equally important. "How much are the trikes around the area? Is there parking? Or is it too busy on the street? People don't like to hang out in those spaces."
Over the years, Ina has dealt with crises that have helped form her business and life philosophies. She believes that her dream of becoming a housewife is rooted in her desire to build a nurturing and loving home—ideals that she instead put into running her enterprise. For Washaka, she discloses that a part of her equipment investments went to design and branding instead. She worked with La Union-based talents—artist Jerik Robleza of Maka Philippines and architect Migs Banal—who have made her concept of a warm, relaxed, and productive space come to life. The laundry lounge doesn't have as many machines as DiWash, but people come to actually hang out. Setting up a laundromat in La Union, Ina admits, "I wanted to be able to stay there for a reason."
ADVERTISEMENT - CONTINUE READING BELOW
Starting a laundromat business isn't the typical business that many entrepreneurs looking to make quick money might pursue, especially when water supply is uncertain especially during the summer months. It has proven to be a hands-on, expensive, and complicated operation, but it holds rewards for those that take time to gain knowledge of both the industry and community. Ina's business story can also stand as testament to the importance of holding on to your values while having the willingness to change because life is unlikely to go according to plan—but we'll always have to do our laundry regardless.
ADVERTISEMENT - CONTINUE READING BELOW
Load More Stories