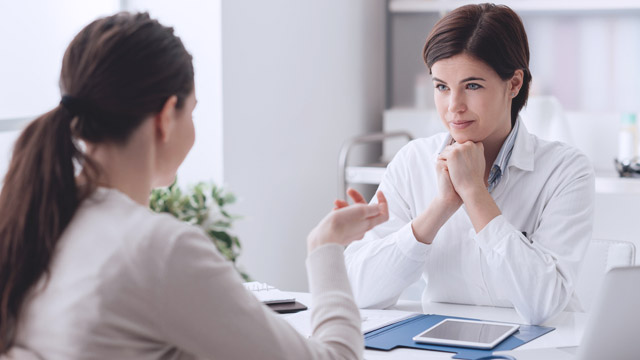 You're probably guilty of consulting Dr. Google especially when you're not feeling well. You cross-check symptoms, get a tad bit paranoid, and end up self-medicating while crossing your fingers that it works. You have a list of seemingly valid excuses why you'd rather not get yourself checked, from how hospitals seem so depressing to believing that your condition will pass naturally (even if you've been coughing your lungs out for a week). One pretty legit reason, though, is that checkups can get really expensive even if your company health provider has you covered—and what more if you're a freelancer.
ADVERTISEMENT - CONTINUE READING BELOW
If you're self-employed, getting covered by a healthcare provider is something that you should invest in. While you do have to shell out a relatively large amount of cash on a yearly basis to sign up for one, the beneifts oughtweigh the cost. Depending on your package, you get get check-ups without worrying about spending yet again, have procedures done with no additional cost, and even enjoy annual physical checkups. To get you started, here's a guide to help you determine why you should enroll in an HMO and finally get your personal health card:
What is an HMO?
A Health Maintenance Organization or HMO is a third party company which provides members access to avail of "free" medical or dental services to hospitals and doctors who are in contract with them for a limited period (common minimum period of enrollment is one year). An HMO enters into a contract with hospitals and specialists and acquires accreditation from both parties before they can offer their services to those who have enrolled.
They have several packages to choose from to be able to cater to the individual's budget and preferences.  Usually, the Maximum Benefit Limit (MBL) is defined the moment you sign up with your prefered HMO. Some services included in HMO packages are consultations with the physicians, laboratory tests, X-rays, ultrasound, major and minor operations, and hospital admissions. For example, you availed an P100,000 MBL per illness per year and you were diagnosed with dengue, all the professional and admission fees will be charged to your HMO. If your total fees amounted to P120,000, you will have to cash out P20,000 because it goes beyond your P100,000 Maximum Benefit Limit.
It is then important to know the fees in a particular hospital especially in cases when you have to be admitted to ensure you don't exceed your MBL and end up still paying on top of your coverage.
Benefits of having a health card
Financial limitations should never be the reason for you not to have yourself checked, especially when you know that you're in need of medical attention. Having yourself enrolled in an HMO is always beneficial; even if you don't use it for emergencies or grave illnesses, you can still enjoy routinary checkups to your accredited general practitioner and dentist.
ADVERTISEMENT - CONTINUE READING BELOW
Still not convinced? Here are some advantages of having a health card:
1. Financial readiness to fund for unpredictable health concerns and undiagnosed conditions
Investing in an HMO is better than saving for your medical expenses in a piggy bank because most of them offer cost-efficient packages and oftentimes discounted services
2. The promotion of overall health and wellness through regular check-ups
You don't have to be ill before you can avail the benefits of your chosen HMO. As mentioned earlier, most HMOs offer annual physical check-ups. Prevention is the best cure, after all, plus it's the a good way to detect illnesses or to determine your predisposition to certain illnesses even before symptoms show up.
3. Access to major hospitals and specialists.
Most HMOs take pride in the roster of hospitals and doctors they are partnered with so their members will be given the chance to choose their health institution based on accessibility and other personal preferences preferences.
ADVERTISEMENT - CONTINUE READING BELOW
HMOs and Health Card Packages in the Philippines
There are about 30 health maintenance organizations in the country. Here are three basic packages you may want to review and consider based on your budget and preferences:
1. Maxicare – PRIMA Silver
Basic coverage: Unlimited outpatient consultation, laboratory and diagnostic procedures that can be availed in Maxicare Primary Care Centers in Metro Manila. Included in this coverage are consultations with Internal Medicine, Ear-Nose-Throat (ENT), OB-Gyne, Dermatologist, Pediatrician and Opthalmologist. Several dental services from MetroDental are also included.
Cost: P4,999 per year for members who are 0-59 years old; payable quarterly, semi-annually and annually
2. Philcare – Health 360
Basic coverage
Annual physical exam;
Out-patient or clinic access;
Discounted hospitalization rate;
Special modalities of treatment;
Ambulance coverage;
Life insurance amounting to P100,000;
Accidental death or dismemberment (P100,000); and
Access to more than 500 hospitals nationwide including St. Luke's Medical Center, Makati Medical Center, Cardinal Santos Medical Center and The Medical City
ADVERTISEMENT - CONTINUE READING BELOW
Cost: Price range is from P10,000 to P12,746 for P100,000 or P150,000 MBL per year for individuals 31 to 40 years old; payable quarterly, semi-annually, or annually
3. Caritas Health Shield – Enhanced Core 6 Plan
Basic coverage
Hospitalization enefits such as room and board, services of a physician, lab tests and other diagnostic procedure, operating room, etc.;
Treatment of minor injury or illnesses;
Emergency care;
Annual physical exam;
Preventive health care; and
Dental care
Cost: P16,692 per year for five (5) years with a bonus of one (1) year free of charge. Spot cash is P75,314 instead of P83,460 for P56,000 to P84,000 MBL per year (increasing amount from year 1 to 5); may be paid also quarterly or semi-annually
How to pick the right HMO for you
All HMO packages have different perks, but it's always good to remember that before you sign up for the most expensive package, you'll need to first check you needs and priorities:
ADVERTISEMENT - CONTINUE READING BELOW
1. What's your budget?
A health card should be a priority, but it should not edge out other important necessities such as savings, utilities, and other investments
2. What's your lifestyle?
Do you like traveling? Do you engage in rough sports? These are a few things you should take into account when picking what benefits you'll need from your health card.
3. What are your HMO's accredited facilities?
Make sure that your HMO has available health facilities in your area since distance is important especially in emergency situations.
4. How good is their customer service?
When you're sick, the last thing you want is an apathetic customer care representative who can't seem to help you out. You can ask feedback from family and friends who have signed up with the same HMO to help you make your decision.
*Sheena Abellera is an MBA graduate and is currently working for a food manufacturing company as an HR practitioner.
ADVERTISEMENT - CONTINUE READING BELOW
Load More Stories