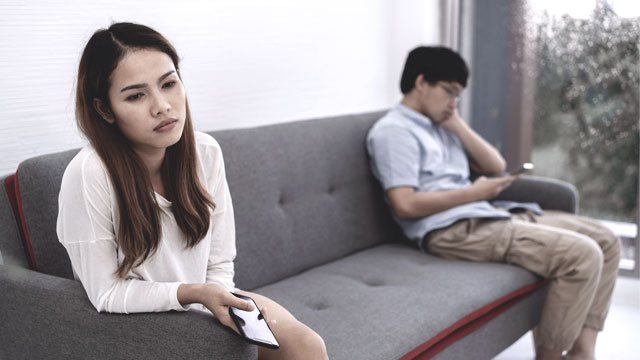 When Miss Universe Catriona Gray confirmed that she and model Clint Bondad have parted ways, there were surprisingly negative comments about the revelation, ranging from "'Yung iba nga naghahanap ng matinong lalaki" to "Naging Miss U lang, nagbago na." 
ADVERTISEMENT - CONTINUE READING BELOW
Catriona has explained the reason behind the split in an interview with Boy Abunda: "When you're together for so long and you started from a young age, you grow—whether that be in your personal or your career or whatever—and sometimes, you just kind of outgrow each other in a way."
The fact is that outgrowing your partner, especially one you've been with for years, does happen, and it doesn't mean that one or both parties are ungrateful. This is why it's wrong to crucify people who opt to exit a relationship on the merit of personal change: it's not about one being selfish for leaving a good person. It's because growth is now to be found elsewhere. Everyone evolves, after all.
"People grow and change at different times and in different ways," writes psychologist Leslie Becker-Phelps on WebMD. "So you need to consider whether what you are feeling is just part of a temporary transition in your relationship or an indication of a growing distance. If you realize that you and your partner really are growing apart, you'll need to think about how you want to move forward."
There are a lot of factors that trigger this occurence, and as psychologist Mariana Plata notes on Psychology Today, "the way in which [people] can change may be different." And that's okay. Remember, even if you are in a long-term relationship, you're still an individual, and you should never lose sight of that.
So if you feel that you and your partner have reached an impasse, you may want to see if these signs of outgrowing each other apply to you and your relationship:
You're slowly losing interest in what your partner has to say.
Do you find that your conversations feel strained? Like you're trying very hard to keep your kuwentuhan going but you struggle with finding something relatable to talk about? Then maybe it's not just the lack of topics that's making you feel awkward. It may be that you and your partner are leading two completely separate lives.
ADVERTISEMENT - CONTINUE READING BELOW
You feel like you're trying to limit yourself and what you can do just so you can accommodate your S.O. 
In an effort to stay together, you're unwittingly sacrificing your successes since you're worried that your partner may think you're focusing more on your work than on your relationship. You also try not to share how well you're doing in other aspects of your life since you feel that he won't be able to relate to them.
You feel bored when you're spending time together.
The simple things that you once liked doing together—like staying in to binge-watch your favorite series—now feels like the most boring thing in the world. There's that sinking feeling that nothing is changing in your relationship, and it's slowly getting you frustrated. 
You argue about the simplest things.
The smallest mistakes can start the biggest fights, and somehow you feel like you're never on the same page. The sad part is that these emotional explosions are happening way too often.
ADVERTISEMENT - CONTINUE READING BELOW
You feel constricted and unhappy.
The paradox of being in love is putting in a lot of work and yet feeling that being together makes everything easier. If you feel that your relationship with your parter is like a job that you can't wait to quit and that your interests already lie elsewhere, then it's maybe time to reconsider your status.
Of course, your next recourse of action isn't always a breakup. You'll need to talk with your S.O. about what you feel and yes, you can always opt to give the relationship another try. What you'll need to remember though is that love should never feel forced and being with someone shouldn't tether you or stunt your growth.
If both of you feel that what you have has already run its course, then take it as it is. It doesn't mean that your relationship was a waste of time. It's simply an end of one phase in your lives. Accept what those years have taught you and do so with gratitude. Sometimes, going your separate ways can trigger the beginning of a happier, more fruitful adventure. 
ADVERTISEMENT - CONTINUE READING BELOW
Load More Stories