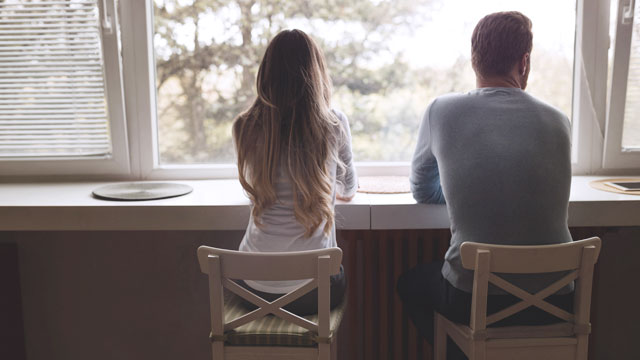 Suspecting that your significant other is cheating on you can make you feel awful, and while this doesn't automatically mean that a breakup is imminent, the issue can drag your relationship through tough times, and more so when you don't address it right away.
ADVERTISEMENT - CONTINUE READING BELOW
Before your negative assumptions eat you up from the inside, here are a few things you should try doing:
Check yourself.
This isn't to say that you should ignore your gut feeling, but you may want to give yourself time to calm down and level-headedly see things as they are. Suspicions of cheating don't necessarily equate to actual cheating; in fact, sometimes your past experiences could only be influencing what you're feeling. And according to an interview with motivational speaker Jonathan Sprinkles on Glamour, the explosive emotions that come with these suspicions can sometimes work against you.
"Before you take any action, you need to first do a self-assessment and make sure you aren't being petty or overly-sensitive. In situations such as these, your feelings can betray you if you don't keep them in check," he says. "Next, write down your thoughts as well as the facts. This will help you articulate your feelings completely and think through the entire chain of events. It will also provide a buffer between your emotions and your actions." Jonathan also recommends talking to an unbiased third party to help you process things.
Don't breach his privacy.
The urge may be very strong to check his phone or his email inbox, but unless you've got nothing to lose, don't go through his things. First off, you wouldn't want anyone doing the same to you, and second, you'll ruin a great deal of trust if you get caught (especially if it turns out your suspicions were unfounded). This isn't to say that you shouldn't be proactive, but if you really want to push through with a personal investigation, do it within the bounds of respect. Chasing facts doesn't mean that you should go around trying to prove that he's done something wrong.
Talk to him.
And when we say talk to him, we don't mean confront him with guns blazing. Remember that cheating is an issue of trust, thus you'll need to be careful about how you address it, especially if you have yet to find physical proof. Address the issue by telling him in a non-threatening way that certain things are making you feel uncomfortable. As an article on Elite Daily notes, "Approach this talk as you would a relationship problem talk. It's not a cheating talk… Remember, if he is cheating, it makes no difference. But if he isn't, your relationship can be saved. Talk to him as such."
ADVERTISEMENT - CONTINUE READING BELOW
What you want is honesty: laying your cards on the table can help you asses what to do next based on his reactions. Who knows? Maybe there's really nothing to worry about.
Plan what happens next
Talking to him may result in one of three outcomes: you learn that your suspicions are wrong; you find that your partner has cheated; or your partner convinces you that nothing is wrong, but more things occur after that strengthen your suspicions.
If he takes your concerns seriously and maturely assures you that you're the only one for him, then you can rest easy knowing that you're still going strong. Let it go and move on from it. Do not go back to this issue six months down the road during an unrelated argument just to spite him; it's never healthy to bring up past hurts.
If you find that your partner has cheated on you, you can go down two roads: forgive him and work on your relationship, or end what you have. Every situation is different, but either way, you have to stand by what you know is best for you.
ADVERTISEMENT - CONTINUE READING BELOW
If he lies to you about not seeing someone else but you still continue to find little things that prove otherwise, then go through these steps all over again, but also look at other aspects of your relationship. If you're not feeling comfortable and secure, it could be because of other shortcomings your relationship has. (Affairs aren't the only relationship problems you need to worry about, after all.) Remember, at the end of it all, never settle for something or someone that doesn't value your love and trust. Know your worth, and go from there.
Load More Stories