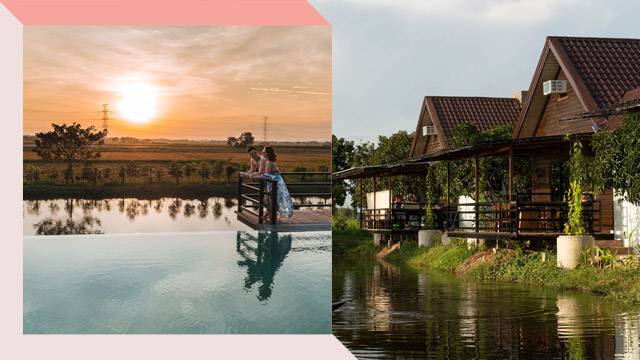 Working a nine-to-six job usually sucks the life out of us, and we just can't wait for the weekend to return—even when it's only a Monday. Not to mention that work always hounds us everywhere we go, guised as seemingly harmless e-mails or chat notifications on our phone. If you want to disconnect for a while, you might want to head over to The Cabin Resorts in San Miguel, Bulacan, where you can relax in a loft-type cabin in the middle of a remote farm where there's erratic signal. Not so good for your boss, but great for an actual vacation leave. It reopens on October 28, and they are already accepting reservations.
ADVERTISEMENT - CONTINUE READING BELOW
The Cabin Resorts first opened in December 2017. It started out as a small cottage with a veranda that's right by a river, which seems like a scene from Dawson's Creek or Tabing Ilog (depending on which teenage drama show you used to watch).
"[The] response of the people was really good. It was always fully booked even without amenities such as pool, activity areas, reception, and club house. When we closed down the old cabin last 2018, many inquiries were [still] flooding our inbox. People kept on waiting," owner Ginno Cruz tells SPOT.ph in an online exchange. With this growing interest and the money they saved up from the old resort, they decided to reopen in a new location, which is an isolated farmland in Barangay San Agustin.
ADVERTISEMENT - CONTINUE READING BELOW
The loft-style cabins, with rates at P12,500, can fit up to six people with a maximum capacity of eight persons. Package is inclusive of breakfast meals and use of the infinity pool, man-made lake, bikes, and dart board. For additional fees, guests can go around the farm on an ATV or have a bonfire at night. Only the common areas, like the reception and clubhouse, have WiFi connection.
ADVERTISEMENT - CONTINUE READING BELOW
ADVERTISEMENT - CONTINUE READING BELOW
Cruz also shares that they are advocates of sustainability. The place is powered by 40% solar energy. While they provide a biodegradable toothbrush, they encourage guests to bring their own shampoo, soap, and toothpaste in a reusable container.
The Cabin Resorts also advises customers to bring an SUV. It's located in a farmland, after all, and "you may experience an exciting off-road driving along the way." There's a designated parking area along San Miguel Highway, where a pick-up service going to the resort is provided for free.
The Cabin Resorts reopens on October 28 at San Agustin, San Miguel, Bulacan. Rates start at P12,500 for six persons. For more information, follow The Cabin Resort on Facebook.
Load More Stories