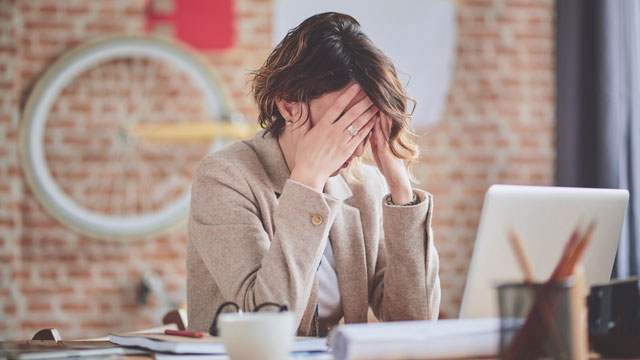 Talking about how tired you are at work or how the stress is making you feel inexplicably lonely is too often brushed off—"It's just work," or "Lilipas din 'yan." The fact is, the stress produced by the constant pressure to perform well can and will wear you out. "Burnout hurts," as an article on Harvard Business Review notes, and it does on so many levels.
ADVERTISEMENT - CONTINUE READING BELOW
"A lot of burnout really has to do with experiencing chronic stress," explains Dr. David Ballard of the American Psychological Association on Forbes. "In those situations, the demands being placed on you exceed the resources you have available to deal with the stressors."
With continuous pressure, several things may happen to you:
Emotional exhaustion – You're always irritable and are unable to focus. You start to pull away from the people and things that are important to you.
Physical exhaustion – You think of work even beyond your shift that you're not able to sleep well. You drag your feet to the office and you often feel like you don't have the energy to do anything, even if you just came from the weekend.
Lack of motivation – You start being cynical and you start caring less; you don't see the value in what you're doing but you're forced to keep on doing it, which frustrates you even more.
CONTINUE READING BELOW
Recommended Videos
Increase in health issues – When your body is under constant stress, you're more prone to digestive problems, cardio troubles, and mental concerns.  
If you feel that you're on the verge of a burnout, you'll have to teach (and sometimes, force) yourself to stop pushing too hard. This is where self-care comes in. As an article on INC says, "You need good ways to separate yourself from your work so you can recharge and find balance."
Here are a few things you can try:
Define limitations.
Be adamant about separating your professional and personal life. Have a schedule and stick to it. This may be hard in certain industries, but you can work around a high-pressure environment by managing expectations. This could be by personalizing your work flow (ex. WhatsApp for friends, Viber for work chats) or approaching your supervisor and agreeing on a system that will work for the both of you ("Let's have everything prepared by Friday and avoid work on weekends.")
ADVERTISEMENT - CONTINUE READING BELOW
Take rest seriously.
Sleep enough. You'll be surprised at how alert and focused you'll feel when you've clocked in at least seven hours of rest. To achieve this, you'll need to stop doing overtime work on a daily basis—it's not sustainable, plus you're not really being efficient if you stay in the office feeling tired and frustrated while forcing yourself to work. Best take a break and face what you need to do the following day with renewed energy.
Go on a vacation.
Speaking of breaks, you'll need to take advantage of your VLs and seriously stick to them. Whether you're just staying home to sleep in or flying out to a new destination, slowing down your pace once in a while can help you recuperate.
Organize your life.
Thinking about everything you need to do may seem overwhelming, so try putting them down on paper. Bullet journaling can help you whittle down large tasks into smaller to-do's which will make them easier for you to accomplish. Having a bird's eye view of your responsibilities can help you manage them better.
ADVERTISEMENT - CONTINUE READING BELOW
Reward yourself.
Go on, buy yourself a huge glass of expensive coffee! Grab that new pair of shoes! Seriously, you deserve to spend for yourself for all the hard work that you do. The last person you should scrimp on is yourself.
Ask for help.
There's no shame in asking for help. Having a solid support system can help lessen the urge to dissociate yourself from other people while licking your wounds. Spending time with them can also be a good distraction which will encourage you to relax. If you feel that your burnout is getting worse and is at the point of giving you anxiety attacks or is pushing you to depression, contact a specialist.
Load More Stories