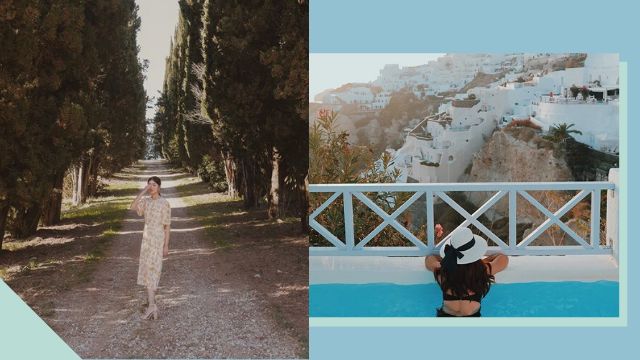 You only need a few things to capture the perfect, like-grabbing, breathtaking Instagram travel photo. If you've got your destination down, all that's left on the list is a good eye, patience, and, of course, a camera to capture your precious moments with. That said, if you're not much of a photographer or you're just starting out, finding the ideal camera for you can make or break your shots. 
ADVERTISEMENT - CONTINUE READING BELOW
With a variety of options in the market, we asked 10 professional photographers for their go-to cameras when taking travel photos. Check out the list below and find out about the brands and models that you should be looking out for, and why you should consider them.
Shaira Luna
"I actually use my phone a lot! I have the Huawei P30 Pro, and it's really fast. I also use a light but weather-sealed camera, the Fuji X-T3, because it's compact and takes amazing photos. It's also easy to transfer the files straight to my phone."
Magic Liwanag
"I have two go-to cameras when traveling. The Fujifilm X-T3 + 16mm f/1.4 lens and the Fujifilm X100F. I love the X-T3 because it has an adjustable LCD screen. It can take beautiful videos and super slow mo at 120fps. I love the film simulations by the Fujifilm system because they make the videos look like they're already filtered."
ADVERTISEMENT - CONTINUE READING BELOW
Charisma Lico
"I use the Sony Alpha 7r iii and a DJI."
Pat Dy
"My go-to camera is my phone. I'm using the Huawei P30 pro. The phone camera quality especially in daylight can rival regular cameras. If I'm doing more professional work. I'd bring my Canon EOS R."
Karlo Torio
"Whenever I travel, whether its a local or international destination, I use three different types of cameras: a Canon Autoboy Mint II which is a film camera, an iPhone XR, and a Canon 6D Full Frame. I use my film camera for more a traditional way of appreciating photography and going old school. It gives me great satisfaction when I finish a total of 36 shots in one roll and have the photos printed to stock in a photo album. This way, It's a lot easier to take advantage of iPhone XR and what it can do as a handy travel camera accessory because I can instantly upload and share my travel content with my audience online. I can have the images edited in apps or arrange them in a layout for a story-telling approach."
ADVERTISEMENT - CONTINUE READING BELOW
"I remember spending a week in Seoul, South Korea shooting content in the midst of a crowded shopping district in Myeongdong and a landscape of a calming city view in Central, Hong Kong. It didn't disappoint as it catches the resolution and the quality I wanted for print and uploading online. On the other hand, my four-year-old Canon 6D Full Frame Camera lets me document scenes with better picture resolutions since I can work with a variety of lenses with different ranges. What really gets me is its bluetooth feature which easily helps me transfer my photos directly to my phone without connecting to a laptop."
Paolo Pineda 
"Mine is a Sony RX100 Mark VI. I've been using this camera since the RX100 Mark III. It is still the best point and shoot travel camera out in the market, that can also shoot nice 4k videos."
ADVERTISEMENT - CONTINUE READING BELOW
Ryan Ong
"I use the Sony A9 since it's the camera model that I carry. But I wouldn't advise it for travel because it's super expensive. For travel photographers, I would advise the Sony A7 Mark III, or Sony A6500."
Tricia Gosingtian
"My go-to camera (besides my phone) is a Leica Q. I used to carry heavy lenses and dSLRs but since I have diagnosed spine problems, I had to minimize and pick a camera that I can use for both work and travel."
Kitkat Pajaro
"I always bring my DSLR on the first days of traveling but eventually give up because I find it such a hassle to lug around a huge camera especially when you have a lot of walking to do. So I just end up using my phone camera instead. It's super convenient and discreet especially for street photography. I also bring a film point and shoot with me when I travel. I use the Pentax Espio 105G which used to be our family camera when I was a kid! I usually delay getting the film developed so that when I finally do I always get surprised by the photos because I somehow forget about them. Just so we could reminisce a bit. So yeah, my go-tos are my phone and a film cam!"
ADVERTISEMENT - CONTINUE READING BELOW
Renzo Navarro
"When I travel with my Sony a7 III I try to use it when walking around as much as possible. I also love to crop tightly so using a full-frame camera enables me to do that. But on trips where I don't have my camera, my iPhone works just fine!"
Recommended Videos
Comments
Load More Stories