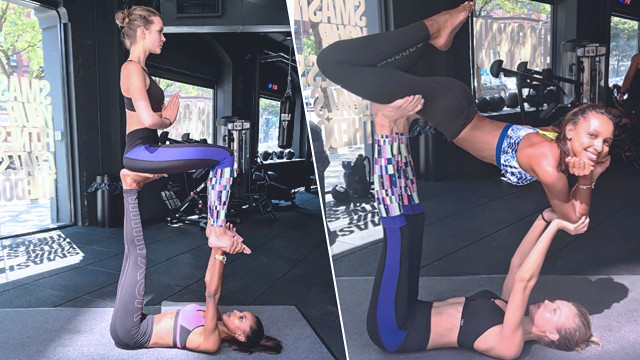 We've seen them all dolled-up for the runway, but being a Victoria's Secret Angel takes a lot more work than just wearing wings — it takes days of hard work, fierce dedication, and super intense discipline.

Models Jasmine Tookes and Josephine Skriver recently put up an Instagram account that shows us what goes on behind the glitz and glamour of being VS Angels. So if you want to get that belly flat and that core strong, you can start with these exercises that require no equipment:

1. Jump Squats
Jump squats are great for toning your butt, hamstrings, abdominals, quadriceps, and calves. Make sure that your legs are shoulder-width apart when you start and always land softly on the balls of your feet after every jump to minimize the stress on your knees. Try doing 20 reps for three rounds.

ADVERTISEMENT - CONTINUE READING BELOW
2. Side Planks
Do you want a flat tummy? Tighten your core and test your balance with side planks. Do three sets of 15 to 20 dips on each side.


3. Rear Leg Raises
Rear leg raises work your buttocks, hamstrings, and lower back. Raise each leg slowly and as far back as you can without straining your muscles. Avoid swinging as doing this exercise slowly increases the burn. You can opt to wear leg weights for added resistance. Try going for three sets of 20 repetitions.


4. Push Up Planks
If you're ready to take things a notch higher, try this combination of planks and push ups. This exercise will definitely strengthen your abs, shoulders, quadriceps, and upper back muscles. Do 15 to 20 repetitions per arm.


Load More Stories