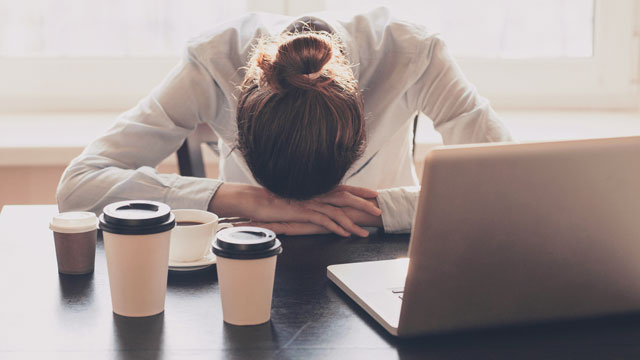 Remember those times when you felt sick and tired of work that you had to force yourself out of bed while fighting back an awkward tummy ache and feelings of anxiety, because you just really, really didn't want to go back to your office ever again? Now, you don't have to convince yourself that you're just nag-iinarte, because burnout is now officially recognized as an "occupational phenomenon."
ADVERTISEMENT - CONTINUE READING BELOW
The World Health Organization defines burnout as "a syndrome conceptualized as resulting from chronic workplace stress that has not been successfully managed," it says. "It is characterized by three dimensions: 1) feelings of energy depletion or exhaustion; 2) increased mental distance from one's job, or feelings of negativism or cynicism related to one's job; and 3) reduced professional efficacy.
"Burn-out refers specifically to phenomena in the occupational context and should not be applied to describe experiences in other areas of life."
While not considered a disease, the World Health Organization plans to develop "evidence-based guidelines on mental well-being in the workplace." 
The Philippine Statistics Office in 2017 noted that there were approximately 8.105 million overworked Filipinos in 2015, a statistic which has blown up from the 5.742 million tallied two decacades ago. The movement to address this workplace epidemic comes as a welcome reprieve, as locally, there are not many private corporations that offer mental health assistance for work-related stresses. 
According to a report by CNN Philippines, the Department of Labor and Employment will be releasing guidelines for companies on July 5, which will include how they can better deal with employee burnout. 
"Generally, it will be advocacies, referrals," says Maria Imelda Santos, Chief of DOLE's Bureau of Working Conditions. "Dapat mayroon silang system or mechanism for referring workers who need professional help... And we will also advocate for social policies like—dapat walang discrimination for workers who are showing [symptoms of] mental health conditions."
Burnout is caused by chronic stress; according to a feature on Psychology Today, if you feel any of the following, you may want to hit the pause button:
1. You always feel tired.
You just feel generally lethargic, like you have no energy even after a full night of sleep. When left unchecked, this may escalate to emotional and mental fatigue.
2. You tend to forget a lot of things.
This can be frustrating if you're normally a systematic person, as you miss out on simple things you know you've already taken note of. You sometimes forget tasks that you regularly do, which adds to more stress.
ADVERTISEMENT - CONTINUE READING BELOW
3. You often get headaches and you easily catch illnesses.
Fatigue can weaken your immune system, which causes you to easily catch colds. Tension headaches are also common, especially when you don't realize that the muscles in your neck area are often clenched not just due to bad posture, but also because of stress.
4. You feel cranky often, and bad moods tend to last longer than usual. 
Aside from not feeling like you're in tip-top shape, you also feel like lashing out on your job, or worse, on others. If snappy, snide comments are becoming outbursts, you may need to step back and take a break.
5. You feel that you're developing anxieties.
It often starts as constant worry, which sometimes makes your stomach hurt; it can also manifest as headaches, or any other physical discomfort. When it gets the best of you, you become unable to function, and may even have episodes of inexplicable panic.
ADVERTISEMENT - CONTINUE READING BELOW
When this happens, taking a break isn't the only thing that you should do—it's important to find the help that you need, as anxiety may slowly turn into depression.
If you think you may have depression or know someone with depression, you can contact the Department of Health's 24-hour suicide prevention hotline, Hopeline, 804-4637; 0917-5584673; and 2919 for Globe and TM subscribers.
Load More Stories