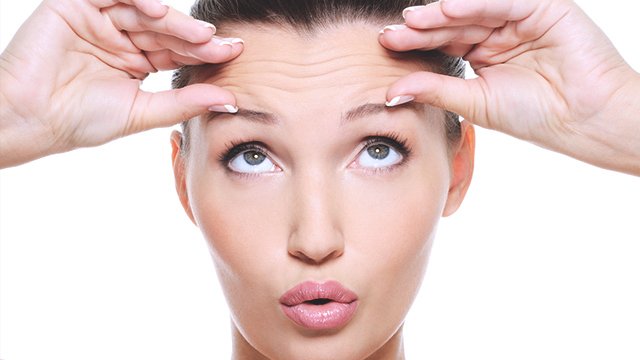 As we all know very well by now, it's much easier to prevent a wrinkle than to erase one. And one effective way to delay them happening prematurely is by knowing how they form, specifically, the habits we have (or shouldn't have) to keep our skin healthy. Below are the different types of wrinkles on our face, and what causes them:
ADVERTISEMENT - CONTINUE READING BELOW
1. Atrophic Crinkling Rhytids
These are the parallel lines that appear when your skin moves; they tend to disappear once your skin is stretched. The most common example of atrophic wrinkles would be the lines that appear on your forehead when you furrow your brow. These are most often caused by collagen depletion and the loss of elasticity, and can also be seen in different parts of our body.
CONTINUE READING BELOW
Recommended Videos
2. Gravitational Folds
It's inevitable for our skin to sag as we age, and that includes the skin on our faces. According to New York–based plastic surgeon Scott Wells, MD, as featured on Byrdie, "these types of wrinkles are more directly due to the effects of gravity, caused by a deflation of the tissues above the wrinkle." Your smile lines are a good example of gravitational folds, especially if you're the type to have "chubby cheeks."
3. Permanent Elastic Creases
Remember how serious we are about using SPF all day, every day? Not just at the beach, but in the office; not just in the morning, but every four hours? Aside from preventing skin cancer, this is also to keep skin aging in the form of little crease lines that show up on our cheeks, upper lip, and the base of our necks at bay.
ADVERTISEMENT - CONTINUE READING BELOW
And if you're a smoker,  here's (another) reason to quit. Aside from inhibiting oxygen circulation and exposing your skin to harmful chemicals, the mere acting of pursing your lips together every puff makes these lines even more evident (and permanent!). (via Skincare by Alana)
4. Dynamic Expression Lines
Do you remember making funny faces as a child, and having your lola warn you that if you keep at it, your face won't go back to normal? Well, it turns out she was partially right. Similarly to getting toned when you work out, these lines are caused by the muscles moving beneath the skin. "Facial muscles are different from all other muscles in that they attach directly into the skin, allowing us to make expressions," says Dr. Wells. So while there's not much to do about your facial expressions when you talk, maybe instead focus on how your face looks when you're mad or stressed. After all, if you're gonna have lines on your face, might as well choose the happy ones!
ADVERTISEMENT - CONTINUE READING BELOW
What to Do
Before resorting to expensive treatments like Botox, and other fillers, be sure to revisit the basics: Maintain a good, daily skin care regimen that's appropriate for your age. While you may have survived your 20s with irregular facial wash and moisturizer, your 30s are a different story altogether. Make sure to find the right products for your skin type, and know proper application and layering so they're at their most effective (and cost-efficient). Stay hydrated, maintain a balanced diet and get a full eight hours of sleep every night--without squishing your face. At the end of the day, everything you expose your face and body to will affect it, so here's just another reason to carefully choose what you take in and what you surround yourself with.
Source: Byrdie, Self, Consumer Health Digest
Comments
Load More Stories