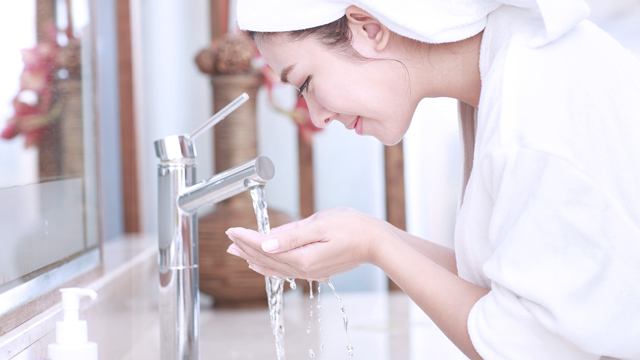 Let's face it; a good skincare routine can really make all the difference between a regular day and a "glowing" day. With so many products to choose from, it's not hard to understand why you probably haven't upgraded your regimen in a while. But, if there is anything we think you should prioritize as you age, it's definitely your skincare.
ADVERTISEMENT - CONTINUE READING BELOW
CONTINUE READING BELOW
Recommended Videos
Whether you have an entire hour or just five minutes to dedicate to your daily skincare routine, it should always start with a great cleanser (rinsing with water is just not enough to clean your face), an exfoliator once or twice a week, followed by a hydrating moisturizer. Washing your face with a proper cleanser, both in the morning and at night, will clean your face of dirt, oil and other debris and allows the products you use to work even better. Exfoliation not only unclogs the pores, but it also gets rid of the dead skin cells, improving uneven skin tone. And moisturizing is an absolute must for reducing the chances of skin problems, keeping your skin looking fresh and supple, and fighting against those unwanted wrinkles.
But, before we move on to how to customize your routine, you should know your skin type. This is the most important step in caring for your skin. Understanding your specific skin type and how it adapts to certain circumstances can determine which products will be best for you.
ADVERTISEMENT - CONTINUE READING BELOW
Dry skin – your skin can feel tight throughout the day, and you may experience visible flaking
Oily skin – you experience a noticeable shine on your cheeks in addition to your forehead and nose
Combination skin - you often feel dryness on the cheeks, but retain moisture or oil on your T-zone
Still confused about what your skin type is? Try taking this test to find out.
Now that you have the basics down, below are ways on how to build up on your three-step routine to help you achieve that inner glow in a way that easily fits into your schedule.
For the Woman Who's Always on the Go
Time is of the essence for you. While others may have the luxury of following the 10-Step Korean Skin Care Regimen daily, you simply just don't have the time. Multi-tasking products like VMV Hypoallergenics Skin-Buffing Cleansing Scrub, which doubles as a cleanser and exfoliator, or Burt's Bees BB Cream, a moisturizer, lightweight foundation and sunscreen all in one, are going to be perfect for you. Just swipe on your favorite lipstick after and you'll be good to go!
ADVERTISEMENT - CONTINUE READING BELOW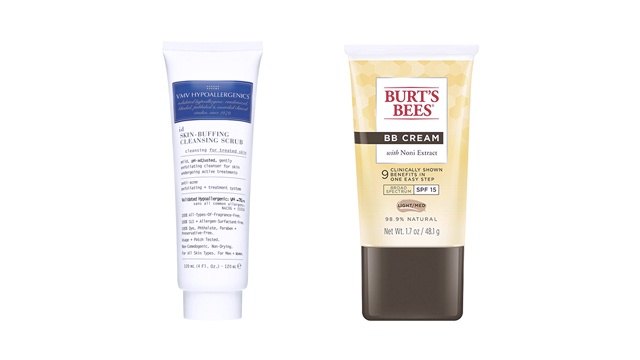 Try: VMV Hypoallergenics Skin-Buffing Cleansing Scrub, P820, available at Zalora and VMV Hypoallergenics Stores; Burt's Bees BB Cream, P1,695 available at Burt's Bees and beauty counters.
For the Fitness Queen 
Your week is not complete without hitting the gym or studio and breaking a little sweat. But too often, with a little sweat comes a little breakout. After each workout, make sure to wash your face since letting sweat sit on your skin for prolonged length of time can cause unwanted zits and clog your pores. You might want to look into using a toner after you cleanse and before you moisturize. This can help get rid of any sweat or dirt that your cleanser wasn't able to remove.
ADVERTISEMENT - CONTINUE READING BELOW
FN Tip: keep a stash of face wipes like Simple Micellar Cleansing Wipes in your gym bag to cleanse even before hitting the showers. Then resume your normal skin care routine when you get the chance.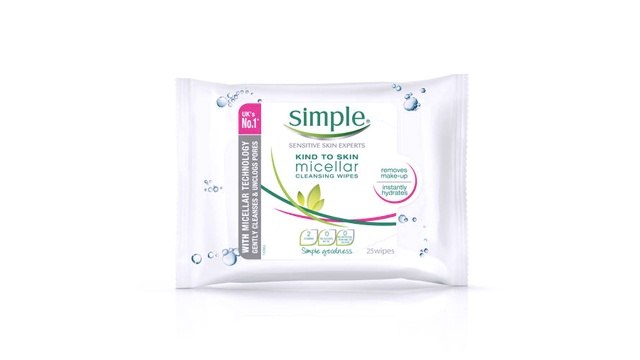 TRY: Simple Micellar Cleansing Wipes, 25 wipes for P299, available at BeautyMNL and at department stores and beauty counters
ADVERTISEMENT - CONTINUE READING BELOW
For the Beauty Junky
Skincare products don't intimidate you. In fact, you might already have a full arsenal of your go-to products for daily skincare and for those unexpected breakouts. If you have the time (and energy) to indulge in taking care of your skin daily, you might want to try the 10-step Korean skincare routine. Here's how it goes:
Step 1 – Oil-based cleanse
Applied to dry skin, this removes make up and any oil based product debris from your face.
Step 2 – Foam Cleanser
A water-based cleanser applied on wet skin will remove any other impurities or left over grime and will leave your face fresh and clean.
Step 3 – Exfoliator
This step is not recommended for daily use. Exfoliate only once or twice a week.
Step 4 – Toner
Toner preps your skin so it will absorb the following products better.
Step 5 – Essence
According to Charlotte Cho, author of "The Little Book of Skin Care," [essence] is a treatment product similar to serums, boosters, or ampoules; but it's more watery in consistency than the rest of those products so it comes out like a toner."
ADVERTISEMENT - CONTINUE READING BELOW
Step 6 – Serum
These are lightweight moisturizers that penetrate deeper than your regular moisturizer.
Step 7 – Mask
Like exfoliating, this step is only needed once or twice a week.
Step 8 – Eye Cream
Eye cream can really help address dark circles, sagging skin and fine lines around the eyes.
Step 9 – Face Cream
This step is to really lock in that moisture.
Step 10 – SPF
Sun protection is key for younger-looking skin as you age.
And if that still doesn't address all your skin concerns, beauty guru Nicole Romero has more tips and tricks you might want to try here.
For the Sensitive Woman Who likes it Au Naturel
If your skin is more delicate, you're more prone to redness and skin irritation. Make sure to use a cleanser that is gentle and sulfate-free like Cetaphil Gentle Skin Cleanser, and a scent-free moisturizer like Celeteque Dermoscience Sun Care Matte Moisturizer. Ingredients such as white tea extract, green tea, and bisabobol are all calming, anti-inflammatory ingredients to look for when choosing products. You can also opt for more natural options like virgin coconut oil, extra virgin olive oil, honey or apple cider like what make-up artist and vlogger Michelle Phan uses here to get the same effect minus all the chemicals.
ADVERTISEMENT - CONTINUE READING BELOW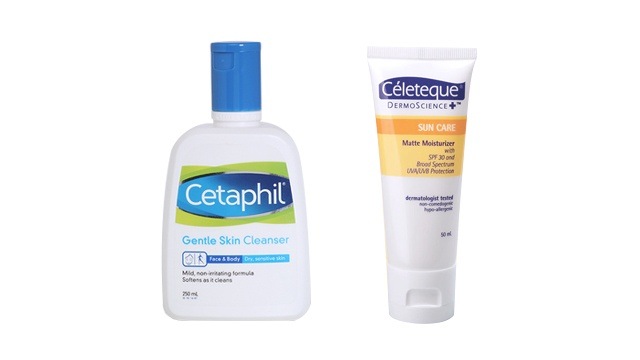 Try: Cetaphil Gentle Skin Cleanser, 250mL for P339, available at Watson's and other department stores and beauty counters; Celeteque Dermoscience Sun Care Matte Moisturizer, 50ml for P250, available at department stores and beauty counters
Comments
Load More Stories