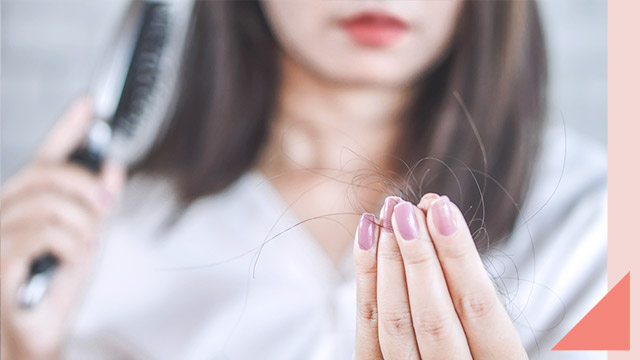 Before you worry about that clump of hair on your shower drain or hairbrush, know that it is normal for a person to lose up to 100 strands of hair every day. 
But, how will you know if you're experiencing a normal hair fall or your hair is actually starting to get thinner? Other than keeping track of how much strands you lose, take a good look at your crowning glory. Does your part seem wider than usual? When putting your locks into a ponytail, does your hair feel thinner? Or is your scalp more visible? These are the most common symptoms of thinning hair.  
ADVERTISEMENT - CONTINUE READING BELOW
CONTINUE READING BELOW
Recommended Videos
"[Hair thinning is] the slow but steady process of shrinking hair follicles that produce weaker strands no longer able to reach their maximum growth potential," explains Vogue. 

This type of hair fall is as common among men as it is for women, and it usually happens after the age of 30 or sometimes, even as early as 20. Unlike men who deal with receding hairlines, thinning hair among women typically starts at the top of their head (think: a wider hair parting), and it happens gradually. But don't worry, your 30s is just the right time to take action. 
To help you get to the root problem, here are some of the common causes of hair thinning—some of which are easy-to-treat and others that require more care: 
1. Over-styling and over-dyeing your hair 
When was the last time you left your hair in its natural tint?
One of the most obvious culprits of thinning hair is the excessive use of chemicals from coloring treatments and heating tools—including blow driers, hair straighteners, and curling irons—which weakens the hair shaft, making your strands more prone to falling off. Try to give your overprocessed locks a break and see if there will be an improvement. 
ADVERTISEMENT - CONTINUE READING BELOW
FN Tip: if you really need to style your hair, invest in a heat protectant spray.
2. Vitamin deficiency, crash dieting 
There's a reason why hair supplements exist. Vitamins and minerals like vitamins C, E, and B12, and iron play a big role in nourishing your hair follicles, a.k.a. what makes your hair grow. Therefore, skimping on these nutrients when drastically lowering your calorie count can also cause hair loss. 
Additionally, "hair loss after weight loss is usually associated with a condition called Telogen Effluvium. Fluctuation in the Body Mass Index causes physical stress, which signals the hair follicles to move into an inactive stage. Hence, weight loss must be gradual," Arvind Poswal, fitness expert at Step-On Fitness Center, tells Business Standard. 
3. Pregnancy
Not all causes of hair thinning are due to bad habits. For instance, it's common for women to naturally go through hair thinning during pregnancy—and it's all because of hormones. As Smart Parenting explains, "During pregnancy, women's bodies have increased levels of estrogen and androgen, which promote shinier, healthier-looking hair. Normally, around 85 to 95% of our hair is actively growing, while the rest is in a resting stage. 
ADVERTISEMENT - CONTINUE READING BELOW
"After birth, however, the level of estrogen plummets, and most of our tresses suddenly enter the resting stage. This is why at around four to five months postpartum, women experience sudden hair thinning." On a brighter note, the hair loss will normalize just as your hormones will!
4. Pills, PCOS
Similar to pregnancy, changing (or stopping) your birth control pills will throw your hormones out of whack, temporarily affecting your hair follicle's growth cycle. The biggest takeaway? Any dramatic change or hormonal balance in your body can greatly impact your hair. That said, women with an autoimmune disease called polycystic ovary syndrome (PCOS) are also prone to thinning hair. 
5. Genetics and other health conditions
More often than not, your genes are to blame. "If you come from a family where women started to have hair loss at a certain age, then you might be more prone to it," Dr. Glashofer tells Health. This genetic condition is known as female–pattern baldness.
ADVERTISEMENT - CONTINUE READING BELOW
Other hair loss-causing health conditions include anemia and hypothyroidism.
How to deal with hair loss as you age 
While some cases of hair thinning are treatable at home, it's always best to go and see a doctor to have you checked up for an underlying medical concern (it's also wise to seek professional help before taking any kind of supplement.) 
In the meantime, here are some of the ways you can deal with fine hair—plus, how you can minimize hair fall: 
ADVERTISEMENT - CONTINUE READING BELOW
Load More Stories