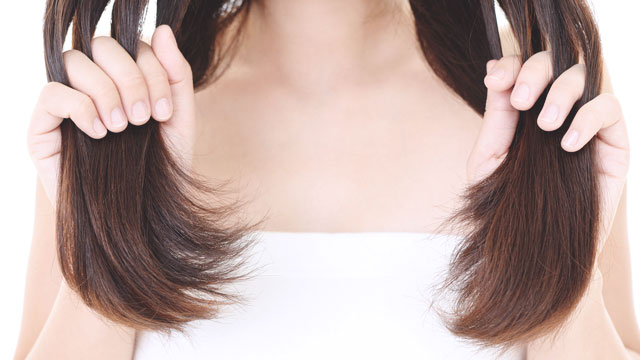 When you think of aging, the first things that come to mind are probably fine lines, wrinkles, dark spots, and sagging skin. Rarely do we ever pay attention to our hair—yes, it ages, too—and we mean more than just the occasional white hair.
Much like the skin, your hair undergoes plenty of changes as you grow older, from dull and brittle to thin or dry hair. Don't worry, though; there are plenty of easy ways you can keep your tresses healthy and shiny. Here is everything you need to know about caring for your hair when you're in your 30s.
ADVERTISEMENT - CONTINUE READING BELOW
CONTINUE READING BELOW
Recommended Videos
Get to the root of the problem
More often than not, you have genetics and stress to blame for thinning and hair loss. Hereditary hair loss can be passed down from either side of your family, but it is more likely to occur if both parents have this issue.
Your follicles, which are responsible for hair growth, can be nourished with a healthy and well-balanced diet. Go for meals rich in omega-3 fatty acids, vitamins A and C, and most importantly, protein. The latter strengthens the hair shaft and helps prevent breakage and hair loss.
As much as possible, avoid crash dieting because vitamin deficiency leads to hair thinning and even shedding. So if you want to flaunt healthy tresses and the beach bod of your dreams, the key is to exercise.
Pregnancy affects your hair, too
For many women in their 30s, pregnancy is a common life event that affects the health of your hair. During this time, women undergo hormone changes, often resulting in thicker and shinier locks.
ADVERTISEMENT - CONTINUE READING BELOW
Once you give birth, however, your estrogen levels drop. Don't panic if it seems that your hair is shedding more than usual! Increased hair loss—also known as post-partum hair fall—is just your body's way of making up for the past nine months. This is totally normal and could last for several months after your baby is born.
You can minimize hair fall by wearing your hair down and letting your strands air-dry until the thinning wears off. However, if your hair shows no signs of rebounding a year after your baby is born, it's time to consult a doctor.
Combat common hair problems with oil
Dryness and a change in texture naturally occur as we age. The best (and easiest) remedy? Hair oil! If you have dry and unruly hair, nourishing oils like argan and avocado tame your hair while giving it a much-needed boost of hydration.
ADVERTISEMENT - CONTINUE READING BELOW
Can't deal with your fine hair? Look for a product that contains lightweight oils like camellia or grapeseed, as these promise shinier locks without weighing your already thin strands down.
If you struggle with a greasy scalp, you can control excessive sebum with tea tree, as it helps unclog pores and balances oil production.
Beware of chemicals
Who hasn't experimented with their hair in their teenage years and twenties? Unfortunately, all those fun transformations eventually take their toll on your hair, making it dry, brittle, and more prone to breakage.
Now that you're in your 30s, it's time to give your strands a break and invest in protein treatments that will strengthen hair and reduce damage. But if you absolutely must style your hair, always apply a heat protectant spray before you reach for your curling iron or blow dryer.
Try a subtle touch of color
Many women panic at the first strand of white hair they see because it's a tell-tale sign of aging. Fortunately, you don't need to drastically dye your entire head of hair the moment you see a few gray strands. Instead, add a touch of color with low-maintenance highlights and lowlights that camouflage the sparse graying areas. Consult your colorist about the shade that best suits you, but it's best to avoid going several shades darker or lighter than your natural hair color.
ADVERTISEMENT - CONTINUE READING BELOW
When in doubt, consult an expert
Before taking on any drastic measures, it's always important to discuss it with qualified experts. Your trusted stylist can give you suggestions on how to keep your hair healthier or how to best style your locks when it has lost its volume and changed its texture. Dermatologists can determine the causes behind the sudden changes in your hair. Is it genetics, a treatable medical condition, or just a natural part of aging? Knowing all of these factors will help you make better decisions on how to care for your mane no matter your age.
Load More Stories