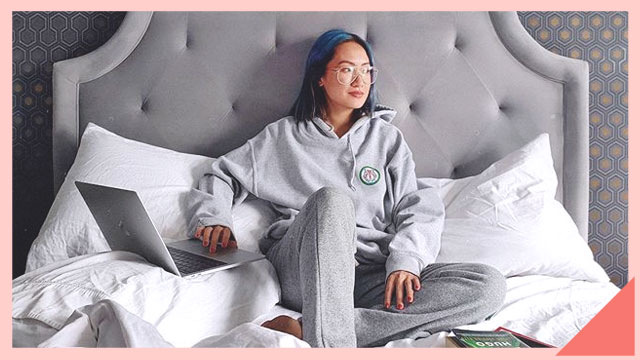 The beauty of working from home is that you don't actually need to do much to get ready. You can lounge around in your sweatpants all day and be just as productive as you are in a two-piece suit, and your boss would be none the wiser. Unfortunately, that all changes the moment you have to attend a meeting via video call. Because as much as we'd all love to face our colleagues in our natural state, there'll always be that professional voice in heads that tells us to put in some effort to, well, look like we actually put in effort. So on your next video meeting, here are some tricks for avoiding an unflattering webcam face:
ADVERTISEMENT - CONTINUE READING BELOW
1. Find a spot with good lighting.
Webcams don't have the best camera quality to begin with, so the least you can do is to have decent lighting. Try to sit as close to an open window as possible for some natural light, or simply turn on the lights in your room instead of relying on the illumination from your screen's glow. Make sure to position yourself (or the light) so that it's directly in front of you so it's more flattering. Avoid being backlit or only having light on one side of your face.
2. Use a separate webcam.
The problem with the built-in cameras in laptops is that there's no way for you to freely adjust the angle. Meanwhile, if you have a separate webcam, you can position the camera however you want without compromising your typing and your view of your computer screen. Another alternative is to use your phone for video calls instead of your laptop, and just use them simultaneously if you need to do other tasks.
3. Wear an easy, polished hairstyle.
If you're preparing for a conference call for work, polishing up your locks in a neat ponytail or a clean side-part will instantly amp up your professional vibe. For some lucky gals, a quick once-over with a hair brush might even do the trick!
ADVERTISEMENT - CONTINUE READING BELOW
4. When in doubt, put on some makeup and a quick outfit.
Not comfy with going barefaced on camera? Give yourself a confidence boost by wearing some of your makeup essentials. Filling in your brows and swiping on some blush and lipstick can make a huge difference not just to your appearance but also your mood. You can compensate with an easy WFH outfit, too—throw on a blazer over your T-shirt or wear a stylish pajama top and you'll be good to go!
ADVERTISEMENT - CONTINUE READING BELOW
5. Enable beauty filters on your video app.
No makeup? No problem. Some video services are generous enough to have built-in filters for all your video call beautifying woes. Zoom, for example, has a "Touch Up My Appearance" setting that smoothes out your skin during a call so you don't have to worry that one pimple or rough patch on your face while talking to your boss.
Load More Stories