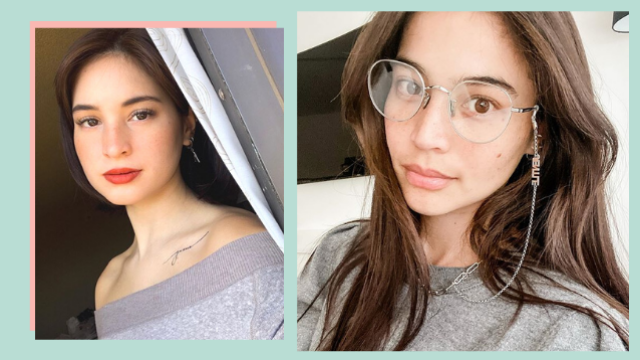 Whether asked in all innocence, or out of ignorance, there are just some questions that are off-putting to some women.
It starts with needling a young girl: Don't you have a boyfriend yet? Add a couple more years and she is asked: When are you getting married? Worse, she is practically commanded to find herself a husband: Dapat mag-asawa ka na, baka mapag-iwanan ka!
ADVERTISEMENT - CONTINUE READING BELOW
And once a woman is married, she is asked: When will you have a baby?
These are all intrusive questions that have no place in a polite environment. They ignore the fact that a woman can choose to remain single, choose to have or not have children even if married, or choose to become single mothers. 
They also ignore the fact that a woman can have a career and raise a family at the same time, or they can give up one for the other. 
Here, PEP.ph shares stories culled from interviews with married celebrities who have dealt with the pesky question: "Kailan ka magkakaanak?" 
Anne Curtis: married two years, mother of one
Anne married Erwan Heussaff on November 12, 2017. Four months after her wedding, Anne met PEP.ph and other media at the opening of the boutique of her makeup line.
Here she mentioned that people actually go up and ask her, often excitedly, about her baby plans—and they don't seem to see that they are being snoopy. 
Anne was upfront in telling PEP.ph that it felt "weird" to be asked such a question.
"Di ba, it's something na... It's actually a very private matter. I mean, what do you want me say? 'Yeah, we're actually doing it now.' Di ba, it's weird?!"
The It's Showtime host would be confronted by the same question at every press conference, and each time her standard answer was: "If it happens, then it happens."
ADVERTISEMENT - CONTINUE READING BELOW
Seemingly fed up, in October 2019, a month before she announced her pregnancy, Anne asked the media to stop asking all women about such private matters.
"I'm speaking for every woman. You don't know what they're going through. I have a lot of friends who may be trying. And medyo nakakasakit when people keep asking them, 'When are you going to have a baby?' Or maybe they just don't want to have a baby."
Anne added, "I hope you, guys, don't take this the wrong way. But, I think, in respect to every woman, you should stop asking when they're going to get married, why don't they have a baby, or when they are going to have a baby."
Anne's baby girl, Dahlia Amelie, is now six months old. Her family of three are currently in Melbourne, Australia.
Karylle: married six years
Karylle married Yael Yuzon on March 21, 2014 and, to this day, the couple does not have a baby.
ADVERTISEMENT - CONTINUE READING BELOW
But, as Karylle said in an interview with PEP.ph in April 2019, every woman is different. She said: "A lot of people do advice to do your career first, but I think it's different for different women.
"Sometimes, kunwari in 'Tawag ng Tanghalan,' there are singers who do a career comeback at the age of 30 once they have had a child. And that's, in my head, the opposite of me. I respect them. And there's also that other side, which is me, that I work first. And I enjoy the time that it's me and my husband, so different talaga, e. It really depends on the woman."
ADVERTISEMENT - CONTINUE READING BELOW
In another interview in February 2018, the It's Showtime host acknowledged that it's a question women constantly deal with. She told PEP.ph, "I know a lot of women nowadays are very vocal about how pressured they feel during family reunions, when it comes to Christmas, but I think...
"In the same breath, a lot of women have become more supportive of each other, especially pag same age mo, peers mo, kasi alam mo same issues kayo. So, I think it's kind of, like... It's like more... you have your support group, kasi everyone's going through the same thing."
Solenn Heussaff: married four years, mother of one
Solenn and husband Nico Bolzico were three years into their marriage when they announced they were expecting in August 2019.
A few days after breaking the news, Solenn wrote in her blog why she took her time having a baby.
ADVERTISEMENT - CONTINUE READING BELOW
The 30-something actress said it was a mutual decision. "When you want to have kids, if you even want to have kids, is your choice. When to have children (if you want them) is a massive decision and it will lead to a lifetime responsibility. You don't get to tap out of being a mom and a dad."
She also said, "There were a lot of things that Nico and I wanted to experience as a married couple first, like traveling as much as we could and prioritizing each other and our careers. Don't get me wrong, there are women who want to get preggo at a younger age.
"That's great and it is easier in a lot of ways to have children when you're younger."
Solenn said that she and Nico seriously intended to have a baby in 2019, "when we were ready, not when books or the internet or our family or other people said so."
ADVERTISEMENT - CONTINUE READING BELOW
The couple welcomed 2020 with the birth of their daughter Thylane Katana Bolzico, and they are relishing their role as new parents.
Maricar Reyes: married seven years
Maricar and husband Richard Poon got married in a private ceremony on June 9, 2013. Although they have long been ready to have kids, they both also said they would rather wait for the right time.
ADVERTISEMENT - CONTINUE READING BELOW
During the couple's guest appearance on the ABS-CBN morning show Magandang Buhay in September 2018, Maricar said, "We're really happy where we are now. Parang ang dami pa namin gusto i-achieve, gusto magkaroon. There's so many things that we can have pa and so many things na iwo-work pa namin."
The actress-turned-cake entrepreneur beamed as she said, "You caught us at a time na content kami, pero alam namin na ang dami pa namin gagawin."
For his part, Richard's take on the subject revealed the pressure from various quarters that they have been parrying. The crooner said, "I think a lot of people, including our parents, would like us to have a kid already. Kaya lang kami, gusto rin namin, pero hindi kami nagpapa-pressure.
"Marami nagme-message sa amin na private message na, 'Napepressure na ako kasi pinepressure ako ng parents ko magka-anak, magka-anak, magka-anak.'"
Richard pointed out that there will always be pressure, no matter where one stands in life. He said, "Hindi kami napepressure because, from the start, sinabi sa amin ng mga married mentors namin na, 'You know, pag single ka, ipepressure ka ng mga tao—with good intentions—uy, bakit hindi ka pa kinakasal?
ADVERTISEMENT - CONTINUE READING BELOW
"'Kapag kinasal ka, bakit wala ka pang anak? Pag may anak ka nang isa, bakit hindi mo pa sinundan ng pangalawa?'
"So, we realized na hindi kami puwede magpapressure sa ibang tao because wala rin naman, e. Hindi naman iyon iyong focal point, e. Ano lang kami, if the child comes, we're very, very happy. Ready na kami."
Saab Magalona: Married five years, mother of two
Saab was 26 when she and Jim Bacarro got married. 

According to Saab, there were people who assumed that she got married at that age because she got "knocked up." The blogger-musician said this got her wondering why people always think kids are involved when marriage is contemplated.



In her blog post of May 2017, Saab wrote, "I just need people to stop being so jaded thinking it's the only reason people get married

—

so they can have children. "To me, having a baby is not just cutesy baby photos and sweet, sweet kisses from my little siopao-cheeked child. It's 18 years of my life that I will have to dedicate to a human being.

ADVERTISEMENT - CONTINUE READING BELOW

"I mean, fine, I've dedicated my life to Jim when I married him, but he's a grown up! I don't have to make sure I don't drop him when I'm feeding him or remind him to look both ways before crossing the street."

Saab also wrote that she and Jim were enjoying their marriage as a couple first before having kids. She said, "It's a choice we both made and I respect other couples for choosing to have kids right after marriage, too."

The daughter of the late rapper Francis Magalona and talent-manager mom Pia conceded that people who get nosy about her baby plans often mean well.

But, of course, she drew the line on strangers online who left tacky comments, particularly those who were clearly nasty souls, which showed in their comments, such as "baog ka kasi."

Four months after uploading this post, Saab updated her blog with news that she was pregnant with her first child. 

ADVERTISEMENT - CONTINUE READING BELOW

The Cheats singer was pregnant with twins, yet! But the pregnancy met with complications during birth. Saab and Jim lost one of the twins, their daughter Luna, in February 2018.

The other twin, their son Pancho, survived. He turned two this 2020.

Saab and Jim now have two boys. Their second son, Vito, was born in September 2019.
Kim jones: married six years
Kim considers herself lucky to be married to the respected actor Jericho Rosales. Their marriage is six years and counting. And just like every celebrity couple who has yet to welcome a child into their marriage, people have constantly asked them about their baby plans. 
ADVERTISEMENT - CONTINUE READING BELOW
In December 2017, an Instagram follower of Jericho bashed Kim for, the basher said, making career a priority over having a baby.
The ABS-CBN actor, riled, promptly defended Kim. He wrote back: "I DON'T THINK GETTING PREGGY AND HAVING BABIES IS THE ONLY MEASURE FOR BEING A WOMAN... I LOVE THAT MY WIFE TRAVELS AND WORKS ON HER DREAMS."
Through her Instagram Stories, Kim thanked Jericho, writing, "Thank you, Jericho, for believing that a woman's worth and the measure of a 'real woman' comes from a multitude of qualities. And thank you for believing my dreams are worth chasing, whatever they may be. Thank you for having my back. That's my man."
In February 2018, Kim opened up to Preview magazine about her thoughts on women being pressured about motherhood.
She said, "Maybe I have a problem with it as well because I have friends who cannot have children, and it breaks my heart to know that people are being badgered by strangers out of courtesy or exchanging niceties because they don't know what to say, like, 'When are you going to have a baby?'
ADVERTISEMENT - CONTINUE READING BELOW
"And it breaks my heart that they have to face that because that's a jarring problem to have. But at the same time, I know people who just don't want to have children."
Kim also put it this way: "We're not saying either-or. We're saying, 'Let us be.' Let us figure it out on our own, and let us make the decision when the time is right. I think it's just a matter of individuals making personal choices."
Kim and Jericho were married on May 1, 2014. Jericho has a 19-year-old son, Santino, with former girlfriend Kai Palomares.
Coleen Garcia: Married two years, future mother of one
For Coleen, the pressure to have a baby came right after she and husband Billy Crawford were married on April 20, 2018.
ADVERTISEMENT - CONTINUE READING BELOW
She told PEP.ph in an interview in May 2019, "Nape-pressure ako kasi parang everywhere I go, natatanong ako." Each time, she gave a standard answer: "In God's time." And, she really believed this to be so. 
Coleen is now nine months pregnant and is due to give birth September 2020.
Finally, this has stopped people asking her the "Kailan ka magkaka-baby?" question. But she still bristled at the thought that people have no clue about the effect of that question on many women. The would-be mom remarked, "It's definitely never okay to pressure other people." 
Coleen followed it up with this nugget of advice to women pestered by that annoying question:
"To the women who get pressured, it's all in God's time. Not other people's, and sometimes not even ours. Enjoy every stage of your life, because when it does come, it will change your life forever, and it will definitely be worth the wait. That's more than enough to hope for! And if you're just not ready or you choose not to have kids at all, that's also okay. Your journey is YOURS."
ADVERTISEMENT - CONTINUE READING BELOW
Coleen and Billy are expecting a baby boy.
Gusto mo bang lagi kang una sa showbiz news at scoops? Subscribe to our Viber Chatbot here para lagi kang updated, and join our community for more pakulo!
Load More Stories