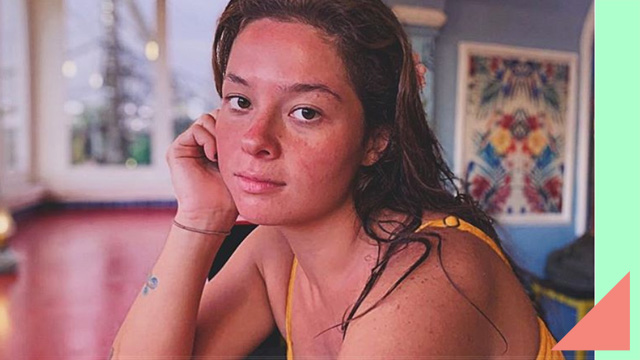 Anxiety is high in these uncertain times and right now, all we want is to escape to our safe space-think island-paradise levels of escape. Since we can't actually run away to the beach right now, what we can do is get a glimpse of it through Andi Eigenmann. The actress and model has made one heck of a life for herself on Siargao Island, along with her partner, professional surfer Philmar Alipayo, and their kids. And though it's obvious we don't get to see the whole picture, the little moments she shares with us are total Zen. In case you need a bit of a reminder to breathe, we round up a couple of moments when Eigenmann showed us how to stay calm, honest, and chill in a messy world.
ADVERTISEMENT - CONTINUE READING BELOW
Hot topic: 6 Classic Perfumes That Can Be Your Signature Scent in Your 30s
Sit down and let Andi Eigenmann show you how to stay grounded:
When she carried a balde like it was nobody's business
It's amazing how Pinoys can balance while on a motorcycle. Eigenmann was seen carrying a huge blue water pail as a pillion rider to Alipayo. She was spotted by another Siargao local who noted that while it wasn't exactly the most photogenic moment, Eigenmann managed to stay "gorg and classy." As for the huge tub? Turns out she needed it to store her black rice in!
When she responded to body shaming with a "Thank You"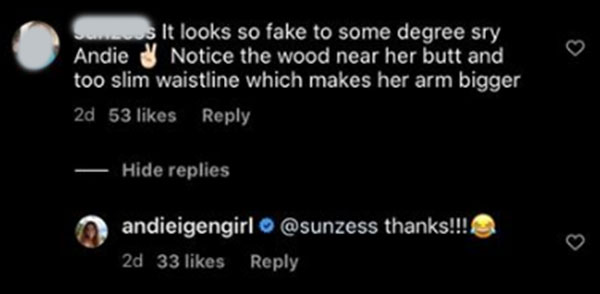 Being told you look fake-even if it wasn't a direct call-out, as one commenter did on an IG post of Eigenmann posing sideways-is enough to get you biting back. Not Eigenmann though: When someone said that her picture looked too good to be true and was most likely edited, she simply replied with a thanks and a laughing emoji. Looks like she took that as a compliment.
ADVERTISEMENT - CONTINUE READING BELOW
When she surfed while pregnant
Don't tell Andi what she can and can't do. The momma took a day off and caught some waves while six months pregnant with baby Lilo. "I surf with (just enough) knowledge of what I am doing, with my doctor's permission, and with a professional surfer [Alipayo] guiding me and making sure that the baby and I are [okay]," she wrote in the caption. Prime example of not letting anything stop you from doing what you want-in a smart and responsible fashion.
ADVERTISEMENT - CONTINUE READING BELOW
When she got real about stretch marks
Childbirth is magical-and also incredibly taxing on the mother's body. Stretch marks are bound to pop up and stay for as long as your kid will (probably longer), and Eigenmann is a champion for embracing the change. You can usually see her marks in pictures and she doesn't try to hide them. "Just because we have these belly marks, doesn't mean we aren't [allowed] to wear your favorite cropped tops and bikinis anymore," she wrote.
ADVERTISEMENT - CONTINUE READING BELOW
Hot topic: Why You Should Love Yourself First (Before Anyone Else)
When she let people in on her mental health
In another post after giving birth to Lilo, Eigenmann talked about mental health and her own journey with postpartum depression. Most moms and families in general turn their attention full-blast on the newborn—who can blame them—and tend to forget the emotional and mental aspects of pregnancy. Eigenmann's message was a call for moms everywhere to take care of themselves, too. As she wrote, "Just hoping that the fact I'm aware of other moms going through this, and that I am acknowledging what this feeling may be, will hopefully be helpful."
ADVERTISEMENT - CONTINUE READING BELOW
When she wasn't about to magically "bounce back" post-pregnancy-and wasn't sorry about it
After Eigenmann gave birth, she expertly went against the grain and told us not to expect her pre-baby bod to be back anytime soon. "Been thinking about 'project comeback' and creating my fitness plan for after I recover from my C-section, but I am not in a hurry to start again," she said in the caption. As a celeb, we're sure the pressure for her to look stunning 24/7 is no joke so this refreshing hospital bathroom picture was a sweet reminder that hey, we're all only human.
ADVERTISEMENT - CONTINUE READING BELOW
When she was proud of her non-traditional family
Eigenmann has always gotten a lot of flak for the way she's chosen to live her life, unfortunately mostly targeted towards her family with partner Alipayo. In this photoshoot, the actress chose to send a very strong message. "I love my family, and I love our life. We are aware that it is not ordinary-because it's extraordinary," she wrote. Alipayo had two sons, Toro and Kanoa, before Eigenmann, who had Ellie, as well, and is pregnant with Lilo in this picture. It isn't an "ideal" situation, based on other people's beliefs, but Eigenmann is proud of her family, and really, that's all that matters.
ADVERTISEMENT - CONTINUE READING BELOW
When she shared unfiltered maternity pics
Eigenmann shared a series of unfiltered pics and ponderings throughout her second pregnancy. She wasn't ashamed to share the ways her body was changing and the moments when she felt like she wasn't making the right choices-a change from the usual glossy and clean pregnancies we see elsewhere. Plus, she rallied for other mothers to stay strong in their journey, too. Louder for the people in the back, Andi!
ADVERTISEMENT - CONTINUE READING BELOW
When she called people out for hating on Ellie's short hair
When Eigenmann's then eight-year-old daughter decided she wanted to rock a short 'do, people also decided they had every right to criticize her choice-spoiler alert, they had about zero right. Eigenmann swooped in with this post to defend her daughter from strangers' comments, saying "It saddens me how people (especially other women) are making me feel like Ellie cannot feel or be beautiful just because of her hair." She reiterated the call on her IG stories as well. "Shame on these other women making my girl feel like she did something wrong all because her hair [is] now short," she shared. 
ADVERTISEMENT - CONTINUE READING BELOW
When she responded to people calling her "sayang"
When Eigenmann posted on IG how happy she was about her second pregnancy, people flocked to the comments and decided to force their way of life on her. One particularly nasty comment, which read, "Sana, Ands, pakasal ka muna. Sayang," earned a reply from Eigenmann. "You are in no place to tell me how I should lead my life. More so, tell me that I am 'sayang' because I am happily pregnant at 28 [years old]. I don't expect nor intend for everyone to be pleased by how I see life, but your negativity is very unnecessary and you may feel free to click unfollow," she said.
ADVERTISEMENT - CONTINUE READING BELOW
This story originally appeared on Spot.ph.
Load More Stories