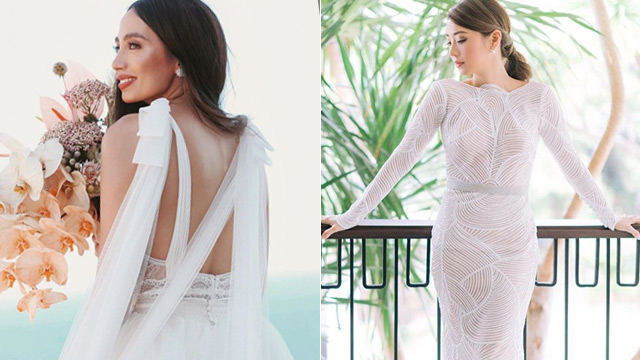 Overwhelmed with tons of wedding gown designs available in the market? Before making an appointment with a bridal gown designer or a ready-to-wear label, make sure to do your homework before choosing and trimming down your choices. Aside from knowing your body type in order to highlight your best assets, other factors to consider include the wedding dress fabric, silhouette, neckline, as well as your wedding theme, timeline, and venue.
ADVERTISEMENT - CONTINUE READING BELOW
Deciding on a budget can also help you choose your designer. Before your first meeting, it'll be extremely helpful for you to study and to understand various wedding gown styles. Scour the net for wedding dress designs, and take note of what detail you like about each of them. Once you're fully aware of what works for you, finding or even explaining your dream bridal dress to your designer will come easy! 
CONTINUE READING BELOW
Recommended Videos
Here, we've broken every kind of silhouette and neckline you need to know about, as these are two of the most important features of your nuptial dress: 
How to choose a wedding gown design silhouette
Ball gowns
Brides who always wanted to live out their "princess" dreams are fans of this classic, timeless silhouette. The combination of a fitted bodice and a full, grand skirt, after all, makes any woman feel every bit like royalty. Ball gowns are flattering on brides with slender or pear-shaped figures (example, if your hips are the widest part of your body frontview), as the full skirt draws attention to the waist instead of the lower body. 
ADVERTISEMENT - CONTINUE READING BELOW
A-Line 
The A-line silhouette may look a lot like a ball gown but there's a big difference: its skirt isn't too dramatic—instead, it's a lot more flowy, and it "gradually widens towards the hem" notes Wedding Wire, creating the shape of the letter "A."
ADVERTISEMENT - CONTINUE READING BELOW
Mermaid 
As its name suggests, the mermaid (a.k.a. serpentine) silhouette mimics the shape of a mermaid. It has a fitted, body-hugging bodice that flares out at the knees like a tail. If you want to put your curves on display as you walk down the aisle, you can't go wrong with this sexy, figure-hugging silhouette. You may want to avoid this, however, if "you don't want something tight. This style is pretty constricting," says The Knot. 
ADVERTISEMENT - CONTINUE READING BELOW
Trumpet or Fit-and-flare 
Both trumpet and mermaid styles are fitted on the body and flared at the bottom. But unlike serpentine gowns that dramatically flare out below the knees, trumpet or fit-and-flare silhouettes feature a subtler, more understated flare, resulting to a semi-full skirt. This is perfect for those who like the mermaid style but feels that it might be a tad too restrictive.  
ADVERTISEMENT - CONTINUE READING BELOW
Sheath or Column 
Not everyone is a fan of dramatic ball gowns and figure-hugging dresses, and if you happen to be one of them, a simple, no-frills sheath silhouette like that of Meghan Markle's is your best bet. "A sheath wedding gown skims the body and falls straight to the floor," explains the Wedding Wire. With its clean, sleek shape, the silhouette is naturally elongating, so it'll look just as flattering on petite women as it would on taller brides. 
ADVERTISEMENT - CONTINUE READING BELOW
Tea-length 
A tea-length bridal dress is a classic and practical choice for brides who are planning to hold a civil wedding and an intimate reception. 
It's sweet and unapologetically feminine, and its midi-length will allow you to move around and to mingle with your close friends and family without the hassle of having to carry a long train. This is also perfect for small garden ceremonies so as not to risk dirtying your dress.
ADVERTISEMENT - CONTINUE READING BELOW
Wedding gown neckline styles
Sweetheart 
Shaped like the top of the heart, this romantic cut accentuates the neckline so it's particularly flattering for busty women. This isn't to say, however, that the dainty neckline won't look good on small-chested brides. According to In Style, "the heart shape line [can also] create the illusion of a larger bust." 
ADVERTISEMENT - CONTINUE READING BELOW
FN TIP: Finding a bra with the right support can make you look even more amazing in this neckline!
Illusion 
If you want to add a bit more coverage to your décolletage without going all the way, opt for an illusion neckline that features a sheer fabric embellished with lace. It's romantic and subtly sultry! 
ADVERTISEMENT - CONTINUE READING BELOW
V-neck 
Small-chested Pinays can get away with rocking a daring, plunging neckline without looking too racy at a wedding. Busty ladies, on the other hand, can opt for subtle dips in the neckline to show off their best asset in a tasteful, conservative way. As the plunging cut draws the eye downward, it also creates the illusion of a longer torso, making one appear slimmer and taller.
ADVERTISEMENT - CONTINUE READING BELOW
If you're worried about a possible wardrobe malfunction or appearing too revealing, don't fret—low V-necklines can be supported by a sheer, illusion fabric. Take blogger Kryz Uy's plunging lace gown by Francis Libiran as an example. 
ADVERTISEMENT - CONTINUE READING BELOW
Bateau/Sabrina 
This modest neckline spells effortlessly classy, and it's a subtle way to reveal some skin, highlighting both the collarbones and even the arms (that is, if you choose to take the sleeveless route). 
ADVERTISEMENT - CONTINUE READING BELOW
Square neckline 
Square necklines feature a defined shape that looks sophisticated both on curvy and petite body types. Team it up with a grand, voluminous skirt and you're in for a regal bridal look. 
ADVERTISEMENT - CONTINUE READING BELOW
Off-shoulder 
An off-shoulder neckline is dreamy and romantic—and a little bit sexy, too. It's perfect for when you want to show off your neck and shoulders but don't want to look too bare, especially for strict church weddings. The best part is it looks flattering on all body types! 
ADVERTISEMENT - CONTINUE READING BELOW
ADVERTISEMENT - CONTINUE READING BELOW
Looking for more wedding dress designs with sleeves? Check out these 30 celebrity brides.
Halter 
A haltered neckline can also add a few inches to a bride's height as its cut emphasizes the neck and elongates the torso. 
FN TIP: When accessorizing this kind of neckline, avoid wearing any necklace that will take the attention away from the dramatic neckline. Instead, opt for a pair of statement earrings like how Patty Ang elegantly did it below: 
ADVERTISEMENT - CONTINUE READING BELOW
High neck 
Decades from now, you wouldn't want to look at your wedding photos and cringe at what you wore. So when in doubt, look timelessly beautiful by going for classic necklines like a high neck. As seen on royals like Grace Kelly and Kate Middleton (including Kate's sister Pippa Middleton), bridal gowns with high collars are usually crafted from lace to add a romantic flair, but if you want to look a little less covered up, opt for an illusion high collar instead like Heart Evangelista's sophisticated nuptial frock back in 2015. 
ADVERTISEMENT - CONTINUE READING BELOW
FN TIP: If you're looking for more non-traditional options, you can also try exploring colored wedding dresses like Mandy Moore, or customizing your footwear to really let your personality shine.
Load More Stories