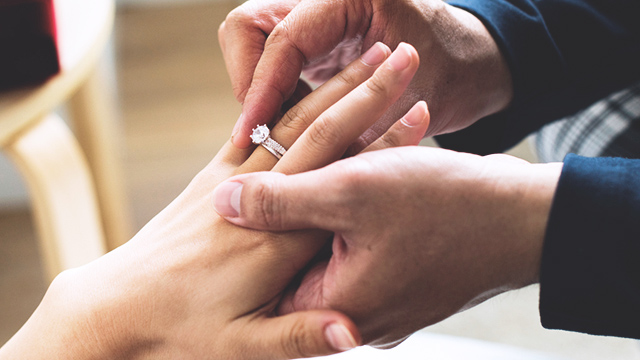 With a significant amount of millennials opting to break wedding traditions in pursuit of more affordable and personalized events, engagement ring etiquette has also evolved among modern couples. The great news is that while diamond rings remain to be the popular and classic choice among grooms- and brides-to-be, the more practical or budget-conscious ones no longer have to sacrifice elegance or quality thanks to the creativity of today's young jewelers. Nowadays, you can very easily find an engagement ring on Instagram and have it shipped to your home in a matter of days.
ADVERTISEMENT - CONTINUE READING BELOW
Whichever style you choose, the most important thing you need to do is to research, research, and research. Whatever amount you decide to spend, whether it's P20,000 or P200,000, what matters is you get the best quality and deal for your budget. Remember, there's a cut, style, and material that will work for you if you look hard enough.
Looking to find "the one?" Here are six frequently asked questions about engagement rings:
How much are engagement rings
If you're not looking to spend over P25,000, you can get an 18 carat diamond with a 14K white gold band at P19,800, or a .21 carat diamond with the same band at P24,600, according to this feature on Cosmo.ph. Meanwhile, a .73 carat diamond could go upwards of P125,000. The same feature also notes that an engagement ring with an illusion setting (tiny diamonds fitted together for maximum effect) can also be a great option if you're looking for a more dramatic look without having to spend too much. You can find one for about P40,000 to P90,000. 
Meanwhile, "imperfect" diamonds can be bought for as low as about half the price of a regular diamond, and can even add character to the piece.
If your budget is above P100,000, there are definitely more options to choose from, including a variety of ethically-sourced ones. Just make sure to check that you're purchasing a real diamond and be wary of falling for scams. You can also pay a visit to stores that carry man-made diamonds, as they are more cost efficient at 30 to 40 percent cheaper. They are also conflict-free stones.  
Now, if you are exploring more affordable options that also offer a unique and personal touch to this major milestone of your lives, (Thank you, Pinterest boards!) then you can switch out the diamond for a different jewel. 
Aside from birth stones, another way to lower your cost is to opt for semi-precious stones. One Pinay even shared that while planning an eco-friendly wedding on a budget, they were able to source a wedding ring made with Narra wood. They wanted "something biodegradable and easily broken down. Just think about it—if it were to ever get lost, you wouldn't be polluting the earth!"
ADVERTISEMENT - CONTINUE READING BELOW
It also helps to join forums on engagement rings to learn more about the experiences and challenges real brides faced. 
How much to spend on engagement rings
Have you ever heard of the three-month rule? (No, this is not a One More Chance reference.). Traditionally, there's a belief that men are advised to spend about three months' worth of salary for an engagement ring, but nowadays, and with the number of options available in the market, the price can go up or down depending on where an engagement ring falls under your list of prioriities.
In this feature on Cosmo.ph, one groom-to-be argues that "I think that this is now an outdated rule. Three months' worth of salary for an engagement ring may not be good enough," and spent over half a million pesos on his purchase, while another says that "This belief would probably be a bit funny to me. I think it would actually depend how much your salary is. My fiancée and I are both practical. I didn't spend too much on the engagement ring, with the idea that I really wanted to get us a nice house." He ended up spending about P60,000 to P70,000 on a ring.
ADVERTISEMENT - CONTINUE READING BELOW
In fact, if you want to skip the tradition altogether, there's even a trend where couples are decidedly opting out of engagement rings altogether and are now spending their savings on other personal investments like the wedding iteself, longer, more high-end honeymoons, real estate downpayments, and other priorities. 
What finger, hand does an engagement ring go on
It's believed that the engagement ring should go on the left ring finger. According to Brides, "the Romans believed that the vein in the ring finger (the fourth finger) on the left hand ran directly to one's heart. Because of this belief, they called that vein the "vena amoris" or vein of love."
Some Filipinos wear their wedding ring on their right hand, which can also work particularly if you're left-handed. At the end of the day, it's best to stick with what you're comfortable with and what suits your lifestyle and line of work.
ADVERTISEMENT - CONTINUE READING BELOW
FN TIP: If your wedding ring is a little loose but you're not quite ready to have it resized yet (which is usually the case if you are pregnant or hoping to get soon after the wedding), you can buy a Ring Snuggie, available on HonestBee and True Value stores, so you can have a better fit without committing to a permanent change.
Do guys wear engagement rings
While it's customary for a woman to be the only one to wear an engagement ring, the reason behind this is actually (albeit unsurprisingly) outdated. "Historically, engagement rings are a sign of ownership. Women have to wear this big public symbol to show everyone that they are off the market, but men just get to gallivant around willy-nilly. That hardly sounds equal," says a feature on The Guardian.
There's no hard and fast rule about what a man should wear once he gets engaged, but recent years have seen the rise of male engagement rings. Singer Ed Sheeran even made headlines for being spotted wearing an engagement ring, sparking conversations about how the tradition has evolved into a more inclusive and equal practice.
ADVERTISEMENT - CONTINUE READING BELOW
Some men also opt for watches or different accessories, so it's best to discuss this with your groom before you decide to splurge--unless you want it to be a surprise, in which case, just be sure to consider your groom's personality and style before spending on a gift.
How to clean engagement ring
There are several ways to clean your engagement ring depending on how much work needs to be done to get it back to its sparkliest state.
If you own a traditional diamond ring, you'll want to take care of it regularly. You can take your ring to your suki jewelry store every few weeks to have it professionally cleaned with steam, but you can also use warm water, a mild dishwashing soap, and soft a toothbrush to keep it bright. It helps to soak the ring for 10-30 minutes, too so you won't have to brush too hard.
ADVERTISEMENT - CONTINUE READING BELOW
How to wear an engagement ring and wedding band together
Once your wedding date approaches and you finally get to put on your wedding bands, one trick you can do is to move your engagement ring to the right ring finger temporarily, and simply wear them together on your left ring finger after the wedding.
At the same time, you don't necessarily have to wear it daily if you want a more simple, less sparkly look. Remember, at the end of the day, what matters is the marriage. Everything else is just extra!
Load More Stories