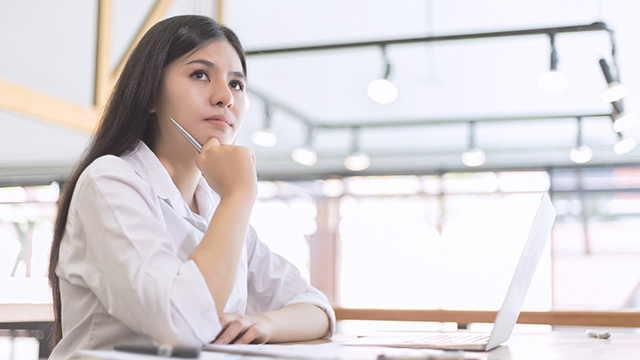 Sexual harassment in the workplace is always depicted to be so obvious and aggressive in movies: the boss suddently puts his hand on the female employee's thigh during a meeting in his office, or he makes a not-so-subtle pass in the car when he drops her off after working overtime. But not all instances of sexual harassment are always so clear and sleazy. Some are subtle enough to be dismissed as a *slightly* inappropriate comment here and there, or worse, as a regular part of "office culture."
ADVERTISEMENT - CONTINUE READING BELOW
So if you're confused as to why the extra attention you've been getting at work has been making you uncomfortable, here are some possible instances of sexual harassment you experience daily without you knowing:
1. You're being showered with compliments about your looks and body.
While what constitutes as "inapproriate" seems subjective, rest assured that any comment about how pretty or sexy you are is already inapproriate in an office setting where you should be measured by your skills and addressed professionally. It's one thing to get a compliment from your office BFF about the cute skirt you're wearing, and another to hear your boss say you look good in your V-neck top.
2. You're getting perks and priviledges above your paygrade.
"Hindi lahat ng bagay, may kapalit." Unfortunately, you shouldn't assume that at work. If, for no reason other than impressive work performance, you seem to be getting benefits that your colleagues don't have access to, then you might want to review the motives behind those little bonuses.
3. The way you're treated when you're single is different from when you're married or in a relationship.
Aside from getting extra attention, you get special treatment. Why? Because you're single,  and therefore, more likely to be "game" for a hookup or an office romance. And yes, in some companies, it's perfectly acceptable to date someone from a different department, but not when it's someone in power, someone with the authority to decide your shifts or give you promotions. 
4. Being blamed for or accused of wanting attention just because...
"Baka mag-selos si Misis pag nakita ka niyang ganyan suot mo." Sounds familiar? Suddenly, you and your outfit are responsible for affecting someone else so much, even when you're busy minding your own business so that you can finish your tasks and head home. 
5. When you're forced to do or say certain things to avoid angering someone.
Do you find yourself awkwardly pretending to laugh as your boss talks about his weekend sexcapades or as he asks you questions about your personal life and dating history? Do you find this Monday morning routine to be tiresome and emotionally exhausting? And more importantly, do you find that the details are becoming more and more graphic and his questions, a little too sexual?
ADVERTISEMENT - CONTINUE READING BELOW
It could be that he or she knows you won't have enough proof to file a report or that they always compensate by being nice in other ways. Either way, they enjoy making you uncomfortable and exercising that power over you. According to Ellen Bravo, director of Family Values @ Work, if you've heard or seen other people be demeaned, criticized, or suffer negative career consequences for speaking up, then that's a red flag.
An important phrase that people should learn is "informed consent under duress." Basically it's about having no choice but to say yes to someone because you're in a situation that gives you no room to decline, and it's often considered a limitation to the initial consent you've given.
In case you're confused, here's the famous Tea and Consent video to explain:
There's even one for kids (which honestly, adults can still learn from):
Unfortunately, there are people who seem to belittle what consent means (some you see in the streets, some are celebrities, and some even get elected into office). There are those who find that breaching personal boundaries are okay as long as they are attributed to culture and the idea of respect--which is funny since respect begins by giving equal value to the virtue and the individuality of the person you're dealing with, not by coercing them into doing something that they're unsure of or uncomfortable doing.
ADVERTISEMENT - CONTINUE READING BELOW
Which brings us to keeping an eye out for signs that your boundaries are being crossed, not just out in public, but also in a controlled environment such as an office. This is not to say that you need to be the resident praning, but knowing how you should be treated is the first step in asserting your value as a person and in educating others about the power of permission. 
If you're experiencing sexual harassment, here's a guide on what you should do. To report instances of harassment, try Gabbie, the chatbot created by Gabriela, a group dedicated to women's rights.
Sources: Bustle, Business Insider
Load More Stories