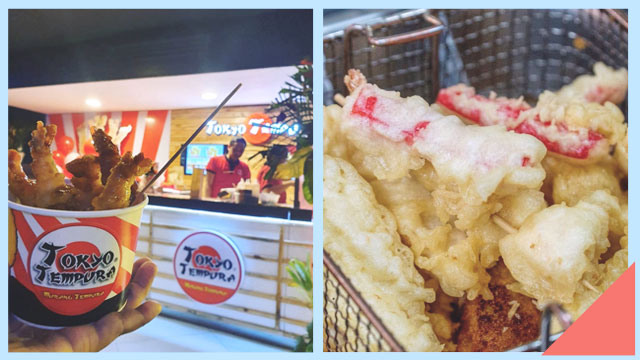 Siomai, shawarma, and fries are popular choices when it comes to food cart franchises, but if you're interested in doing something different while still getting that panalo factor, why not try bucket tempura?
ADVERTISEMENT - CONTINUE READING BELOW
Tokyo Tempura is the brain child of Jorge Wieneke, who is a veteran when it comes to small enterprises and food carts. In a previous interview with Female Network, his wife Jenny said that while it's hard to set up your own franchising business, it can be quite fulfilling, most especially if it serves a greater purpose: "With the research of Tokyo Tempura, I guess we established ourselves again and then we're trying to do it one more time—developing other brands so that, not only to prove to other people, but to ourselves as well and to the children that this is already your legacy.
"So our purpose now is to build a legacy for our children. It's no longer just to sustain ourselves, 'di ba? It is also [to] sustain the families that are dependent on us because a company with a heart."
Jenny gives us a rundown on how you can own a Tokyo Tempura franchise.
Female Network: How did Tokyo Tempura start?
Jenny Wieneke: Tokyo Tempura was born out of the need to have affordable tempura. Our kids were voracious eaters and lovers of tempura. When we'd go out to Japanese restaurants, tempura is what they would order and in the buffets, tempura is the first to disappear and it would take time before they would replenish the dish. Given this pain point, we felt it opportune to develop an affordable tempura brand that would make tempura accessible to a wider market. In a sense, we wanted to democratize tempura.
ADVERTISEMENT - CONTINUE READING BELOW
FN: Why should one consider getting a franchise from Tokyo Tempura?
JW: Tokyo Tempura has been in existence since 2012. Seven years of operations with almost a hundred outlets nationwide of which majority are franchised outlet speaks well of the company.
In addition to this, Tokyo Tempura is backed up by Jwien Food Corp., of which Jorge Wieneke is president, one of the stalwarts f the food industry, one of the founders of Potato Corner.  We also pride ourselves in being a company with a heart. We mentor aspiring entrepreneurs, handhold them and guide them through their journey. We know food, we know franchising and we help people.
FN: What are your available franchise packages? How much is the franchise fee for each, and what are the additional charges on top of them (royalties, marketing fee, etc.)?
JW: Our franchise package is P336,000 (VAT included). Inclusions therein are as follow:
ADVERTISEMENT - CONTINUE READING BELOW
Standard food cart for a 4sqm space
Equipment and smallwares
Staff training
Set of two (2) uniforms
Mobilization and set-up within Metro Manila
We charge a monthly service fee of P5,000 payable in 12 PDCs [post-dated checks]. Terms [are] 50% down payment upon signing of contract, and  balance upon opening.
Should the location not allow a standard cart, the franchise package is P280,000 (VAT included).
This has the same inclusions as the standard cart package except there will be no cart included.
The construction cost of the kiosk will be paid by the franchisee.
ADVERTISEMENT - CONTINUE READING BELOW
FN: What are the steps in securing franchise? What forms need to be filled, IDs to be submitted, and other requirements?
JW: Interested parties need to submit a letter of intent (LOI) stating desired location, together with their CV and accomplished Tokyo Tempura application form. Location will be checked depending on feasibility, viability, and accessibility to foot traffic. The LOI addressed to THE FRANCHISE MANAGER should be emailed to worldtempura@gmail.com.
FN: What kind of support does your company give after the franchise officially opens?
JW: An opening team is assigned to the franchisee to assist in the opening. A supervisor regularly monitors the outlets to determine what the franchisee needs and to guide the staff and crew on proper operations. The company likewise recommends local promotions and activities should it be deemed that the outlet requires it to boost sales or attract customers. We also are very innovative with our products and introduce new variants on a regular basis.
ADVERTISEMENT - CONTINUE READING BELOW
FN: Is there a minimum number of products that a franchisee has to order from Tokyo Tempura monthly?
JW: The products ordered from the Tokyo Tempura commissary are dependent on the sales generated by the franchised outlet. We require no minimum. It is up to the franchisee to determine his inventory and bar stock.
ADVERTISEMENT - CONTINUE READING BELOW
FN: What's the usual time frame for ROI?
JW: Each outlet's ROI varies and we do not guarantee a general period for ROI because there are many variables. What we can share with you is the fastest franchisee that we had that reached ROI was seven weeks.
FN: What are the perks of getting a franchise from Tokyo Tempura, and how do they compare to other similar franchises?
JW: If one considers industry know-how and credibility as perks, then Tokyo Tempura has them. Tokyo Tempura's proponent is one of the pioneers in the food cart industry. His creative mind halos on to Tokyo Tempura and the other brands that he creates. As a franchisee, one would be assured of first access to new and innovative ideas, even access to new brands. Tokyo Tempura is the first cart business to sell tempura. It has been tried and tested through the years and is backed up by years of experience in the food and marketing industry. 
ADVERTISEMENT - CONTINUE READING BELOW
Load More Stories