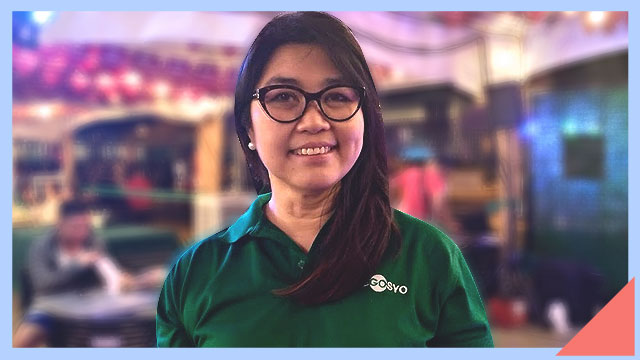 Little do people know that popular franchise chain Potato Corner was actually the brainchild of Jenny and Jorge Wieneke. Jenny, who was once an ad agency executive, shared that diving into startups was something that she actually got into because of Jorge. "We had an arrangement," she said in an interview with Female Network during a Go Negosyo one-on-one online mentoring with successful female entrepreneurs. "We got married young, we had kids early in life, we decided that one would be the entrepreneur, one would be the employed to have a stable job.
ADVERTISEMENT - CONTINUE READING BELOW
"So after all our sons are grown—we have four sons, my eldest being 32 and my youngest being 22—I've decided to retire from the advertising industry which I'm now a 29-year veteran of, and ventured into entrepreneurship myself."
She recalls helping out with Potato Corner's branding, until they went on to sell their shares; a decision that many criticized.
"We lost Potato Corner, I think we sold too early but we can't go back to that," she explains. "So what we do is build our own brand again and prove to the world… because before, they doubted us already when we sold Potato Corner. There was kind of a period where people were criticizing us…so we lost it so what else can we do?"
What they did was move on and create new brands. Two great results from those efforts was the franchise chain Tokyo Tempura, and their advocacy called Kalye Negosyo.
Female Network: Coming from Potato Corner and starting out again with Tokyo Tempura, how did you reinvent yourself?
Jenny Wieneke: It was an uphill struggle really, because we had…about three failed concepts… We actually went into Japanese already several years after but it was a Japanese dine-in restaurant. We also went into a Korean restaurant, fast casual, but I guess it was way before its time, it wasn't uso. It was called K-Bop, it was actually good, it was in McKinley Hill but McKinley Hill at that time wasn't populated yet and Korean wasn't popular yet so I guess it was too much foresight.
I mean too much forward thinking way before its time but we never gave up because if you really have a purpose, 'di ba? Our purpose is for ourselves and our purpose is for our employees. We had to provide employment for them as well. We had to put food on the table not only for ourselves but for them. So it was a driver, it was a motivator aside from making our names good as well.
ADVERTISEMENT - CONTINUE READING BELOW
If you're gonna ask me how Tokyo Tempura came to be, kasi matakaw 'yong mga anak ko, the pain point, funnily is, when you go to a buffet, what's the first thing that disappears? Tempura! Then you have to wait until mag-reload sila nakatayo ka d'on, so si Jorge goes "gawa na lang tayong sarili nating tempura."  Tapos, if you go to a restaurant, mahal.
So Tokyo Tempura is murang tempura. That's our slogan: Murang Tempura. That's our only differentiator, and then the rest is history, we're almost a hundred now nationwide.
FN: Tell us about Kalye Negosyo.
JW: After I retired in 2015, I went full time also into mentoring. So that's the differentiator of our company—I would think is it's really the company with a heart in the sense that even if we're not really big, we give back because we have this personal advocacy as well. Actually, we have mentees there (in Mercato)...
ADVERTISEMENT - CONTINUE READING BELOW
It's Kalye Negosyo because we started out helping the "streetpreneurs." We're on our 6th year… That's a six-month entrepreneurship program for free, free of charge. And who are their teachers? Entrepreneurs, the GoNegosyo mentors, our friends, so we share our experiences with them: Entrep Mindset, Accounting, Marketing, Digital Marketing to help them. So now we have batch 6 here, they're spread out in Glorietta and BGC, so this is their thesis. They're about to graduate so they test their products.
FN: When streetpreneurs go into Kalye Negosyo, do they become franchisers?
JW: No, not necessarily. People apply, actually, a lot of people apply online, i-boost ko lang yan sa Facebook. They start writing to me, they email me and then we select. We have a panel—it's like American Idol every year… because you have to write to me why we will accept you, what's your background and then we interview you.
ADVERTISEMENT - CONTINUE READING BELOW
It started out with the streetpreneurs, but we learned that these people aren't really ready to legitimize their businesses. So what we did was we mixed them up with more people who are more exposed, nadadala sila. If you do that they get inspired… so we put in more inspirational speakers also to inspire them that this can be done.
What we've also learned is with entrepreneurship, of course there's always failure… With the research of Tokyo Tempura, I guess we established ourselves again and then we're trying to do it one more time—developing other brands so that, not only to prove to other people, but to ourselves as well and to the children that this is already your legacy. So our purpose now is to build a legacy for our children. It's no longer just to sustain ourselves, 'di ba? It is also [to] sustain the families that are dependent on us because a company with a heart. Our employees, subsidized 'yong food everyday: breakfast, lunch, dinner. We are a food company anyway, 'di ba?
ADVERTISEMENT - CONTINUE READING BELOW
FN: How does your day go about being an owner of a franchise as well as teaching streetpreneurs?
JW: Very busy, actually… I can say that we can do it because we've established ourselves but Jorge is still hands on. He's very much hands on in the operations. He's always on call, in fact matutulog na lang kami, kausap pa nya lahat 'yan. He is always there and then he dedicates several days a week to be in the office, about twice or thrice, unless out of town kami. But he's always updated, we have a chat group. Thanks to technology!
FN: What would you advise a person who has gone through, not really the same, but the failures and the uphill climb towards a successful venture?
JW: Never let fear take over your life. We always have to control fear because if you let it control you, you will not move forward. If you don't move forward, you will just revel in your failures and not learn from them. You have to rationalize what your fear is, confront it and then move on. Convert the energy you're getting from your fear to positive energy and then you will achieve your goal.
ADVERTISEMENT - CONTINUE READING BELOW
Load More Stories