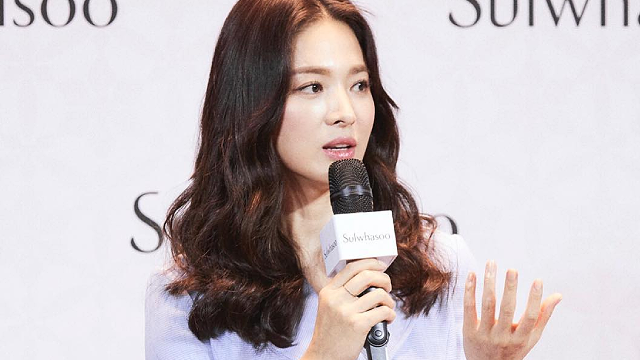 When Korean star Song Joong Ki announced that he was getting a divorce from actress Song Hye Kyo, the news immediately spread like wildfire; and while his camp did not immediately release a reason for the split, Hye Kyo's agency had noted that it was due to "differences in personality."
ADVERTISEMENT - CONTINUE READING BELOW
Fans, of course, had their own opinions on the matter—some rooted for Joong Ki while others for Hye Ko. But while both had their share of past and current issues, there's one thing that those following this story would agree with: Song Hye Kyo got up and kept going, at least with regard to her career.
Shortly after Joong Ki's announcement, the actress made her first public appearance in China for beauty brand Sulwhasoo, and more recently in Moroco for jewelry brand Chaumet. 
ADVERTISEMENT - CONTINUE READING BELOW
Recommended Videos
Unfortunately, there has been ongoing backlash about the fact that she'd chosen to keep on honoring her work committments. In a feature on Yahoo! News Singapore, curated and translated comments from the entertainment site AllKpop have not all been good. 
One commenter said, "Someone is losing their hair and having his father come up on the news, while the other is showing no sign of change and focusing on her career... It's good that Song Joong-ki filed for divorce."
"Divorce isn't a crime but how can you smile and try to look pretty as if nothing happened?" posted another.
Photos of her on Chaumet's Instagram page have mostly been positive and supportive of her appearances.
While some believe that she should step away from the limelight for the time being (much like what Joong Ki had done), there's nothing wrong with Hye Kyo's decision to keep going after a few days of rest, whether she's bound by contract to accomplish public appearances or not. 
ADVERTISEMENT - CONTINUE READING BELOW
According to a feature in The Muse, it's perfectly fine to take time off in light of a divorce—even a vacation, if one must. "This is a a greiving process," says co-owner of Sage Career Life Consulstants Erica Baumer. "If you have some vacation time, don't be afraid to strategically use it." It's also important to note, however, that it's not good to leave work for too long. "I wouldn't take a month off. Just take a few days off here and there to get grounded."
Getting back to the grind is also an important step as, even when dealing with other personal tragedies, it gives one a sense of normalcy. According to automation specialist Jason Roe who shared his experience with The Muse, going back to work also made him feel that he wasn't alone.
"I pushed myself to remember that she can take away the relationship, she can take things from our shared possessions, but what she cannot take from me is my career." He further notes that when he got divorced from his wife, his career was the only thing that he knew was his and had full control over.
ADVERTISEMENT - CONTINUE READING BELOW
If you're going through something big in your life, allow yourself time off, then get back into the game with a vengeance. Getting up and showing up not only allows you to actually start the healing process, but it also gives the people (or in Hye Kyo's situation, the brands) you work with the idea that no matter what happens, you're someone profesisonal and reliable. Of course, it's more than okay to bow out of previous commitments when you have to (just don't forget to inform those you work with about it), but the point is there's also nothing wrong with going back to work (or even using your job to help yourself heal) while you're going through personal issues.
People cope in different ways, and a tragedy isn't the end of your career, especially when you're passionate about it. All things will pass, and when the dust settles, you'll want the world to know that you're still here, you're still relevant, and you're still raring to go.
ADVERTISEMENT - CONTINUE READING BELOW
Load More Stories