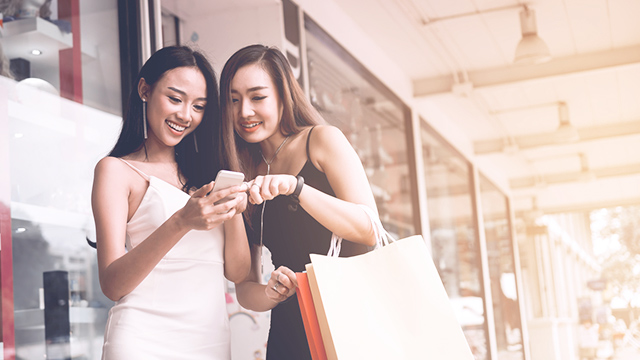 With the inflation rate at the highest its been in almost a decade, it's hard not to panic when it comes to managing your expenses. Is it still feasible to keep your savings, or 'paying yourself first' a priority when you still have to get to work five days a week and traffic barely gives you enough time to cook a decent meal at home?
ADVERTISEMENT - CONTINUE READING BELOW
While there are a lot of things we can't control, what we can do something about is our spending habits. Take matters into your own hands by following these simple tips to help you maintain your savings:
Visualize the money you're about to spend...
Otherwise known as The Stranger Test, hold the item you want to buy in one hand, and imagine someone offering to give you the same amount in cash in the other. Which one would you rather keep? While it sounds silly since you'll be shelling out cash to pay for the item anyway, comparing which one you'd rather receive as a gift can help put things in perspective.
...As well as your future
The advantage of smartphones? You can set a picture of your dream house, or even just the gadget you've been saving up for, as the wallpaper, which you can look at every time you're tempted to spend money on something you don't need. Similar to a vision board that many athletes and entrepreneurs use, picturing your goal with as much detail as possible can mentally motivate you to get closer to it.
According to resilience coach Angie LeVan, MAPP on Psychology Today, "Brain studies now reveal that thoughts produce the same mental instructions as actions. Mental imagery impacts many cognitive processes in the brain: motor control, attention, perception, planning, and memory. So the brain is getting trained for actual performance during visualization."
Set a budget cap for solo meals
We get it, it's hard to budget especially when you're eating with other people who have different priorities, and you don't want to be the kill joy who forces people to change locations. So to balance your social life with your personal expenses, just make sure to be strict with your budget cap when you're alone, and allow yourself some breathing room when eating out with family and friends.
FN Tip: The same goes for eating healthy. Indulge yourself when eating out with others if you really love bonding over good (but sometimes unhealthy) food, but make sure to balance it out by eating clean over your lunch break at work or dinners home alone.
ADVERTISEMENT - CONTINUE READING BELOW
Only allot yourself one splurge per payday
In the TV show Survivor (yes, the Jeff Probst one, and yes, it's still ongoing—season 37 starts on September 26) castaways are allowed to bring one luxury item during filming to "alleviate boredom while on location"—even a show about stripping down to life's essentials understands that people need an outlet. So our advice? Before your next payday, decide on what your one splurge will be, and choose something that'll benefit you in other ways: a fashion investment, a salon appointment, or a fun household appliance like a juicer or panini maker (because we're tita like that).
Let that be your one fun expense, and wait until the next cutoff before buying another item you don't really need. This way, there's more excitement behind the purchase, and you still get to enjoy the fruits of your labor. Besides, saying "not now" is sometimes easier to accept than "never," so in a way, it's just like practicing the art of delayed gratification.
ADVERTISEMENT - CONTINUE READING BELOW
Distract yourself with activities
You won't have time to spend money if you're too busy with something that doesn't cost a thing (or is at least much cheaper than designer shoes). Sign up for a gym membership, start a blog, or launch an online store.
Think of time and work as your currency
Instead of looking at your monthly suweldo as a whole and subtracting expenses from there, before buying an item, compute how much you're paid per hour and think of how long it will take you to earn your money back. This will help you determine the item's worth. 
Sign up for a money challenge
Whether it's choosing between the 50-peso, or 52-week money challenge, or even just capping a fixed daily budget for yourself, setting ground rules is essentially like putting yourself through money school--you become more disciplined over time and you begin to trust yourself with bigger responsibilities as you go along like saving up for your first apartment or investing in a business.
ADVERTISEMENT - CONTINUE READING BELOW
Download a budgeting app
Speaking of money challenges, the fun part about savings apps? They're pretty much the #adulting versions of Candy Crush and Temple Run. Seeing all those numbers go up in cute, colorful boxes can get addicting, especially once you see yourself improving over time. Accomplishment overload, with a real-life conversion.
TRY: Spending Tracker, Spendee, YNAB
h/t: The Penny Hoarder
Load More Stories