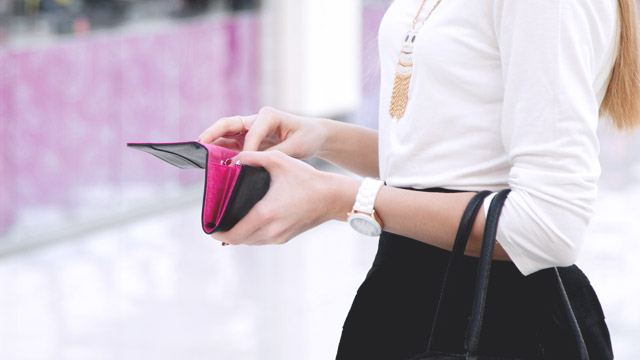 Recently, I decided to limit my expenses during weekdays to only P100. That means I only got to spend P1,000 for a total of ten work days. While the idea started after I made a huge installment purchase, it slowly became something of a personal dare for me—would I survive, especially since the amount included my food and transport allowance?
ADVERTISEMENT - CONTINUE READING BELOW
Yes, I did survive, and knowing that it was possible to do felt rewarding. It's a practice that you can tweak to suit your lifestyle, too. You don't have to do it at P100; you can choose an amount that you know you will be comfortable with. As long as you know that you're going with only your needs and not your wants, any amount would work.
CONTINUE READING BELOW
Recommended Videos
Here are the things that I did that helped me achieve my goal, which you can also base your plan on:
1. Make sure to fix your budget first.
I still went through the same budgeting practice I've always done before—savings, groceries, bills—only this time, I limited my daily expenditures to P100. Check which areas are more flexible than others, and accept that you will also have to make sacrifices like adjusting your schedule to include cooking time.
ADVERTISEMENT - CONTINUE READING BELOW
2. Always choose the more economical option.
That means no expensive coffee, no over-the-top meals, and no other unnecessary expenses. I either bought cheap coffee or brought my own with me. I also brought enough baon that would last me the entire day.This gave me a chance to experiment with my food and prepare fun dishes like tomato pesto pasta with chorizo. My rule was I would only eat what was in my lunch bag. While there were days when I really couldn't help but buy an extra snack, I made sure that I was well below my P100 limit.
3. Walk as much as you can.
I'm lucky I live near where I work. Instead of taking a tricycle, I try to take that 30-minute walk from the office back to my place if it isn't too late in the evening. Aside from getting some exercise, it also saves me P25. Speaking of which…
ADVERTISEMENT - CONTINUE READING BELOW
4. The money saved from the previous day can be used the next day.
This acts as a small reward system. If I manage to save P50 today, that means I can spend P150 tomorrow. But of course, I don't blow everything in one go. I try to turn over as much as I can so I can save the excess.
However, this also goes the other way—if I spend P150 today, I will only have P50 tomorrow. (However I do prevent that from happening as much as possible.)
5. Don't skip hanging out with friends.
I didn't want to feel like I was punishing myself, so I still went out to dinners with my friends. However, I did inform them of what I've been doing, and explained that I would have dinner baon with me. You may also opt to just eat beforehand! 
6. Let the universe do its magic.
One interesting thing that this experience has proven to me is that the universe really provides you with what you need, as long as you're open to it. During days when I thought I'd need to spend more, something happens—I'm given food by someone, or I get to hitch a ride with a friend, or a relative hands me cash out of the blue, or I find cash in the pocket of my dirty jeans. The timing is always impeccable, but while I'm grateful, I also do my part and don't leave anything up to chance.
ADVERTISEMENT - CONTINUE READING BELOW
The lesson here is kind of cliché, but still holds true—you can do anything you put your mind to. A little discipline really goes a long way! If you've decided to try something similar to this, share you experience at the comments section below, or visit our GirlTalk thread on saving!
Load More Stories