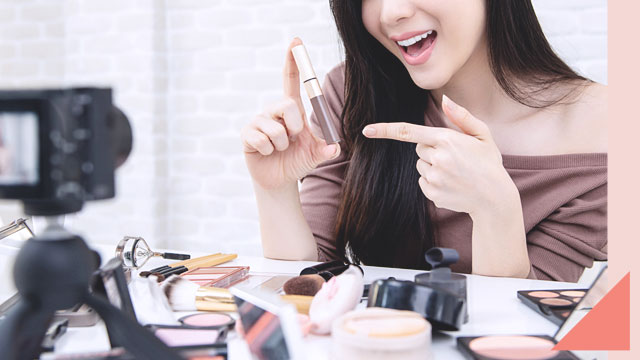 When was the last time you bought something because of a TV commercial? Can't remember? When was the last time you added to cart, tried a restaurant, or lingered in the comments because of an influencer?
Chances are the stars on your Instagram and TikTok feed push more products, services, and experiences to your consciousness than traditional or legacy media. Of course, you listen only to a select few: those who spark joy and those who wannabe influencers love to imitate.
ADVERTISEMENT - CONTINUE READING BELOW
Can the influencer magic be bottled? First off, don't call them influencers, according to MasarapBa, Instagram's resident compass of what's good to eat and what to avoid at all costs.
"Hindi naman lahat porke't may blog, influencer na. Marami sa kanila pawang influenza," MasarapBa tells reportr in the account's signature funny yet piercing style. "Ta's instead na blogger, bluffer."
"Hindi ako sanay na ini-interview about being an influencer, mumsh," MasarapBa says to the reportr team. "Sa observation ko, mayroong common traits ang successful vloggers and online personalities. Mayro'n kaming common traits kung bakit kami tinatangkilik ng followers namin."
Influencers Must Spark Joy
The audience validates legitimate influencers by liking their pages, sharing their content, and conversing with the community in the comments section. According to MasarapBa, they shun sellouts who stage photo shoots—which can have a steep cost—and pepper their posts with contrived hashtags.
READ ALSO: This Woman Ended Up With a P500K Debt Trying to Become an IG Influencer
MasarapBa engages with followers who call themselves "Kakulto" on comments and direct messages. The community has grown so big it has its own sticker sets on Viber and Instagram.
"Ang laking bagay 'pag hindi ka snob, kasi relate na relate sila sa iyo," MasarapBa says. Fans of the page become friends and eventually help decide what content gets featured.
"People enjoy the rawness. Parang tropa lang ang dating. Mas naaabot ng mga tao 'yon, and they find it really entertaining lalo na 'pag sumasagot," MasarapBa says.
Legitimate influencers click with audiences because they are funny, providing pockets of joy while mindlessly browsing through their feeds during their commute or lunch break.
MasarapBa's alter-ego account, MagandaBa, reviews everyday products from tabo, nail cutters, and most recently a pink face mask that looks suspiciously like a woman's panties.
"Kasama 'yong pagkakaroon ng topak at pagiging alien mo. It's fresh [kasi] nowadays lahat puro scripted, puro structure," MasarapBa says. "Napaka-fresh na may someone vulnerable enough to express 'yong sarili niya in his or her own crazy way."
ADVERTISEMENT - CONTINUE READING BELOW
Influencers Must be Raw and Relatable
As generations crossed from X to Y and Z, consumers are looking less to celebrities to tell them what's cool (or legit) and more to YouTube and Instagram personalities who converse with them on their phone and laptop screens.
MasarapBa says consumers are tired of being bombarded with ads from the moment they pick up their phones in the morning. Very little of the content is useful or can help them to decide what to buy or have for lunch later in the day.
"Malakas ang hatak ng mga legit kasi 'yong mga tao sawang-sawa na sa ads. People are looking for something raw, mas totoo, mas relatable," MasarapBa says.
READ ALSO: There's Now a Course That Teaches You How to Be a Social Media Influencer
"'Yong nagiging legit influencer, valuable content talaga—entertaining, informative, educational, at may wow."
The allure of celebrities is still there, but if a shampoo messes her hair up, she has doctors and dermatologists on call. The influencer who spent his or her own money to try it out is taking a risk.
ADVERTISEMENT - CONTINUE READING BELOW
People also identify with influencers who give back. The late YouTuber Lloyd Cadena documented how, through his YouTube earnings, he was able to build a house for his mother. MasarapBa, on the other hand, is known to give struggling entrepreneurs and restaurateurs that breakthrough they need to scale up.
In 2019, the best MasarapBa merchants packed a Manila shopping mall for a three-day food fair dubbed "Chubbycon". Had it not been for the pandemic, it would have had two sequels this year.
Powerful enough to make or break brands, MasarapBa refused to show themselves during the "Chubbycon", choosing to disguise as a Fuwa Fuwa bread mascot or a bottled water promo girl.
Already, the popular food account is pondering its legacy and purpose, to "bring meaningful change to people's lives."
"'Yon ang gusto kong gawin: to do good things," MasarapBa says. "'Yong nakatulong ka sa pamilya, sa nanay na walang raket."
ADVERTISEMENT - CONTINUE READING BELOW
This story was originally published on reportr.world. Minor edits have been made by Female Network editors.
Load More Stories