Having your own car signifies independence, and to some extent, freedom. The world opens up, allowing you to experience more exciting things that you otherwise would feel limited to do, like going on a road trip with your BFFs, or having a scenic date, or even just enjoying a food crawl within the city. Beyond being self-rewarding, having a car is also pretty convenient considering the current situation of our public transport system where fares are high yet service is mediocre--not to mention the time that could've been spent more productively elsewhere instead of queuing in terminals or waiting for drivers.
ADVERTISEMENT - CONTINUE READING BELOW
Some say that a car is a not an investment but a depreciating asset. This may be true financially, but it really boils down to the reason behind why you're purchasing one. If you have the financial discipline and means to get your own car even by staggered payment, you may want to look into the following institutions that could assist you with your purchase:
The company where you're currently working
Not all employers offer a car plan benefit or even allow you to loan a car through them. So if you belong to a company where this benefit is being offered to its employees, you may highly consider availing it. The coverage, including the amount, varies from one organization to another.  Marketing and sales employees are the common recipients of this perk. There are different loan packages that are anchored on your job level or role depending on the policy of the organization. It's best if your employer has a 30, 40, or 50 percent share of the total cost of the vehicle. Some employers provide gasoline allowance and insurance plans on top of the car loan assistance. Industry practice is the loan is payable in five years through salary deduction.
Pag-IBIG Multipurpose Loan
This government institution may not be able to fund your brand new car but they may help you pay for the down payment or purchase a low-priced second-hand vehicle. The amount of the loan you may get is equivalent to 80 percent of your Total Accumulated Value (TAV) which is payable for 24 months maximum.
Banking institutions
The most common avenue to purchase a car is through a bank. Given that there are at least 15 banks that offer this type of loan, you have substantial options on which package to take based on the maximum loan amount (usually up to 80 percent of the actual cost), interest rate (top banks' rates range from 4.79 to 5.83 percent), and terms of payment (one year to five years max). For you to be eligible to apply for a loan, the usual requirements are that you must be 21 to 65 years old, a Filipino resident, must have a stable source of income, employed in the same company or business for at least two years, have a clean credit history with a household income of at least P50,000, among others. Banks also conduct a thorough credit investigation prior to approving your loan.
ADVERTISEMENT - CONTINUE READING BELOW
Financial services
Most car companies have a financial service where you can directly apply for a loan. The list of requirements for eligibility is similar among most banking institutions. Generally, they have higher interest rates but they offer promos that banks don't. There are numerous options—you just have to be keen in choosing which loan package fits your preference best.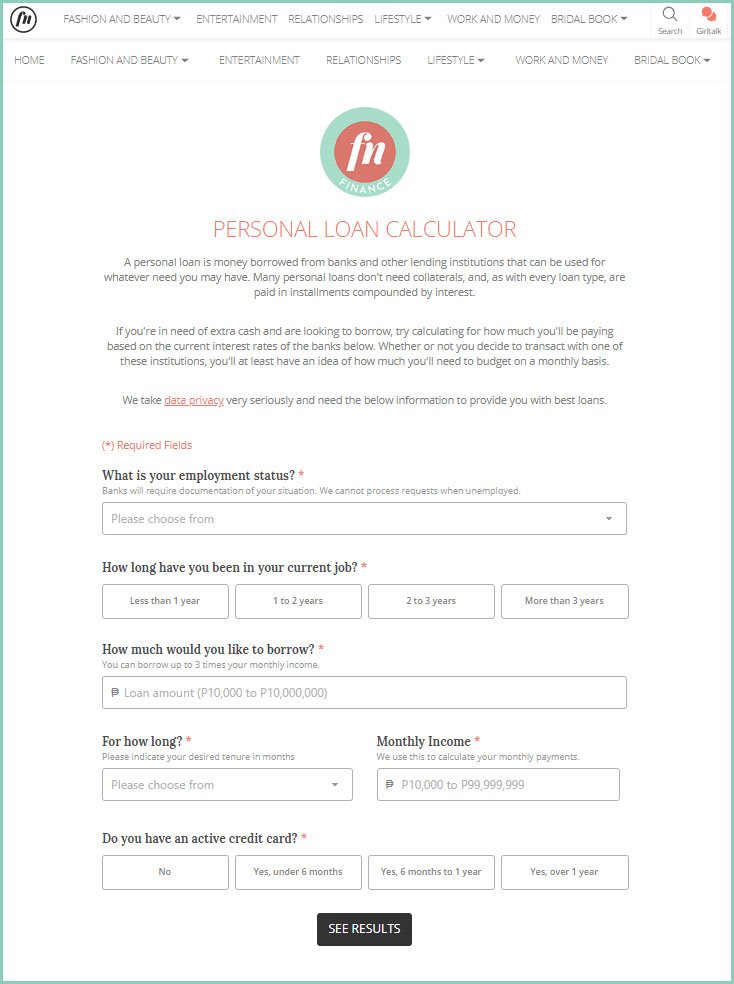 ADVERTISEMENT - CONTINUE READING BELOW
*Sheena Abellera is an MBA graduate and is currently working for a food manufacturing company as an HR practitioner.
Load More Stories