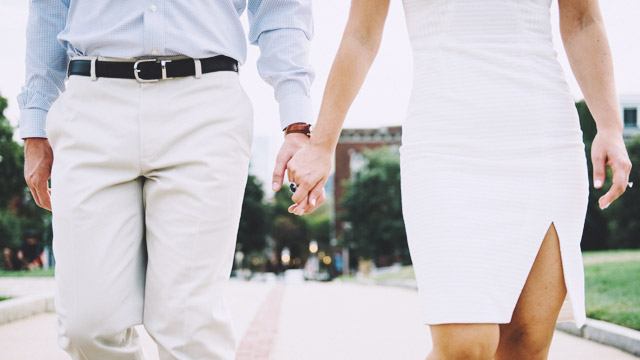 Looks like a new dating term is in. It's called "uncle boyfriend."
When you hear the term, you'll probably picture Ronaldo Valdez seducing a young Bea Alonzo in The Mistress. Apparently, that depiction's a mistake. Yes, an uncle boyfriend is older than the woman he's dating, but not quite old enough to look like her dad. Let's just say, for example, a 20-year-old dating a 32-year-old.
ADVERTISEMENT - CONTINUE READING BELOW
The term is coined by international online magazine Goofy Feed,which explained that this kind of man "belongs to the previous generation...[who] loves hanging out at the coffee shop or drink beer." Women like to date him because he's often more mature, financially independent, and can also be a better lover.
CONTINUE READING BELOW
Recommended Videos
There are actually plenty of great reasons why women find dating men above their age bracket more appealing, according to women themselves.
Uncle boyfriends are more mature and better mannered
"I prefer men older than me because they are established in life, chivalrous and excellent in bed. They are also very patient and know the value of respect." - Kaye, 24
"I enjoy my relationship with my uncle boyfriend compared with my previous relationships with guys my age. There are less fart jokes and more intelligent conversation about politics and history. Maturity turns me on." - Lyn, 27
Uncle boyfriends can communicate better
"I'm happily married to a guy 10 years my senior. We met when I was 18 and were best friends for a couple of years before getting together. We got married when I was almost 25 and life's been perfect since. I started young with relationships and found guys my own age to be irritating and ridiculously boring. I can have intelligent conversation with my husband and it made our bond so much stronger." - Shine, 32
ADVERTISEMENT - CONTINUE READING BELOW
"I'm seeing a man who is nine years older than me. He's fantastic in general—funny, responsible, and spontaneous. He is very open with what he expects from the relationship. He also knows what he wants and takes steps to achieve those things rather than beat around the bush and act entitled. He never expects life to give him a hand out." -- Rachel, 25
"Uncle boyfriends know what to do and what to say. I can't tell you how many times I've been upset and my former partner would say "'I'm sorry' or some shit that won't comfort me through an obstacle." - KC, 28
Uncle boyfriends are more experienced
"They've been through a lot and I'm willing to learn from their past mistakes in order to prevent the same in my life. A mature and experienced guy will give you advice just as a mature girl will listen and take heed of this insight." - Camille, 23
ADVERTISEMENT - CONTINUE READING BELOW
"I like guys who know what to do. I'm sure any girl can say the same, especially when it comes to sex. I don't want my lover to be completely oblivious during sex. I want him to sort of have an idea as to what to do in bed." - Joy, 29
This story originally appeared on Fhm.com.ph.
* Minor edits have been made by the Femalenetwork.com editors.
Comments
Load More Stories