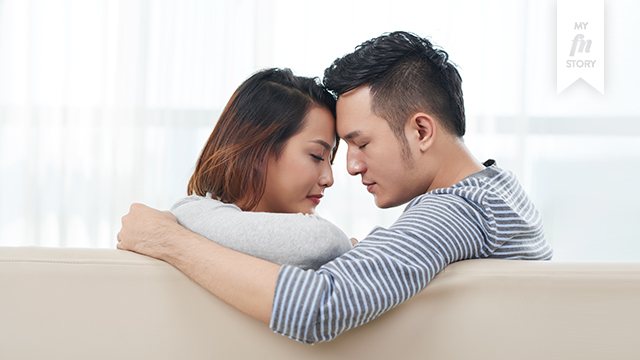 Got a story to tell? Send us an email over at webmaster@femalenetwork.com with the subject My Story on Female Network and we might just feature it!
More than two years ago, he chose to break my heart. He chose to end our seven-year relationship to begin with someone new. The reason he left? He fell out of love with me and fell for someone he had just met and dated for three months. 
ADVERTISEMENT - CONTINUE READING BELOW
I was so devastated. He was my life. I gave my all to him. I built my dreams and future plans with him. 
"Sorry. Break na tayo. Sana kayanin mo," he said to me...through text.
What a jerk! Maybe he really counted on the fact that I was too dependent on him and that I loved him so much. Well, totoo naman 'yon—dati.
I didn't let him go at first. I broke down right in front of him and begged him not to leave me. 
Just like every human who has gone through a bad breakup, I suffered intense heartache. I had a hard time breathing which wasn't helped by endless crying and having no appetite.
I always blamed myself, that maybe it was really my fault that he fell out of love. Na baka ako talaga 'yung may mali. Yes, it was self-pity and my self-esteem went down. I felt so worthless.
But I thanked God because it only took me three days before I finally accepted that he's totally out of my life. I even told him that he was a total jerk and I didn't need him in my life anymore. So instead of making it worse, I decided to be better.
CONTINUE READING BELOW
Recommended Videos
I had my bucket list and started to do all the things that I've always wanted to do, like traveling, mountaineering, volunteering, meeting new people, trying new restos and going to new places. With the help of good people around me, I became really happy without needing him to be the reason anymore.
Months had passed, and I finally decided to let go of the anger and to totally forgive him.
We talked and we finally had closure. We wished each other well and we even hoped that the right partners for both of us would come at the right time, especially after all the lessons from our failed relationship. I became genuinely happy back then. Para akong nabunutan ng tinik.
I could totally say that I was finally free! Free from all the pain, fear, anxiety, anger and any other negativity that was in me. We decided to cut all our connections and that included unfriending each other's families, relatives and closest friends. For me, it was one of the best ways to finally move on.
ADVERTISEMENT - CONTINUE READING BELOW
I also never expected him to come back into my life, for I strongly believed in the saying, "once a cheater, always a cheater."
And masaya na siya sa piling ng iba, so dapat lang na maging masaya na rin ako, sa piling rin ng iba.
I continued to do the things I loved outside work. 'Hashtag happiness' became my daily mantra. So much so that I didn't realize two years had swiftly passed by.
I tried to date other men but it never felt like the right time. I just couldn't feel it yet—the spark I felt before.So I chose not to push it. Instead, I just focused on creating a better version of myself.
I won't deny the fact that there were times that I missed him. Of course, I missed the bond that we had, our cheesy and happy moments together—it was seven years for Pete's sake, how can I not remember those good times?
ADVERTISEMENT - CONTINUE READING BELOW
But I never even bothered to stalk him or check if he's doing fine as I went on with my life. I just always wished that he's doing good.
Then one fine night right after my first adventure of the year, a Facebook notification got my attention and made my heart skip a beat.
He was adding me as a friend! Why am I still affected? I should be fine by now.
I accepted his friend request, we talked again, texted each other, until finally, he said he's going to try his best to win me back.
He said he regretted losing me for he realized that he really wanted to be with me for the rest of his life. He said that no one could replace me. Ganda ko, 'di ba? Well, lagi namang nasa huli ang pagsisisi.
He admitted that he made a huge mistake before.
"So bakit ka bumabalik ngayon? Dahil ba sa palpak yung pinalit mo sa akin?"
I asked him that. To be fair, he will always be brutally honest and that's one of the best things I like about him. He said yes, but more than that reason, that it was because it is still me whom he truly loves.  Ako pa rin daw talaga.
ADVERTISEMENT - CONTINUE READING BELOW
As of this writing, it has been three months since we started dating again. And I can always see his genuine effort in everything that he does for me. Of course, I'm not blind anymore. Sabi nga nila na kapag ang tanga natuto na, humanda ka!  I know and I feel that his words and deeds are real. Even my friends can attest to that.
I just can't fully give him my trust again yet. Even though I am happy being with him again now, there's this thought at the back of my mind that someday soon, he will fall out of love, then fall for another girl, then leave me again. Trust issues? Yes, they are for real.
Does he really deserve a second chance and my YES once again?
Yes, I still love him. But then we all know that "maybe sometimes love just ain't enough."
ADVERTISEMENT - CONTINUE READING BELOW
Load More Stories