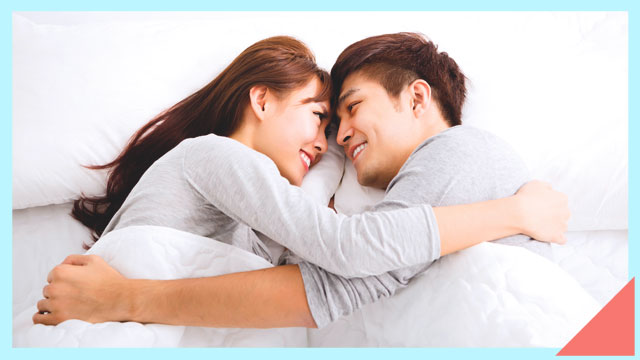 Responsibilities may continue adding up, but one thing you and your partner should never forget is to nurture your relationship. One of the best chances to spend some quality time with each other is right before going to sleep. Solidify your bond by starting (or continuing!) these six habits:
ADVERTISEMENT - CONTINUE READING BELOW
1. Connect with one another.
Chances are, you've both been busy the whole day, so before you go to sleep, take the time to connect. This doesn't just mean having sex; having a conversation can work just as well. Just telling each other about what happened to you that day can be more than enough!
2. Go to sleep at the same time whenever you can.
It's typical for couples to have different bedtimes, especially when you come home late from work or try to finish a few more household tasks before sleeping. While this is unavoidable, experts recommend trying to go to bed at the same time at least a few times per week.
Therapist Kurt Smith tells HuffPost that separate bedtimes can create a disconnect between couples. "Happy couples, however, are intentional about coming back together at bedtime and reconnecting, if only for the few minutes of brushing teeth and getting under the covers. Going to bed together builds connection and provides opportunity for more intimate connecting."
3. Put your devices away.
Ditching your devices before bed will not just help you sleep better but also let you and your partner to connect face-to-face. Mental health professional Tiiu Lutter tells Fatherly, "Electronics and TV should be used briefly in bed. They pull us apart."
4. Set boundaries with your kids.
Here's something for parents: according to SmartParenting.com.ph, it's important to prioritize marriage over children. Doing so will help you build a strong relationship and a loving home, which will allow your kids to thrive. For this reason, try to establish your marital bedroom as a place for Mom and Dad only.
"Your bedroom should be a sanctuary for the two of you. Although nightmares and illnesses might trigger children to climb into bed with you, in general, if intimacy and connection [are] your goal, encourage children to stay in their own rooms. Couples need privacy and boundaries to stay connected," therapist Michele Weiner-Davis tells HuffPost.
ADVERTISEMENT - CONTINUE READING BELOW
5. Resolve your issues.
Some say it's important not to let a day pass without couples resolving their issues. If this helps you avoid feeling resentful towards your partner, do it. "If you just got into an argument before bed, try to mend it just enough where you can find a little common ground before going to sleep," Melissa Divaris Thompson tells Bustle.
6. Say "I love you."
Actions are important, but verbalizing what you feel can and will always feel good and be beneficial for you and your partner.
This story originally appeared on Smartparenting.com.ph.
Load More Stories